Lindsay Lohan Is Launching A Makeup Line & Regina George Would Be Proud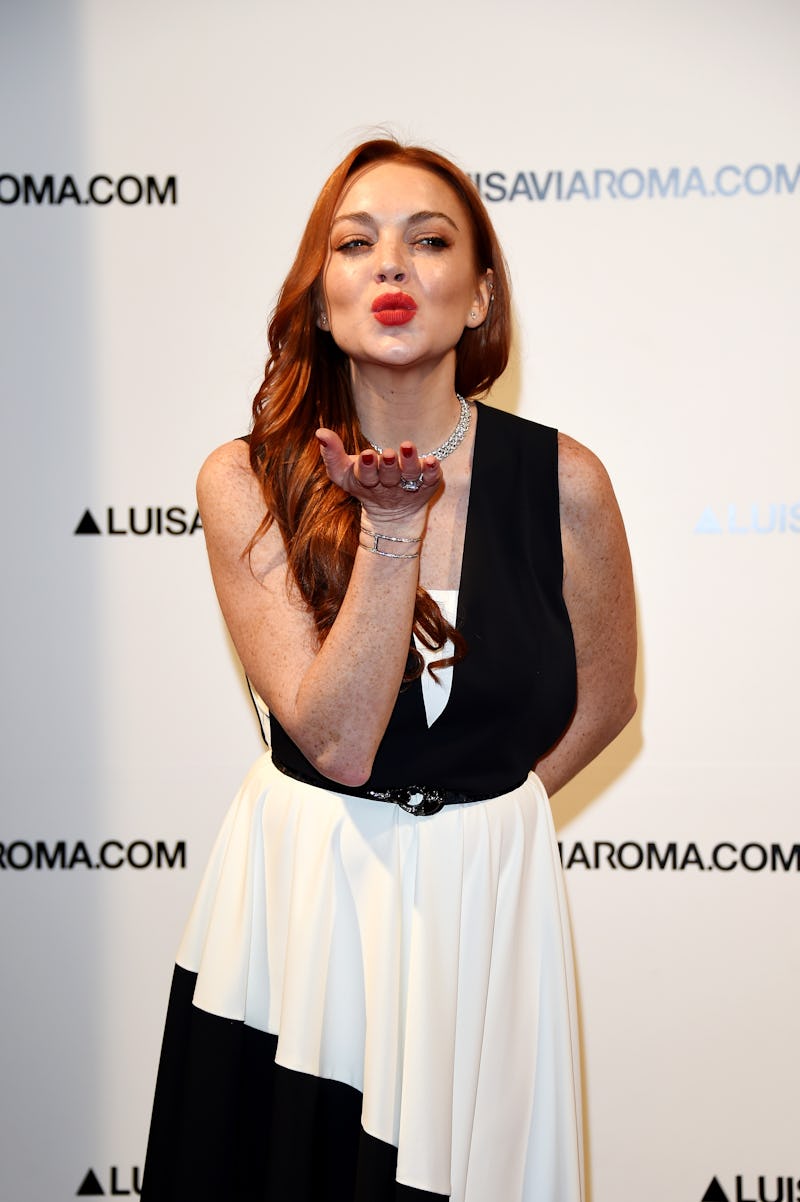 Stefania M. D'Alessandro/Getty Images Entertainment/Getty Images
When it comes to Lindsay Lohan, to say that girlfriend has a lot going on is an understatement. She's an actress, singer, author, model, and nightclub owner all wrapped into one multifaceted entrepreneur. And now that Lindsay Lohan is launching a beauty line, too, she's adding makeup mogul to her long list of duties.
2018 is looking to be a pretty big year for LiLo. Appearing on The Wendy Williams Show on Jan. 12, the star teased one upcoming project after another during the near 20-minute interview. There were talks of a jewelry line, a possible fragrance in the works, an opening of another Lohan Nightclub in Mykonos, and designing an island in Dubai dubbed Lohan Island. But it looks like nightclubs and pieces of land overseas won't be the only business ventures with "Lohan" stamped onto their logos. Compacts and lipstick tubes may soon carry the name as the mogul plans on releasing her own cosmetics line.
Lohan has had some questionable behavior as of late, most recently, defending Harvey Weinstein on her Instagram story. Still, the prospect of a LiLo lipstick to match your Mean Girls makeup brushes and Regina George pink eyeshadow is enough to raise a few eyebrows at the actress.
Details on the project were scarce, as Lohan quickly dropped word of the beauty line 11 minutes into the interview clip, mentioning that she would discuss more with Wendy Williams later. But she and Williams never circle back to explore further details before ending their interview.
All that LiLo's biggest fans have to go off of is the product image of the supposed makeup line shown in the The Wendy Williams Show clip. The photo puts a variety of makeup on display, so the prospect of a Lindsay Lohan makeup collection seems legit, even if we don't have all of the deets.
If the photo shown during the program reveals anything serious, it's that Lohan bullet lipsticks will feature elegant, glassy-looking packaging. The longer, red, pink, and plum tubes could be lip liners or perhaps, chubby lipsticks. Then there are the compacts, with the larger seeming to hold powder foundation and the smaller possibly containing eyeshadow.
Chances are the mogul would give the beauty line a "Lohan" title, considering her other businesses bear the namesake. If this is a sneak peak of what's to come to the Lohan empire, it looks like a complete makeup line is on the way. The Parent Trap star obviously wasn't kidding when she told Williams she's currently in "work mode".
Living in Dubai has clearly been doing Lohan a world of good. For someone who hasn't always had the best reputation, it seems the Mean Girls alum is on her grind.
Now it's just a matter of time before her beauty line drops— fingers crossed that it all goes down some time this year. One could only hope that there's a pinky-nude Cady Heron lippie involved, a smoky Anna from Freaky Friday liner up for grabs, or a super fun Confessions of a Teenage Drama Queen eyeshadow palette in the works. If only, if only!