Lindsay Lohan Is Officially Moving On From Her Past & Thinks Everyone Else Should Too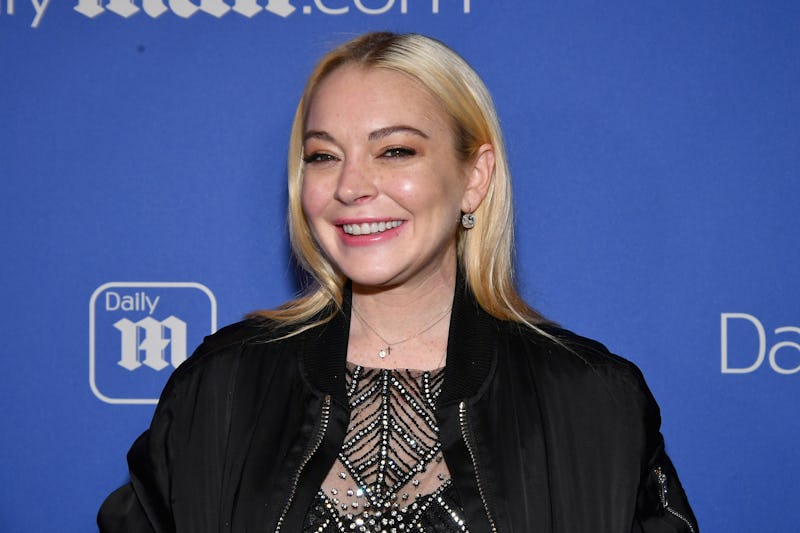 Slaven Vlasic/Getty Images Entertainment/Getty Images
Gone are the days of alcohol-monitoring ankle bracelets, multiple mugshots, and knife-wielding photoshoots. Lindsay Lohan has moved on from her party-girl past, according to a recent interview with the New York Times. She's evolved into a full-fledged, Dubai-based businesswoman. In short, she's grown-up, and the 31-year-old star (who turns 32 on July 2) is finally living her best life, beach-side.
After spending most of her 20s as a tabloid fixture, Lohan moved overseas to start from scratch. In 2016, the former child star launched Lohan Nightclub in Athens, Greece, and recently opened another namesake venue, Lohan Beach House, on Kalo Livadi Beach in Mykonos. It's a far-cry from her days on-screen and in the headlines, and while she hasn't left acting completely behind, she has let go of her old, dramatic days — and wants everyone else to do that, too.
"I'm a normal, nice person. A good person. I don't have any bad intentions. And my past has to stay in the past," Lohan told the Times in an interview published on June 26. "Like, people have to just let go of it and stop bringing it up because it's not — it's gone," she said. "It's dead. And that's the most important thing to me."
Ironically, though, the public's perception of Lohan's hard-living past is exactly what motivated the star to begin opening clubs in the first place. "I get so uncomfortable with that word, party," Lohan told Emirates Women about her previous "party-girl" label. "People are still stuck in the past, of the stories I had in LA and I hate it. It was all lies," she said.
The actor continued,
"That's why I opened my club in Greece, because I thought what's the one thing that people have most misconstrued about me? It was probably about me always going to clubs, and so I was just like, 'well, I'll make my own'. And now I never go to clubs!"
Lohan has since bowed out of her namesake nightclub in Athens — the club still exists, she was just bought out, the Times interview noted — but she's been super involved in the creative direction of the Lohan Beach House in Mykonos. As if that weren't enough, she's got another club opening soon in Rhodes, she's in the midst of designing a Lohan-branded island in Dubai, and is supposedly developing a reality TV show around one of her venues, à la Vanderpump Rules.
"There's a business side to my life now, but I'm not in America, so no one knows about it, which is nice for me," the star told the Times. "Because I get to actually focus on the result of things."
As for her acting career, Lohan is set to star alongside Harry Potter's Rupert Grint in the second season of a British comedy called Sick Note, Variety confirmed in June 2017. She'll also be shooting Frame, an all-female film focused on an American teacher in Saudi Arabia, later this year, which Lohan described as being about "women teaching other women about their culture, and standing by each other in a time when women are getting more rights and more opportunities."
Then there's the up-in-the-air possibility that she'll appear in the Life-Size sequel, Life-Size 2. Tyra Banks — who starred alongside Lohan in the original 2000 film — has all-but begged her to sign onto the project, but she has yet to publicly comment on whether or not that'll actually happen.
To be fair, though, it does kind of seems like she's got a lot on her plate these days — and it sounds like she couldn't be happier.