Lindsay Lohan Is Trolling Trump Hard Over His Pesky Legal Issues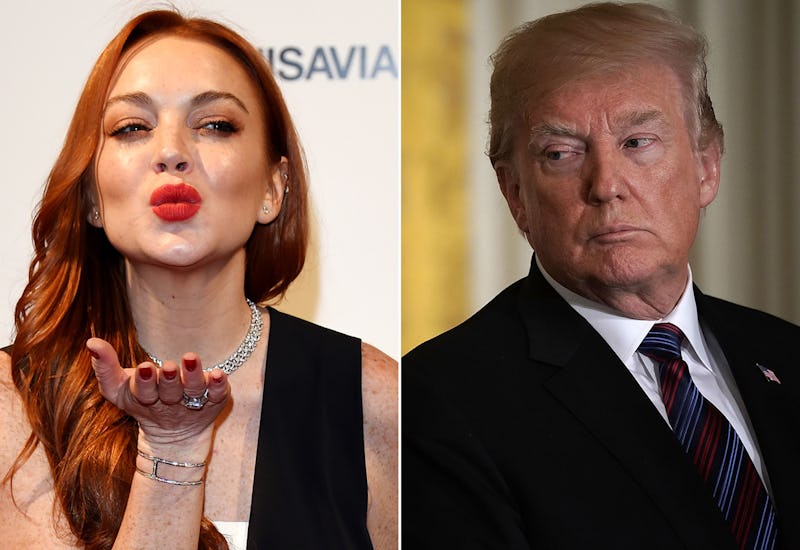 Stefania M. D'Alessandro/Getty Images Entertainment/Getty Images / Alex Wong/Getty Images News/Getty Images
When you're mocked on your favorite social media platform by one of the few celebrities who used to support you, it might be a sign that the public opinion about you is really sinking to a new low. On Wednesday, Lindsay Lohan trolled President Trump on Twitter, telling him that he should look for an attorney using the website she now represents, Lawyer.com.
To put it mildly, President Trump has been facing some legal issues recently. There's the Stormy Daniels case, which his longtime personal lawyer, Michael Cohen, is handling. But there's also the special counsel investigation headed by Robert Mueller — and Trump is reportedly having significant difficulties finding legal representation for that one. John Dowd resigned from leading the team last month, and since then Trump has apparently been unsuccessfully soliciting a wide range of D.C. attorneys to join the case.
Guess who else knows a bit about legal woes? Lohan, whose notorious party days in the mid- to late-'00s led to multiple DUIs and a cocaine possession charge. She's been referencing this history in her publicity campaign for her new job as the celebrity face of Lawyer.com, a website that helps match people with attorneys.
On Thursday, she saw a chance to heighten the website's profile by trolling Trump. "Hey, @realDonaldTrump heard you need a lawyer," she tweeted, "at Lawyer.com we are always here for everyone ;)"
Lohan has previously been a defender of Trump and his family. Last July, she tweeted that the Trumps were "kind people." She also added, "As An American, why speak poorly of anyone?" and "THIS IS our president. Stop #bullying him [and] start trusting him."
Early in Trump's term, she said in a Daily Mail interview that the American public should rally around him. When asked about comments he made about her in 2004 — Trump called her a "deeply troubled" woman and claimed that such females were "always the best in bed" — she brushed them off. "Look, I think always in the public eye you're going to be scrutinized, and he is the President, so you have to — you have to join him," she said.
It seems less likely that Lohan has had a change of heart about Trump than that she recognized that his extreme celebrity could be used to bring attention to Lawyer.com. Yet even if her intentions were largely promotional, it didn't matter to the many Twitter users who enjoyed her tweet; it went viral on Wednesday and had raked up over 9,000 likes by the time this article was published. Any opportunity to make fun of Trump these days is likely to be relished.
Lohan announced her partnership with Lawyer.com last month in a short promo video showing her poking fun at herself, too. "When Lawyer.com first reached out to me, I was confused and a little scared because I thought I was in trouble," she says in the clip, referencing her past encounters with the law. "But when they asked me to be their spokesperson, I was intrigued."
She brings up the several DUIs she has racked up, too. "Let's not pretend like I didn't get one, or two, or three, or some others..."
Actually, humor seems to be her main tactic for promoting Lawyer.com. On April Fool's Day, she posted a fake Instagram story video announcing that her partnership with the website had inspired Harvard Law School to invite her to be its commencement speaker. When reached for comment, Harvard told Jezebel, "There is no factual basis for that claim."
Lohan apparently has a new life routine down. When she's not acting, designing a Dubai island (and "out-Trumping Trump" by putting her name on it), she's trolling us all, including the president, in the name of Lawyer.com. It's Lindsay's world, and we're all just living in it.