Lindsay Lohan Announced Her New MTV Reality Show With A Dreamy Promo You Need To See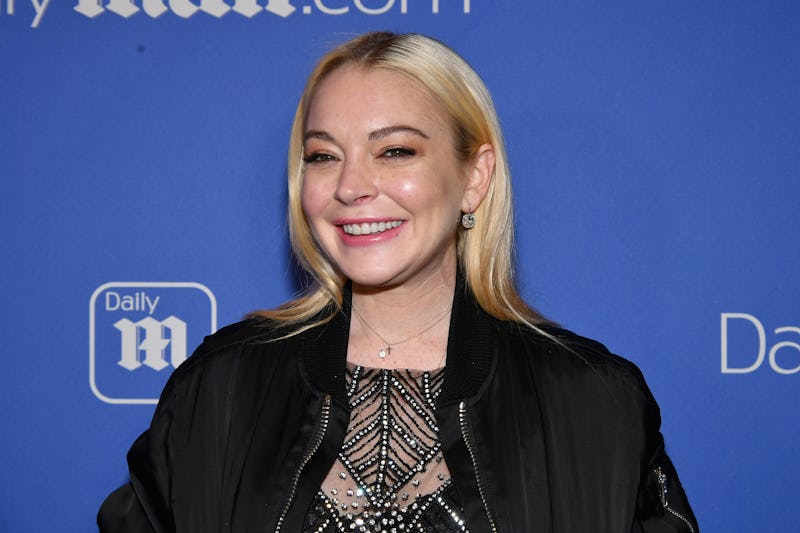 Slaven Vlasic/Getty Images Entertainment/Getty Images
Her road leading up to today has been a winding one, but the promo for Lindsay Lohan's new reality show Lohan Beach Club is here, and things are looking pretty dang good for the actor. Lohan Beach Club will air on MTV, and picks up at a totally new place in the actor's life, centering around her business ventures in Greece. But if you're expecting the series to document the tentative first steps of a new business owner, think again. It turns out that Lohan is already pretty well established in this arena; she's got herself a thriving mini-empire in the Greek Islands that's only expanding.
Lohan Beach Club — which is still just the working title and subject to change — began filming this week in Mykonos, Greece. That's the site of Lohan Beach Club Mykonos, the 32-year-old's second property in the area, which Vanity Fair reported she opened in May. (The first, Lohan Nightclub in Athens, Greece, opened in October 2016, and a third location in Rhodes, Greece, opened earlier this month.) So Lohan has plenty to be feel good about, and that confidence brims over in the promo for the new series, which was released on Monday.
"Pack your bags, MTV," the redhead says smilingly into the camera from behind large, mirrored glasses, "We're going to Mykonos." Behind her, the ocean stretches out deep and blue, cabanas dotting the beach. The 17-second clip then cuts to footage of Lohan surveying the property, before coming back to its star. "I've joined the MTV family, and I'm Lindsay Lohan," she grins, before signing off, blowing a kiss to camera and saying winkingly over her glasses, "Get ready!"
It's a very different environment than fans are likely used to seeing the Mean Girls star in. Lohan will still be in front of the camera, but it will be her vision instead of her exploits that drives the narrative. Based on the teaser, Lohan Beach Club sits in stark contrast to the format of her last reality series, Lindsay, which was cancelled by Oprah back in 2014 after it failed to live up to expectations. It was meant to document her journey from rehab back to the A-List, but instead, an overwhelmed Lohan repeatedly halted filming, and struggled to .
But four years later, the actor is presenting a very different version of herself as a boss. Now, she's back in control, giving off Lisa Vanderpump vibes as she supervises the staff at her Mykonos beach club. In the blurb about the upcoming series, as reported by People, MTV's President of Programming and Development Nina Diaz promised:
"Lohan Beach Club (WT) offers viewers VIP access to one of the most exclusive destinations in the world, and a behind the scenes look at how a young, successful entrepreneur runs her empire. We are thrilled to have such a passionate and creative partner in Lindsay to help explore this intriguing culture, all through the eyes of her brand."
"Young, successful entrepreneur," huh? That sounds super promising, not to mention a very welcome change of image. After a rollercoaster of a career up 'til now, it sounds like the star may have finally put her past troubles behind her. She's working, she's dedicated, and she's ready to invite the world back into her life to see all the progress she's made. The series doesn't yet have a set premiere date, though it's expected to air sometime in 2019. However, if the whole show is as optimistic as the promo, it seems like Lohan is in a great spot moving forward, and fans and critics alike are gonna want to tune in.