OMG, Lindsay Lohan Just Posed As Snow White & Cinderella For 'Paper' Magazine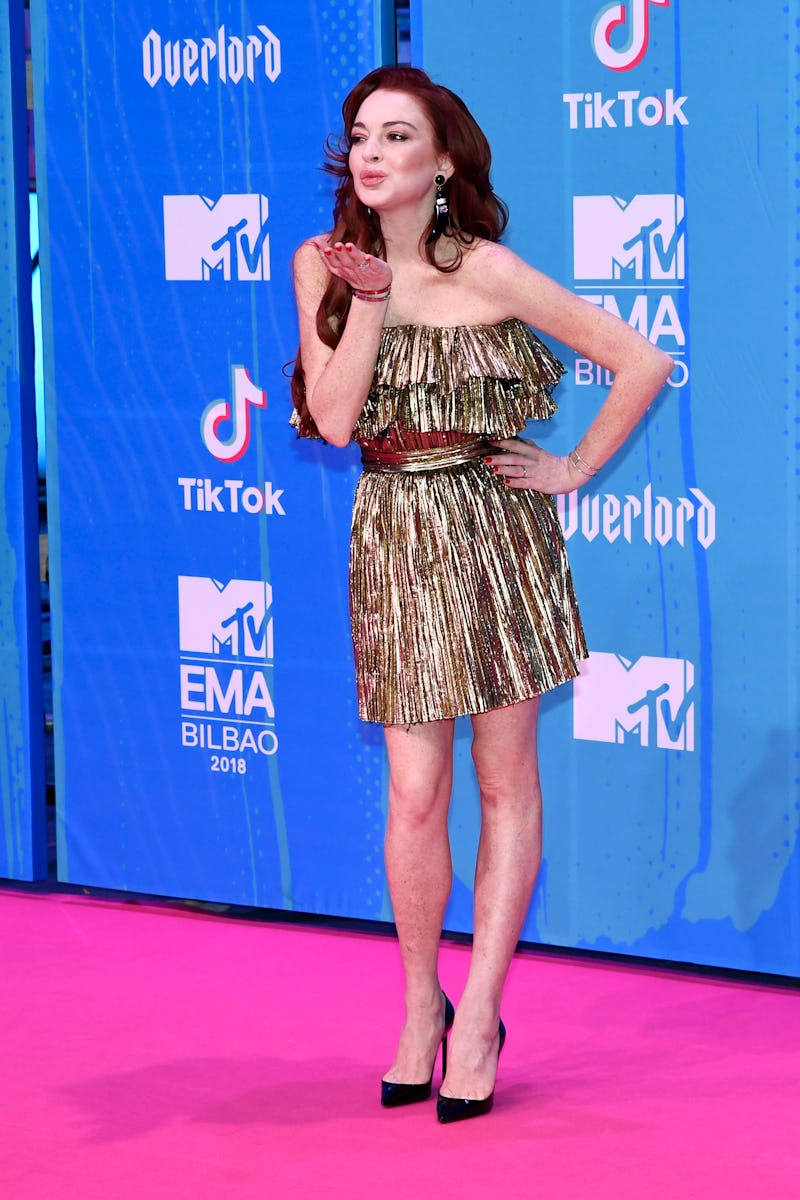 Carlos Alvarez/Getty Images Entertainment/Getty Images
It's LiLo's turn to break the internet by partnering with Paper magazine. The actor, whose various troubles and career downturn have been well-documented in gossip press, still knows how to strike quite a memorable pose. Lindsay Lohan transforms into several Disney Princesses for her Paper digital cover story — with a twist.
The actual cover sees Lohan as Snow White, complete with porcelain skin, glossy red lips, black hair, groomed brows, and gripping a poison apple. Thanks to the deeply dipping and cleavage-baring V of her dress, Lohan gives Snow the sassiest edge.
Linds also poses as a platinum blonde Cinderella with a dramatic cat-eye flick, as a blonde-with-bangs Auroa aka Sleeping Beauty, and of course as Ariel from The Little Mermaid. The latter is a no brainer, thanks to their shared 'n' signature flame-hued locks.
You know, it's as though Lohan posing as each Disney princess allows said princesses to indulge their naughtier sides.
Ultimately, Lohan looks every inch the Disney icons she is portraying — albeit with a modern flavor. Since Lohan's public person has been besieged by drama and has left fans and critics wondering who she really is, dressing up like beloved Disney characters is certainly a savvy way to grab attention.
Mirror, mirror on the wall, whose the fairest celeb of them all? That scarlet pout, those crimson nails, and super pale skin, paired with the raven black hair, channel Snow White like only Lohan can. The star looks so striking — courtesy of the presentation and the products used to create this look. It actually made me wonder WTF ever happened to her makeup line? She mentioned a cream blush that could pull double duty as a lip balm in an interview earlier this year. But it's been pretty much crickets about her beauty brand ever since.
Budding beauty entrepreneurship aside, Lohan looks pretty as a, well, princess. Make that four princesses, actually. She gets all dolled up as a sparkly Cinderella, who exudes a sweet innocence. Meanwhile, her Aurora has a bit of a Barbie vibe, thanks to her hot pink ensemble. Lohan's Ariel is about as on point as it gets.
Oh, hello, cleavage. Lohan's version of Snow White is certainly a bit more grown up. Yes, the internet had plenty of opinions.
This Instagram commenter feels that Lohan is channeling classic film star Joan Crawford in the Snow White shot. That's because those red lips are classic Old Hollywood glam, as are her strong, statement brows.
Several Insta users commented that Lohan resembles Rose McGowan in these images. That said, she definitely looks like Lindsay Lohan posing as Disney princesses.
While there are some trolls and haters, the internet really seems to appreciate these shots. One user said it best — we never knew we needed this but we really did deserve it. Because who doesn't love a whimsical, fantastical, and magical comeback, even if only in the confines of a photo shoot?
That said, seeing Li Lo as Snow White, Cinderella, Aurora, and Ariel will leave you wanting an encore. Perhaps Lohan can do a reprise as Alice on Wonderland or Belle from Beauty and the Beast?