You'll Be Bumping Lindsey Vonn's Olympics Playlist Long After The Games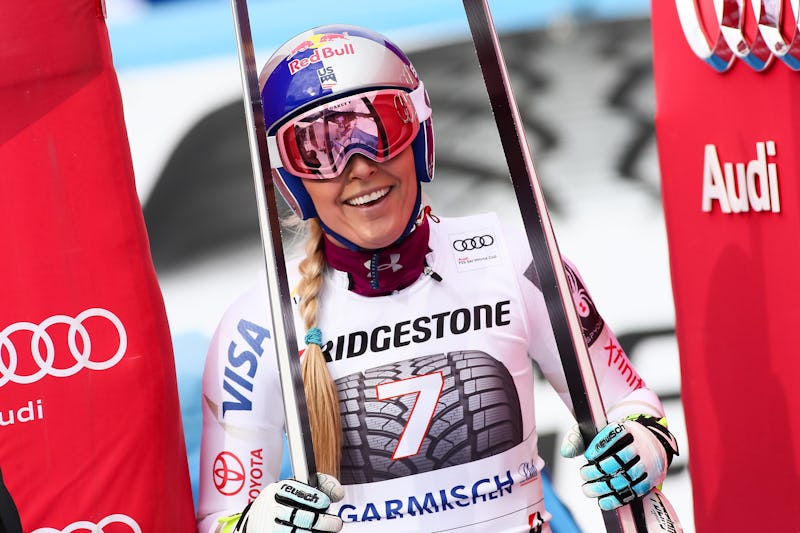 Millo Moravski/Agence Zoom/Getty Images Sport/Getty Images
In honor of what may be her last performance in the Winter Games, American skier Lindsey Vonn has released an Olympics playlist, and it's chock-full of bangers from some of the best female artists in the business today. Cardi B, Rihanna, Jessie J and Camila Cabello are but a few of the women on Vonn's playlist, which she made publicly available on Spotify ahead of her performance in the super-G skiing event in PyeongChang.
The 2018 Winter Games will be Vonn's fourth appearance at the Olympics after her debut at the 2002 games in Salt Lake City. In addition to the two Olympic medals she's won in at past Olympics, Vonn has won more World Cups than any other woman, and she set a record weeks before the PyeongChang games by becoming the oldest woman to win a World Cup downhill race. At 33 years old, she has the chance to set another record in PyeongChang: If she wins an Olympic medal in alpine skiing, she'll be the oldest woman in the games' history to do so.
To get her blood flowing what could be her last Olympics, Vonn did what many athletes do to pump themselves up before major competitions: She made a playlist, which you can check out for yourself here.
Vonn actually released two different versions of her Olympic playlist. The full version, titled "Downhill Racer," is available on Vonn's personal Spotify account and is 53 tracks long. In addition, Vonn sent a truncated, 12-song version of the playlist to Billboard, which the magazine published on its own Spotify account.
Both playlists veer heavily towards hip hop, with a dash of EDM and pop thrown in for good measure. Nicki Minaj, Cardi B, Missy Elliot, Kelly Rowland, Jessie J and Selena Gomez are but a few of the ladies Vonn will be bumping as she prepares for the Olympics. Her extended playlist has plenty of songs from male recording artists too, including Kanye West, Travis Scott, Future, Big Sean and YG.
Billboard noted that, while many Olympic athletes have released playlists before the games, Vonn actually provided track-by-track annotations for the first 12 songs on her playlist. She told Billboard that Rihanna, who has multiple songs on the tracklist, has been a particular source of inspiration to her.
"'Lemon' and 'American Oxygen,' because Rihanna is amazing," Vonn said. "Always going her own way and making incredible music. 'American Oxygen' makes me think of all of the opportunities we have and not to waste any." Vonn also spoke glowingly of Jessie J, telling Billboard that she listens to "Do It Like A Dude" before every race.
Vonn's not the only Olympian who's listening to female musicians during the PyeongChang games. Chloe Kim, the American snowboarder who became the youngest Olympian to win a gold medal in the women's halfpipe event, told NPR that she's been listening to Lady Gaga, Cardi B and Nicki Minaj during the 2018 Winter Games. Fellow snowboarder Jamie Anderson, who won a gold medal at the 2014 Sochi games, also released a Spotify playlist for the PyeongChang games, and it, too, features tracks from Nicki Minaj and Cardi B.
Of course, some sports are more amenable to music-listening than others. It's no surprise that many of the athletes who've released their Olympic playlists are skiers and snowboarders — it's quite easy to enjoy some tunes a pair of earbuds while blazing down a mountain, as Kim says she did during her halfpipe runs. But not all athletes have this luxury. Wearing headphones while figure skating, for instance, would almost certainly end in disaster for even the most skilled Olympian.
If you're digging Vonn's Olympic playlist, you're in luck: She's also released a playlist for general workouts, which you can listen to here.