Linkin Park Shared An Emotional Post On The 1-Year Anniversary Of Chester Bennington's Death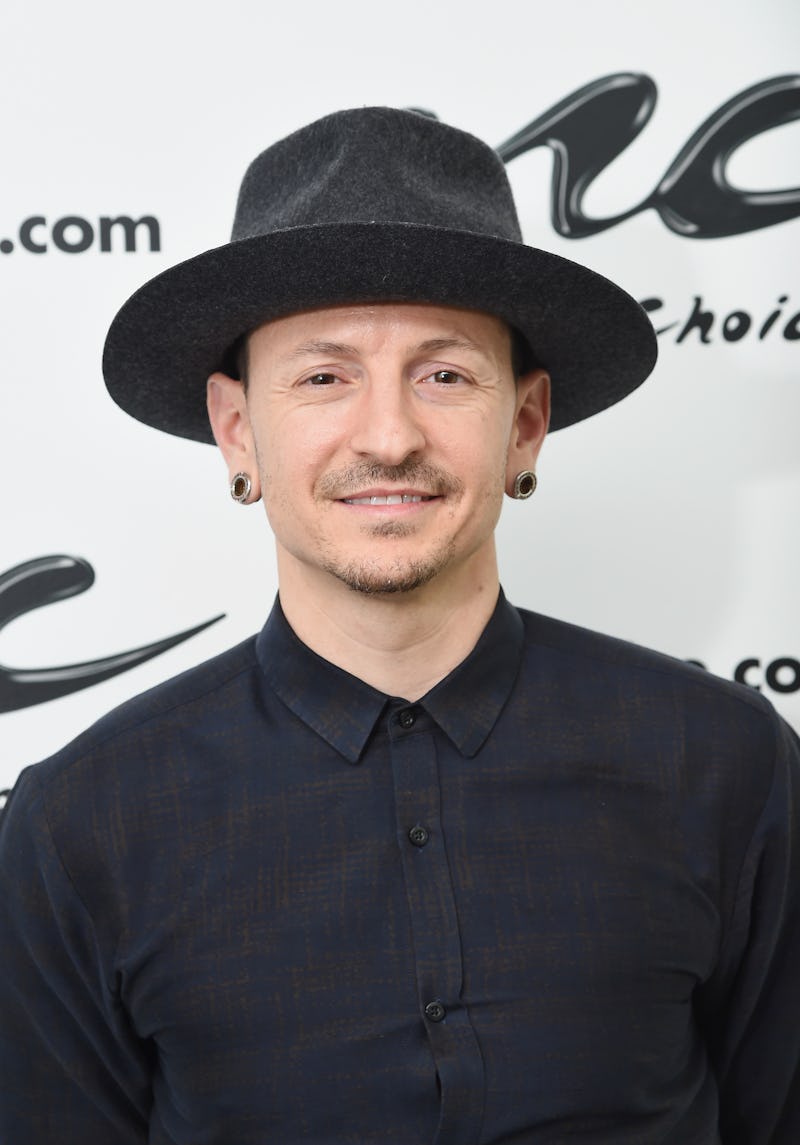 Michael Loccisano/Getty Images Entertainment/Getty Images
It's another sad day for Chester Bennington's loved ones and fans. Friday is the one-year anniversary of his death and many are honoring the singer in emotional ways, including Linkin Park, who remembered Bennington by sharing a heartbreaking post in tribute of their late bandmate and friend. It's hard to believe it's been a year since the devastating news that the singer died by suicide on July 20, 2017.
Alongside a photo of Bennington performing (taken by photographer Kai Marks), the band wrote on Instagram:
"To our brother Chester, It has been a year since your passing—a surreal rotation of grief, heartbreak, refusal, and recognition. And yet it sill feels like you are close by, surrounding us with your memory and your light. Your one-of-a-kind spirit has authored an indelible imprint on our hearts—our jokes, our joy, and our tenderness. Eternally grateful for the love, life, and creative passion you shared with us and the world. We miss you more than words can express."
The band also accompanied their post with the hashtags "#MakeChesterProud" and "#320ChangesDirection." The latter refers to the 320 Changes Direction campaign. As stated on the official website, "The Change Direction initiative is a collection of concerned citizens, nonprofit leaders, and leaders from the private sector who have come together to change the culture in America about mental health, mental illness, and wellness." It's an important campaign, with the purpose of educating people about mental health, creating a "common language" surrounding the discussion of mental health, and encouraging the care of those dealing with mental health issues.
Linkin Park ended their post by sharing the Suicide Prevention Lifeline phone number and a link to Chester.LinkinPark.com, which provides resources for anyone who may need them.
On July 3, Bennington's wife, Talinda Bennington, shared a link to a Google doc providing information about the many memorials in honor of Bennington being held around the world.
"With the one year fast approaching, there are so many beautiful memorials planned all around the WORLD in honor of Chester," she tweeted. "I wanted to share them with you." There are memorials across North America, Europe, Asia, Africa, the Middle East, Australia, New Zealand, Latin America, and South America. The amount of tributes remembering Bennington speaks to how many lives he touched.
Linkin Park's bassist, Dave Farrell, posted his own separate tribute for Bennington. "In the past year, there hasn't been a day that has gone by that I haven't thought of you," his post began. "I miss you, and it still hurts to not have you here. I chose not to speak at your memorial because I couldn't formulate the words to adequately express how I felt... I chose not to speak at the Celebration of Life Concert honoring you because I knew I'd struggle to even be able to speak at all."
Farrell continued,
"And today, a year after your passing, I still struggle to try and eloquently express what you mean to your family, your friends, your fans... and to me. There is so much that I feel, and that I could say, and that I would want to say, and that I don't know how to say... but one thing I know for certain, is that you are loved, and you are missed."
No matter how much time passes, missing a loved one never gets easier. Even one year later, there is understandable heartache surrounding the loss of Bennington, which just goes to show he will never be forgotten.
If you or someone you know are experiencing suicidal thoughts, call 911, or call the National Suicide Prevention Hotline at 1-800-273-8255 or text HOME to the Crisis Text Line at 741741. For international resources, here is a good place to begin.