Linkin Park's Mike Shinoda Shed More Light On The "Fun-Loving Dude" Chester Bennington Was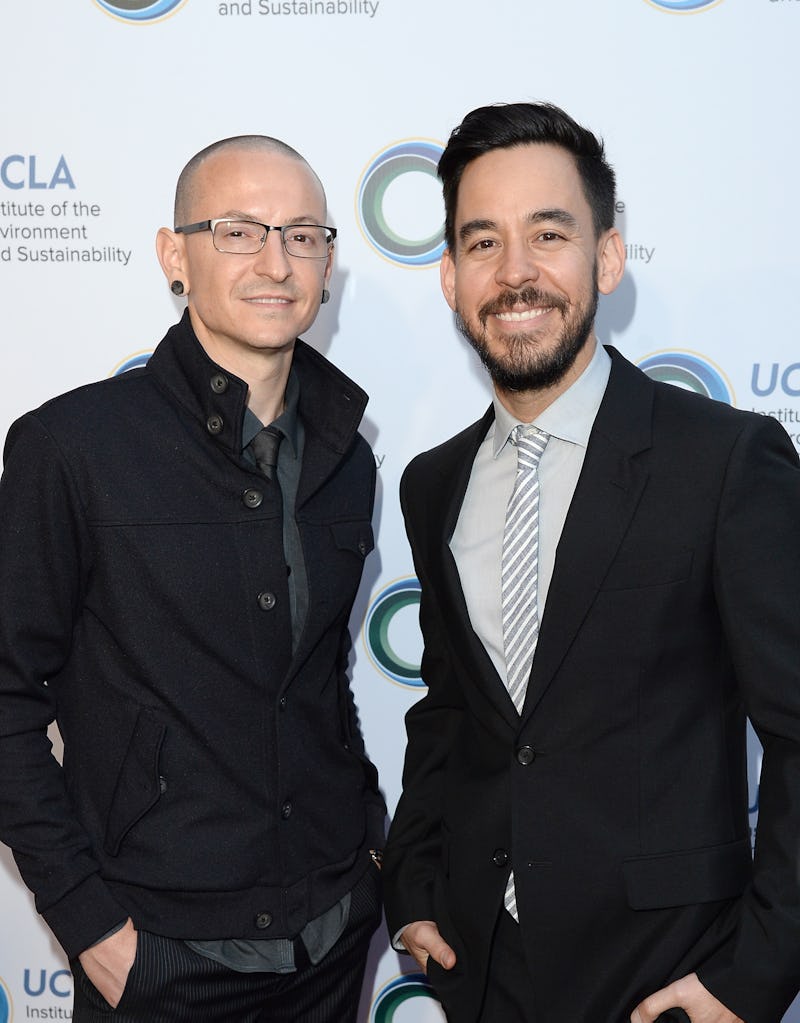 Jason Merritt/Getty Images Entertainment/Getty Images
In a deeply personal interview published Friday by Rolling Stone, Linkin Park's Mike Shinoda remembered Chester Bennington, his former band member. One of the things about the late singer he recalled is how open Bennington was with strangers. "It was almost random," Shinoda explained. "With some people, it would be surface-y, and with others, you'd find him telling them crazy things. Like if he was sitting next to somebody on a plane, you'd hear him telling them all this stuff you shouldn't tell another person on a plane. It's that phenomenon. He'd have these moments of child-like openness and directness in a way."
According to Shinoda, Bennington was "really loud" and had a "loud personality." He said, "We would joke that he could just go about anywhere and make friends with everybody in the place. He was just a really fun-loving dude, but he was also complicated."
Shinoda said Bennington was the type of person who could either be "really hot" or "cold" about certain topics, including movies. The singer said Bennington would give movie reviews that would range from him really enjoying them to him really hating them. Shinoda gave an example that Bennington would rate a movie an "11 out of 10" or he could be like, "I can't believe anybody ever made that movie. Who the f*ck decided to put money behind such a piece of crap? I wish I could get my money back."
On July 20, 2017, Bennington was found dead at the age of 41 in his Palos Verdes Estates, California home. Four days later the Los Angeles County Coroner's Office confirmed to People Bennington died by suicide. The coroner's office also said the case was closed. In December 2017, TMZ reported Bennington's autopsy and toxicology results showed both alcohol and MDMA (ecstasy) were in his system. At the time of the report, Bustle reached out to the L. A. County Coroner for comment, but didn't receive an immediate response.
Shinoda also opened up to Rolling Stone about the last time he saw Bennington, which was only a few days before his death. "He wanted me to meet this kid, Watsky [a rapper and poet Bennington praised]," he said. "He loved Watsky, and he had mentioned him enough times that I was like, 'Well, let's meet him.'"
That's what the two did. Watsky and one of his friends visited them at a studio they'd been working at. "And then they took off," Shinoda said about Watsky and his friend before adding, "And Chester and I just kind of hung out there for a couple hours, just doodling around on some music. We were basically playing around with some mediocre music and talking about the shows coming up with Blink-182 that we were going to do. It was nothing remarkable, really."
That was, sadly, the last time Shinoda spent time with Bennington. On July 15, 2017, Watsky tweeted the following photo of himself with Bennington, Shinoda, and presumably the friend mentioned previously. He captioned it, "Can't wait to see where this goes." This seems to be the meeting Shinoda referred to above. "Don't take this life for granted," Watsky tweeted on July 20, 2017. "I knew Chester very briefly but it was clear he had a lot of music left in him. Heartbroken for 6 kids who lost a father & all who knew him."
At the time of Bennington's death, Linkin Park also released a group statement on their website. It read, in part:
"We're trying to remind ourselves that the demons who took you away from us were always part of the deal. After all, it was the way you sang about those demons that made everyone fall in love with you in the first place. You fearlessly put them on display, and in doing so, brought us together and taught us to be more human. You had the biggest heart, and managed to wear it on your sleeve."
Shinoda explained this part of their statement to Rolling Stone. He said, "Well, I feel like the bottom line with that is that we knew the guy. Like, we knew what we were dealing with. He knew what he was dealing with. That's all. That's all that means. It was an ongoing ... just like anybody who deals with that stuff, you know, it's an ongoing thing."
Shinoda admitted dealing with Bennington's death has been a roller coaster of emotions, and understandably so. "I always thought it would happen in some kind of order and you could analyze it," he said referring to the five stages of grief. "But they don't happen in order. And if your family or friends are feeling the same thing, and they're all experiencing those different emotions at random in real time, that's where the chaos happens. 'Cause one person is upset, one person is sad, one person is angry, one person is fine. And then they're affecting one another."
He admitted that's one of the reasons he wanted to expand on his own and created his recent album, Post-Traumatic. He explained it's helped him "pull myself out a little bit of that chaos" and even allowed him to regain a "little control over my own intention."
The way Shinoda has navigated Bennington's death is relatable, because with tragedy always comes difficulties. Even still, it sounds like he's trying to do the best he can and using art and music as a positive outlet. That's something Bennington probably would've respected, in addition to how Shinoda has chosen to remember his dear friend.
If you or someone you know are experiencing suicidal thoughts, call 911, or call the National Suicide Prevention Hotline at 1-800-273-8255 or text HOME to the Crisis Text Line at 741741. For international resources, here is a good place to begin.