Chester Bennington's Autopsy Results Have Been Released — REPORT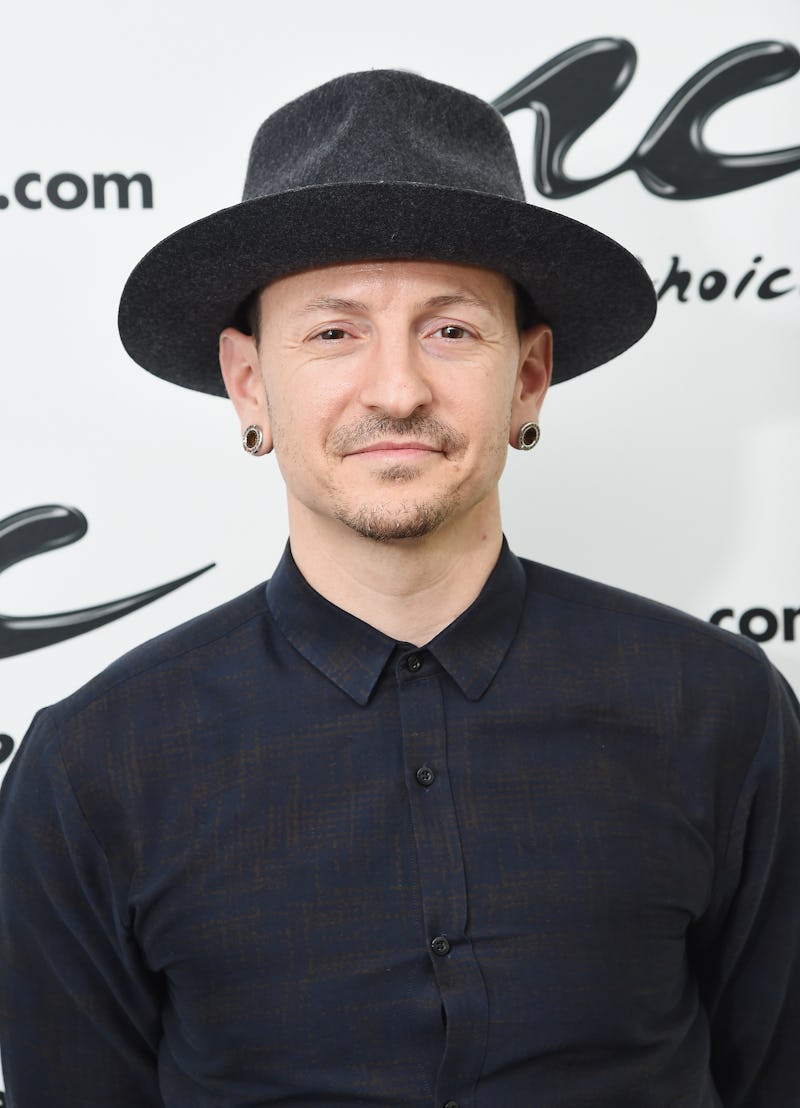 Michael Loccisano/Getty Images Entertainment/Getty Images
On Tuesday, TMZ reported it had obtained Chester Bennington's autopsy and toxicology results, which reportedly show both alcohol and MDMA (ecstasy) were in his system. Per TMZ, a prescription bottle of Zolpidem, a generic form of Ambien, a "less than half full" pint glass of Corona, and "an empty bottle of Stella Artois", were all discovered at the time of his death. Bustle has reached out to the Los Angeles County Coroner for comment, but did not receive a response at the time of publication.
According to TMZ, police found pieces of fingernail underneath Bennington's iPhone and on a bedroom table. Reportedly, his wife, Talinda Bennington, told law enforcement that removing nails was something he'd do when he was anxious. She reportedly also informed the police of Bennington's history of depression, his previous suicide attempts, that he hadn't taken prescribed anti-depressants for over a year, and that he had been seeking help at an outpatient treatment program.
On July 20, the Linkin Park singer was found dead at the age of 41 in his Palo Verdes Estates, California home. On July 24, the L.A. County Coroner's Office confirmed to People that Bennington died of suicide by hanging and that the case was closed. People reported authorities were waiting to release an official cause of death until autopsy and toxicology reports were completed. The Independent reported on July 24 that an autopsy had yet to be scheduled. It's unclear when an autopsy was performed, but the results are now reportedly being revealed.
Authorities also informed People that Bennington had hanged himself from a bedroom door at his home and was found by his housekeeper at 9:08 a.m. on July 20. According to People's July 24 report, the coroner's office said that no illegal or prescription drugs were discovered in the bedroom where Bennington hanged himself, but a "half-empty bottle of alcohol" was present.
On July 29, TMZ reported Bennington's private funeral was held in Palos Verdes Estates. The publication revealed about 200 friends and family members were in attendance. Bennington also had six children.
After his death, his wife of 12 years released a statement to Entertainment Tonight, which read in part, "The only answer I know is to raise our babies with every ounce of love I have left. I want to let my community and the fans worldwide know that we feel your love. We feel your loss as well. My babies are so young to have lost their daddy, and I know that all of you will help keep his memory alive."
He was remembered by many, including his band members in Linkin Park, who also released a lengthy group statement honoring their former lead singer in July on their website. "We're trying to remind ourselves that the demons who took you away from us were always part of the deal," part of it read. "After all, it was the way you sang about those demons that made everyone fall in love with you in the first place. You fearlessly put them on display, and in doing so, brought us together and taught us to be more human. You had the biggest heart, and managed to wear it on your sleeve."
At the end of July, Linkin Park member Dave Phoenix Farrell took to Twitter, as well, where he wrote a series of tweets about Bennington and thanked fans personally for their caring words. He posted:
It goes without saying, this last week has been extremely difficult. The outpouring of love and kindness I've received from friends and fans from all over the world has been incredible. I wish I could personally thank every one of you for your love and support. A huge part of Chester's legacy will be the memories we hold of him in our hearts. He was an enthusiastic, playful father, an honest, and passionate musician, and a loyal friend. I've been touched to see memorials that have been held worldwide.
Ever since Bennington's suicide, his fans and loved ones have remembered him with beautiful tributes. For example, Linkin Park thanked fans with a tribute video (above) that they shared on social media. "Thank you to our fans from around the world for your outpouring of love and support," the band wrote next to the video, which also includes their song "One More Light". The video featured the many memorials that have been held for Bennington across the globe, including Russia, China, Indonesia, the United States, Peru, among others. There's no denying he touched many lives and impacted his fans through his music.
His band also held a tribute Linkin Park concert at the Hollywood Bowl, where a group of singers performed in his memory. They included Blink-182, Alanis Morissette, Avenge Sevenfold, and No Doubt. "I don't have the words," Mike Shinoda, said (via ET) during the concert. "I don't think any of us do." The tribute lasted for almost three hours.
It's clear how much of a legacy Bennington has left behind. He will forever be kept alive by his loved ones, his fans, and through his music.
If you or someone you know are experiencing suicidal thoughts, call 911, or call the National Suicide Prevention Hotline at 1-800-273-8255.