Lisa Frank Debit Cards Now Exist & Here's How To Get One In Your Wallet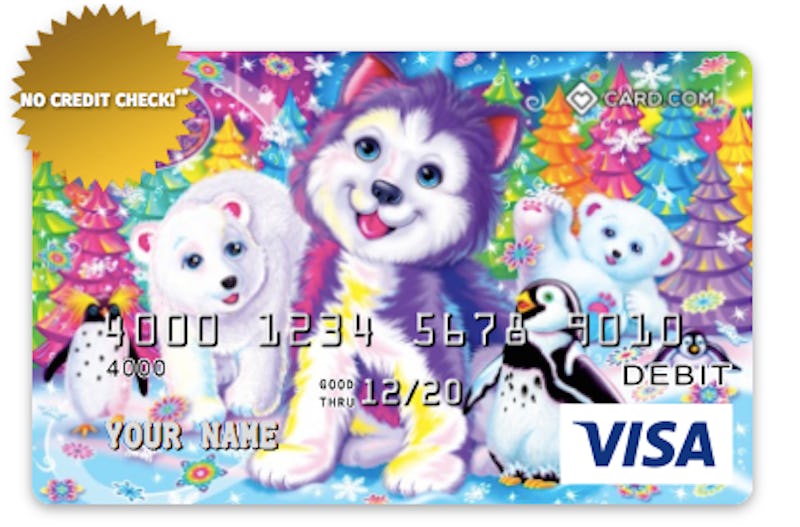 Courtesy of Lisa Frank/Card.com
Remember the days of personalizing your pencil case, binder, and backpack? While that was all the rage back in the early aughts, there's been a shift towards minimalism... until now. Recently, colorful brands from our childhood have been popping up everywhere, including our beloved Lisa Frank. Lisa Frank debit cards are now officially a thing, thanks to card.com's Prepaid Visa card, and if you were all about rainbow cats and dogs back then, this might be a perfect addition to your wallet. Cue internal (and tbh, external) screaming.
Rewind back to your childhood days — they were full of snap bracelets, butterfly clips, and of course, Lisa Frank merch. Anything you could possibly accessorize was filled with Lisa Frank rainbow and neon illustrations, unicorns, dolphins, and puppies included. Now, debit card holders are about to get the same treatment with these nostalgic, playful, and totally cute cards.
This is how it works: You can order a Lisa Frank Design card.com prepaid Visa card and choose from 16 different patterns, from swans to dolphins to kittens, and more. With such adorable designs, it's nearly impossible to choose just one. Your best bet is throwing on a blindfold and randomly pointing to the one you're going to get — you won't be disappointed.
If you're not familiar with a prepaid card, it's similar to a debit card, where you control how much goes in it. Once you've deposited money in it, you can use it like a regular debit card.
One major perk? If you sign up for direct deposit, you can actually get your money two days earlier. Plus, there are no overdraft or ATM fees, so you never have to worry about going to a particular ATM again.
Take a look at some of the cute designs, below:
This unicorn is ready to party.
A deer and fairy princess? so much yes.
How many cute animals can you fit in one picture? A lot, apparently.
Best friends (or lovers?) forever.
This one's out of this world (get it?).
Artist puppies! What's better than that?
Are you kidding with this one?
They just keep getting cuter and cuter.
And yes, you guessed it, fans are having a heyday.
Instagram commenters are going crazy on the photo, saying "lololol so necessary for the modern business woman," "7 year old me needs to have it," and "Obviously all cards in the house must now be converted!"
If you're in the market for another card or just looking to spruce up your wallet, the Lisa Frank debit is definitely the way to go. Not only does it come with some pretty sweet perks, it's a conversation starter that'll make you happy each and every time you pull it out.
Lisa Frank does it yet again!