Lisa Rinna Dressed As Another 'Real Housewives' Star For Halloween & It Was Too Good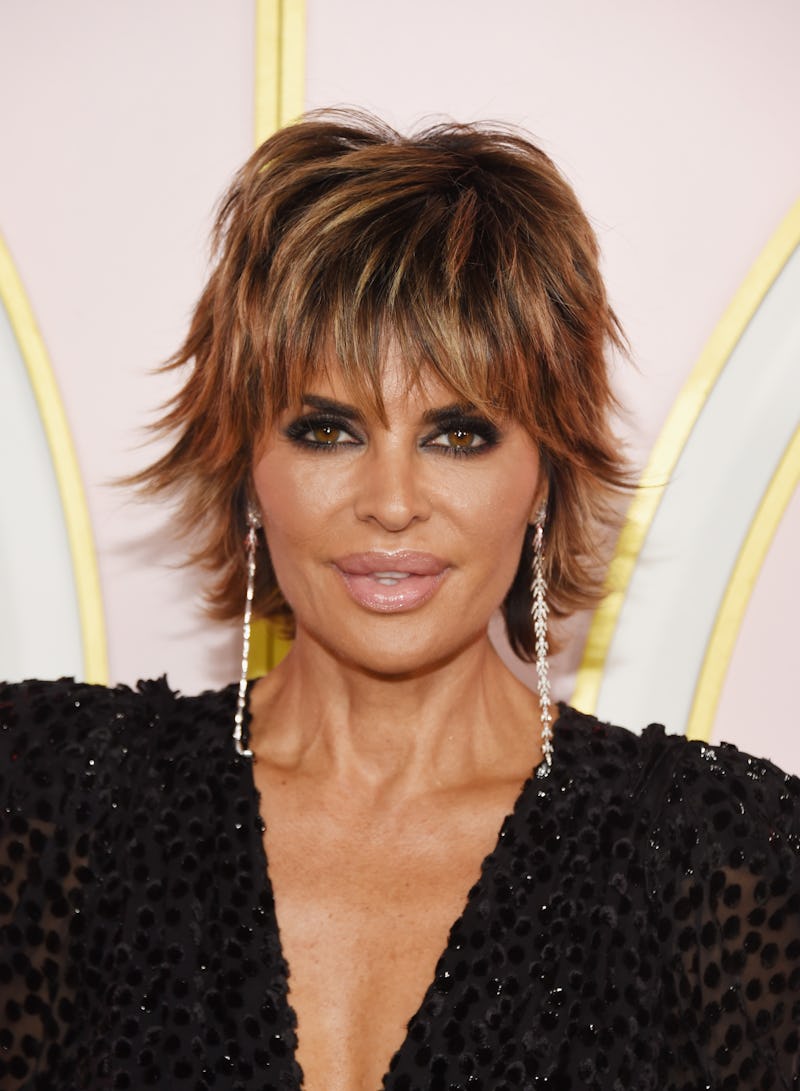 Amanda Edwards/Getty Images Entertainment/Getty Images
Everyone needs a little Erika Jayne in their lives. It's "XXPEN$IVE" to be her, and now Lisa Rinna knows exactly how it feels to channel Erika Girardi's pop star alter-ego. Over the weekend, Lisa dressed up as Erika Jayne for Halloween, and it was nothing short of amazing. How many f*cks did Erika give? All of them. Who wouldn't be flattered to be a close friend's Halloween inspiration? The only way this could get any better is if Erika returns the favor and dresses up as Lisa for her own costume. Since the actual holiday is still a few days away, anything is possible.
From her first episode of Real Housewives of Beverly Hills, Erika has been very specific about her sense of style. Her glam squad has become known for turning out unique look after unique look. Let's be honest here: Pretty much every Erika Jayne look is iconic. Lisa had a lot of great outfits to choose from for her costume.
During Season 8, Erika and Dorit Kemsley got into it when Dorit disapproved of Erika rocking a t-shirt dress to her party. Sure, it was a very silly fight to have, but ironically enough, the attention turned that look into a memorable fashion moment for the Real Housewife.
Lisa not only approves of the fashion selection, but she also used that moment as her inspiration for her Erika Jayne Halloween costume. Lisa rocked lots of blonde hair, a t-shirt dress (of course), thigh-high white leather boots, and some headphones around her neck. She did such a good job with her Halloween costume that she truly could have passed for Erika Jayne herself.
On social media, Erika posted a side by side comparison of herself and Lisa, and the resemblance is truly uncanny. Erika had to give credit where credit was due. Of course, she referred to Lisa's costume as "brilliant," which it was.
Erika loved the costume so much that she posted it on Twitter and Instagram. Without reading the caption, it was admittedly hard to know that the selfie was actually a photo of Lisa as Erika and not actually Erika.
Erika even declared, "Lisa Rinna WON Halloween!!!" She sure did and plenty of people agreed with that caption.
Real Housewives of Beverly Hills OG Camille Grammer proclaimed that Lisa had the "best costume."
Real Housewives of New Jersey alum Jacqueline Laurita even thought that Erika posted a photo of herself.
Potomac Housewife Gizelle Bryant commented on the post as well.
Erika's righthand man Mikey Minden gave his approval for Lisa's costume. If the man who helped build the Erika Jayne persona is on board with this look, then Lisa truly nailed it.
Of course, Lisa shared a Halloween photo on her own account. Erika continued to pour out love for the costume by commenting on the post.
Andy Cohen, the king of Bravo, loved the ensemble.
Even Lisa's daughter Amelia Hamlin was impressed.
Real Housewives of Beverly Hills alum Eileen Davidson praised Lisa's look.
Plus, even new Beverly Hills Housewife Denise Richards appreciated Lisa's attention to detail.
Lisa went all out for her Halloween costume. Erika loved it, other Housewives loved it, and there's no doubt that fans loved it as well. The only way it could get better is if Lisa as Erika Jayne and the actual Erika Jayne performed as a duo.