You Can Buy Erika Jayne's Iconic 'RHOBH' Outfits Right Now, Including Her Flame Blazer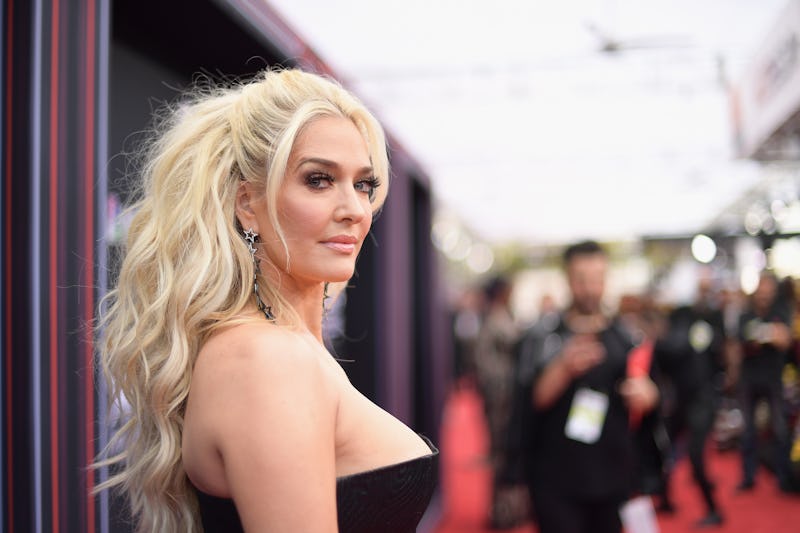 Matt Winkelmeyer/Getty Images Entertainment/Getty Images
If you are an Erika Girardi fan who has more cash in your bank account than you know what to do with, then there's an eBay store with your name on it. (OK, technically it has Erika's name on it, but whatever.) Some of Erika Jayne's iconic outfits are on sale for a good cause, and if you are a Real Housewives of Beverly Hills fan, you will definitely recognize most, if not all, of the looks. On Monday, the Bravolebrity let all of her Twitter followers know that a handful of her dresses and blazers are up on eBay right now, and a percentage of the proceeds will go to GLAAD.
So, anyone with thousands of dollars to spare can be the proud owner of the dress that Erika wore to the Season 7 reunion. Same goes for the dress she wore to the Season 8 reunion. Oh, but that is not all. The dress she wore in the Season 8 promo photos, a few of her confessional looks, her 2017 Grammys outfit, and a bunch of her red carpet ensembles are on sale as well. The dominatrix getup she wore while out in Las Vegas with her co-stars is not on the list, but hey, there is always the next sale.
From the moment she joined RHOBH all the way back in Season 6, Erika has been giving viewers so much. There's her pop music career. Her Pasadena mansion. Her powerful silent stare. Her legendary outbursts that usually happen while the cast is all seated around a table at a restaurant. Her lack of Fs (none, not one, zero, zero, done).
And, of course, her fashions. This is the person who has a walk-in closet full of Gucci, Alexander McQueen, Christian Louboutin, Chanel, and more. This is the person who has her own glam squad. This is the person whose glam team assembles an Erika Jayne lookbook before she goes on vacation. This is the person who was late to a RHOBH dinner because latex blouses are no joke. This is the person who will dress up like Marlene Dietrich for a chill dinner in a hotel room. This is the person who was a "temp" at Vogue for 24 hours.
Needless to say, the "Pretty Mess" singer has a passion for fashion. As she told MTV News in 2016,
"Well, listen, I like clothes. I like fashion. I enjoy playing with it. I think that you can become a lot of different characters with fashion. Some days you may feel very Alexander McQueen and suited up, and other days you might want to be uptown funky fresh — I mean, I know that sounds corny, but you can be a lot of different people. I enjoy playing with clothes. And the fashion of the other Housewives? I mean, hey, that's their thing. I just like to push it a little."
Remember: If you buy one of the items in Erika's eBay store, you aren't just buying an article of clothing. You're giving money to an important organization and buying an important Real Housewives artifact.