Little Mix's Body Posi Video Claps Back At Bullies In The Most Empowering Way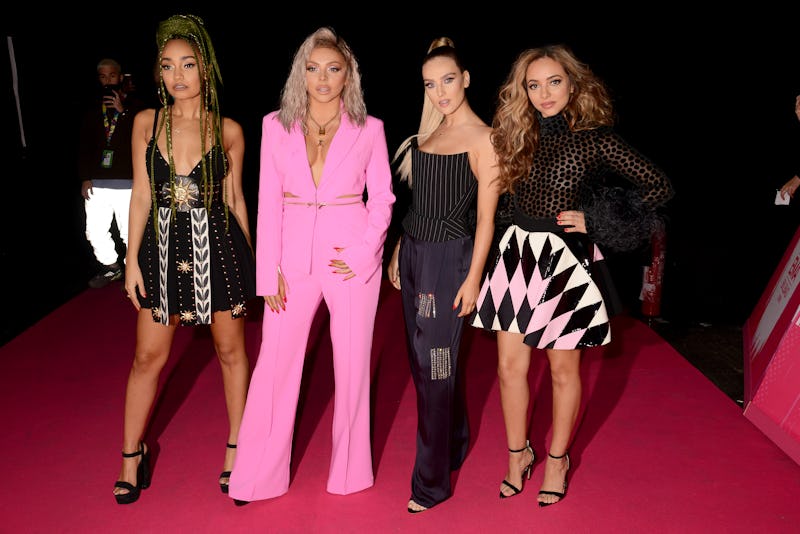 Dave J Hogan/Getty Images Entertainment/Getty Images
Little Mix are having a serious moment right now. Collaborating with the queen of rap, Nicki Minaj, on girl power anthem "Woman Like Me" and announcing a massive 40 date tour starting in Oct. 2019, the four piece girl group who started out on X Factor are flying so high. And if that wasn't enough excitement, new single "Strip" drops on Nov. 16 as part of their new album, LM5. The announcement will have you shook too, as Little Mix's Split video sees the girls posing nude and covered in insults. In the supporting photograph, the band are pictured with slurs scrawled over their bodies, while the video includes women that the band feel personally inspired by, all in the name of combating bullying and abuse. It is incredibly powerful and proves why Little Mix are some of the most empowering women in music right now.
Little Mix used the twitter announcement of their new album LM5 as a call to arms for fans to stick a finger up to the abuse and bullying they receive. The body positivity post highlighted one song in particular on their new album, "Strip." Featuring lyrics from the song, the tweet read "Take off all my makeup cos I love what's under it. Rub off all your words don't give a f*** I'm over it. Jiggle all this weight, yeah you know I love all of this. Finally love me naked. Sexiest when I'm confident." The girls posed naked with words like "trouble", "slutty", "fat", and "ugly" scrawled all over their bodies, all things they have had said about them. The black and white image creates serious impact and sat united together, they look so powerful.
If that wasn't enough to tease fans Little Mix also revealed that they worked alongside other women who use their voices to spread feminism, body positivity, and share their story in order to help others in the video. These women included activist, Nimco Ali, journalist and author, Bryony Gordon, influencer and author, Hannah Witton, and body positivity social media star and author, Megan Jayne Crabbe. The video looks awesome. Speaking about her involvement in the project Bryony Gordon said, "I am in a Little Mix video (is something I never thought I would tweet) Me! Hurtling towards 40! A recovering alcoholic with OCD! A size 18! WHAT A TIME TO BE ALIVE!"
The album announcements have created such an impact that fans have adopted the hashtag #StripwithLittleMix which has become a bit of a movement. Picking up on the body positive message fans have taken to twitter to post pictures of themselves, pointing out their insecurities, and waving the flag of self-love and acceptance. They say empowered women empower women and Little Mix are leaving me feeling seriously empowered right now.
Speaking in an interview with Attitude about the release of "Strip" and LM5, Jesy said, "You should be able to be whatever kind of woman you want to be. You should be able to wear what you bloody want to wear and rock it with confidence."
Little Mix are the feminist girl group we need right now. Unapologetic, bold, and insanely talented it is amazing that they are using their platform to lift other women up. LM5 will be released on Nov. 16 and if you want to go and watch the girls live they will be touring the UK in Oct 2019. I personally can't wait to hear the rest of the album and am so here for everything the girls are doing right now.