Logan Paul Is Reportedly Making Money Off Of His Apology Video & Twitter Is Livid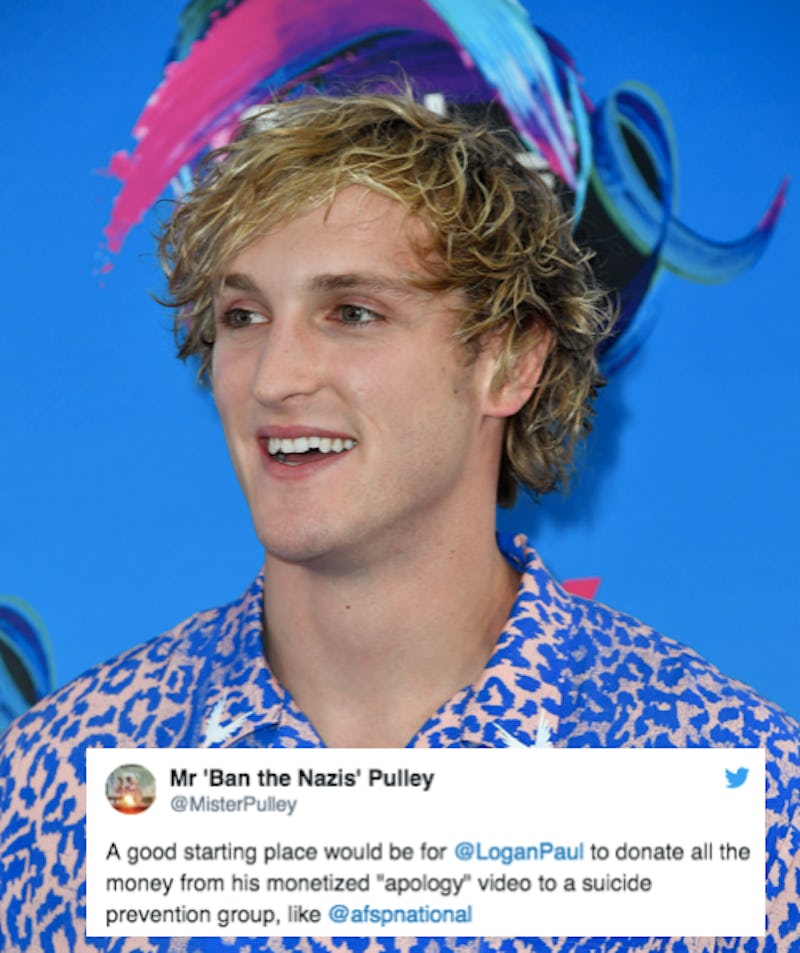 Frazer Harrison/Getty Images Entertainment/Getty Images
On Jan. 3, YouTuber Logan Paul announced in a short tweet that he would be taking a break from vlogging following the backlash from his since-taken down video, which was widely criticized for showing a dead body in Aokigahara, the forest at the base of Mt. Fuji in Japan commonly known as "the suicide forest." Paul said he demonetized the video to avoid earning revenue from views, and posted two apologies. In the first text-based apology, posted Jan. 1, he said, "I was misguided by shock and awe, as portrayed in the video." The second apology video Paul posted to YouTube was reportedly monetized, however, and may have made an estimated $12,000 to $97,000, according to Social Blade. The news that the YouTuber may be profiting off the apology has ignited another wave of criticism on social media.
For now, Paul said in a tweet, he will take a break from vlogging. The YouTuber said he's "taking time to reflect" after the backlash. Since Paul posted the Aokigahara video, he's faced waves of criticism over the fact that the video was posted at all, as well as over his treatment of the solemn location and his reaction to the apparent body. He explained in the deleted video that his reaction, "the smiling and laughing [...] is not a portrayal of how I feel about the circumstances."
"Do not, I repeat, DO NOT under ANY circumstances watch Logan Paul's apology video," one Twitter user posted. "It is [monetized]. HE WILL MAKE MONEY FOR EXPLOITING A SUICIDE VICTIM WITH EACH VIEW IT GETS."
"A good starting place would be for @LoganPaul to donate all the money from his monetized 'apology' video to a suicide prevention group, like @afspnational," tweeted user @MisterPulley.
Statistics tracker StatSheep estimates Paul's annual earnings solely from YouTube views exceed $5 million. The tracker also showed a drop of nearly 1 million followers from 15 million around the time the Aokigahara video was posted.
Reactions to the original video were almost universally critical. Actor Aaron Paul called Paul "pure trash." Fellow YouTuber jacksepticeye tweeted, "What kind of f*cked up mentality do you need to have to do something like that?!" The head of Ova, a Tokyo-based youth suicide prevention group, told Billboard, "It is totally unacceptable to show someone who was driven to suicide as if it's humorous content." Other celebrities, such as Chrissy Teigen, have questioned whether the continued attention and backlash are productive. On Jan. 2, the model tweeted, "Re: Logan Paul, something I always think about is when people make...ethical mistakes, as in, not-illegal, should we really be trying I [sic] ruin their lives and end their careers or accept the apology, personally make a choice to stop watching, and move on."
Paul has said he and his crew went to Aokigahara to "focus on the haunted aspect of the forest," and that he wanted to "raise awareness" about suicide. As the Verge reported, the video shows Paul and his crew prepping to trek into the forest, "showing off camping gear including 'binoculars to see the ghosts' and 'a football so we can have fun.'" In the now-deleted video, the crew was seen traversing off-the-path areas of the forest, away from the marked walking paths, which is where the bodies of people who have died by suicide are often found.
Some people have called for Paul to be banned permanently from the site, and while YouTube has not commented on that possibility, a spokesperson for YouTube told Bustle the video violated its community guidelines. YouTube also released a statement Jan. 3, saying, "Our hearts go out to the family of the preson featured in the video. ... YouTube prohibits violent or gory content posted in a shocking, sensational or disrespectful manner."
If you or someone you know is dealing with suicidal thoughts, call the National Suicide Prevention Hotline at 1-800-273-8255, or go to their website, suicidepreventionlifeline.org.