Lola Méndez Lets You Tour The World Through Her Instagram Feed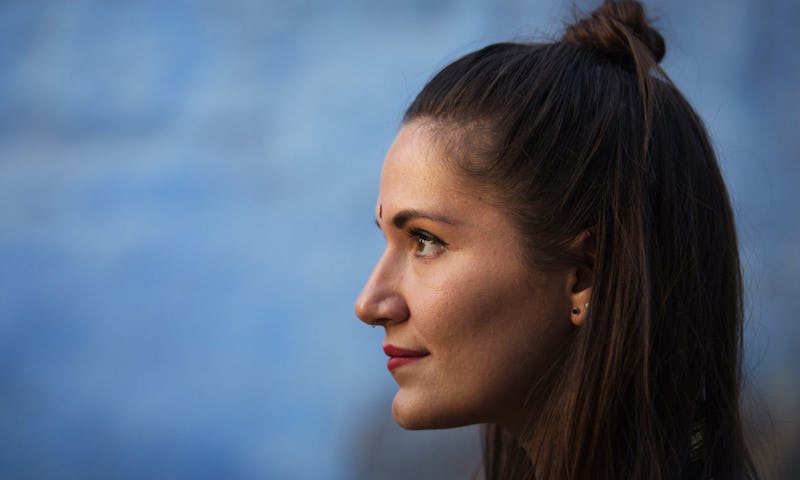 Photo Credit: Photographers Without Borders
Lola Méndez prides herself on being a person who collects passport stamps. When you're young and just trying to figure out rent payments, a chance to really travel the world may seem so out of reach. Through her adventures on her site, Miss Filatelista, you'll get to live vicariously through Méndez, and even start your own very feasible travel bucket list. That's why she's included in this special edition of Bustle's Must Follow, in which we celebrate the incredible Latinx voices you need to follow on Instagram and Twitter.
Describe yourself in one line, including how you identify and what you do.
"I am a responsible travel writer and full-time globetrotter sharing my adventures on Miss Filatelista. I travel to develop my own worldview and have explored over 50 countries. Passionate about sustainable travel, I seek out ethical experiences that benefit local communities."
What do you hope people take away from following you on social media?
"I hope that my community will be encouraged to make more mindful decisions throughout their travels, and life at home. I use my platform to show how easy it is to make small changes in our lives that make a big impact on the environment, culture, and wildlife, and beyond. There's a misguided mindset that sustainable travel has to be expensive. While there's absolutely an intersection of luxury and sustainability, there are many ways to be an ethical traveler even when you're on a tight budget. I cover all of these topics and more on @MissFilatelista."
When did you first feel that you were a voice for the Latinx community?
"Wow! Even now a statement like that astonishes me. I created @LatinasLoveTravel last year to celebrate Hispanic Heritage Month. I've been traveling full-time for over three years and rarely ever meet any other Latinas on the road. At the time, I only knew of 10 other Latina travelers, most of which I had connected with digitally and not met in real life. I found this so discouraging, so I wanted to create a platform where I could build a community purely based on showing Latinas that we can and should travel. I try to be mindful of featuring women that represent the diversity within Latinadad. I hope this tight community will continue to grow and encourage Latinas to explore as near or as far as their hearts desire. When I launched Latinas Love Travel, I published an article on Miss Filatelista introducing some of the Latinas I loved to follow. I've also had the chance to feature traveling Latinas on Hostelword. Throughout my career as a journalist, I've shared personal narratives about my Latina experience. For InStyle, I wrote about the struggle of not looking like my white mother and another essay on how wearing a thong bikini has helped me embrace my curves and my Latina culture."
Who's another Latinx person you would recommend to follow on social media?
"It's impossible for me to nominate just one person! I'm continuously supported by @Gabi_Niv, @CinElizabeth, @AshleyTSCN, @LatinAtlas, @Ivy__Chic, @decolonialdiscourse, and of course, my sister, who does the Spanish translations for Latinas Love Travel, @RachaelAnnmendez."
Follow Lola Méndez on Instagram, @missfilatelista.