These Numbers Show The Government Shutdown Is Hitting Almost Everyone And Everything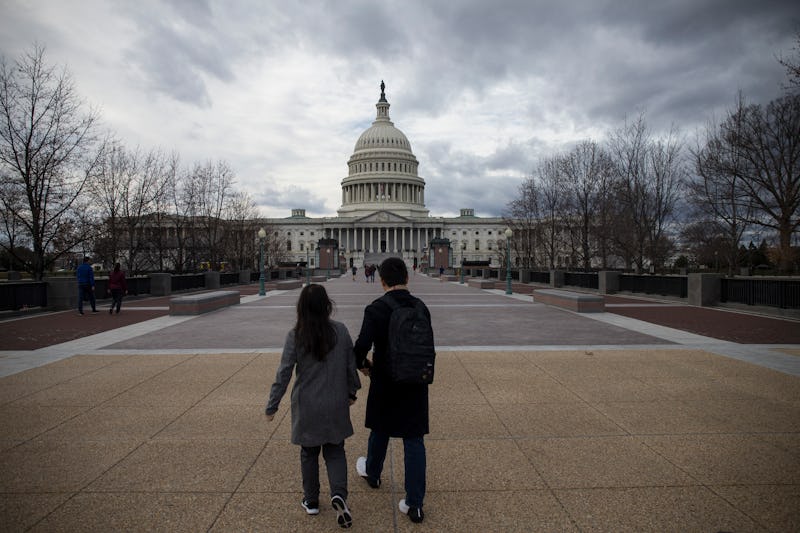 Zach Gibson/Getty Images News/Getty Images
As the government shutdown carries on into its third week, the consequences continue to proliferate across the country. Talks between President Donald Trump and congressional Democratic leaders have led nowhere, and Senate Majority Leader Mitch McConnell refuses to bring an appropriations bill to the floor. Take a look at how this impasse is affecting the United States by checking out the government shutdown by the numbers.
During her weekly news conference on Thursday, newly-minted House Speaker Nancy Pelosi spoke about the shutdown's consequences. "Families — many of them veterans — are not able to meet their mortgage payment, their rent payment, their car payment, harming their own credit ratings," she told reporters. She argued that by pushing to keep the government closed until he gets more wall funding, Trump is "endangering the safety of our food supply, the security of our airlines, vulnerable families, nutrition assistance, tax refunds, [and the] paychecks of 800,000 innocent families. What did they do to deserve this?"
Pelosi apparently took a shot at the president during her Wednesday meeting with him, too. She reminded reporters at Thursday's press conference that Trump relied on at least $413 million from his father to build his own wealth. "I said to him yesterday," Pelosi told the room, "'These people cannot go to their fathers to cover payments.'"
Here are some figures that show just how bad the shutdown has gotten.