Mazie Hirono Is Donating Her Own Pay During The Government Shutdown To A Good Cause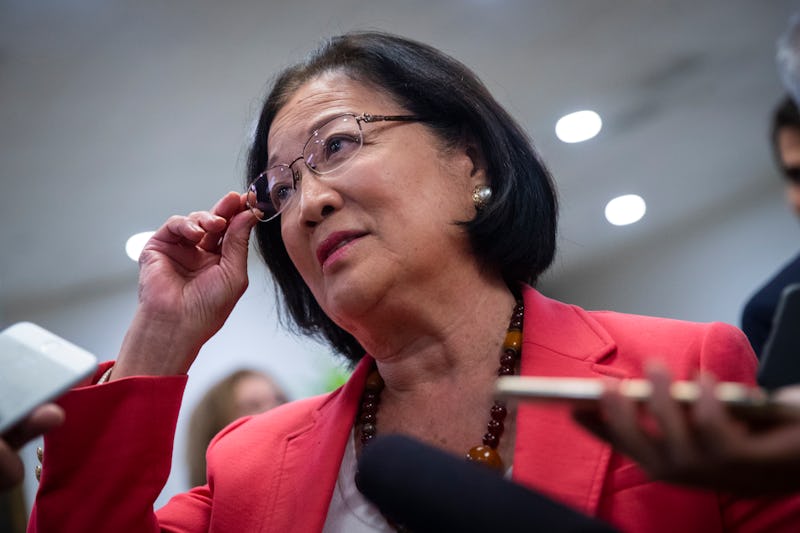 Drew Angerer/Getty Images News/Getty Images
As day seven of the government shutdown continues, hundreds of thousands of federal employees across the country are still going without pay. Over 2,500 of them are in Hawaii, according to its junior senator, and she's found a way help. Sen. Mazie Hirono is donating her salary during the shutdown to food banks around the state.
"More than 2,500 federal workers in Hawaii are either furloughed or working without pay during the holidays because Donald Trump shut down the government," Hirono said in a statement on Thursday. "As long as Donald Trump refuses to re-open the government, I will be donating my salary to Hawaii's food banks — who serve nearly one in eight Hawaii residents in need."
She's not the only senator to make such a move. Sen. Catherine Cortez Masto (D-Nevada) announced that she would donate her salary shortly after the shutdown began; she said she'll choose a different charity each day, though she hasn't specified what any of them are yet. Both of North Dakota's senators are doing the same. Sen. John Hoeven, a Republican, will likely give his salary to the North Dakota National Guard Foundation, accor ding to The Bismark Tribune, while Heidi Heitkamp, the outgoing Democrat, will give hers to Youthworks. Republican Kevin Cramer — who defeated Heitkamp in November — said he won't donate his salary because it's "gimmicky," per the Tribune.
Hirono has also given away her pay during past shutdowns. According to her website, she donated it to community health centers in Hawaii during the shutdown of January 2018. During the 2013 shutdown, she gave it to Hawaii Meals on Wheels, Lanakila Pacific, the Hawaii County Economic Opportunity Council, Hale Mahaolu, and Kauai Economic Opportunity.
This time her money is going to three food banks: the Hawaii Food Bank on Kauai and Oahu, the Maui Food Bank, and the Hawaii Food Basket on Hawaii Island. All three are major organizations; the Hawaii Food Bank worked with 13.7 million pounds of food in the 2017 fiscal year, for example.
The government shutdown has been in effect since Dec. 21 at midnight. President Donald Trump insists that it must continue until Congress agrees to add significant funding for his border wall into the budget appropriation. It seems unlikely that an agreement will be reached until the new year, according to USA Today. The next Congress will convene on Thursday.
Trump insists that Democrats are to blame for the shutdown, but liberal leaders are fighting this characterization. "Democrats have offered Republicans three options to re-open government that all include funding for strong, sensible, and effective border security — but not the President's immoral, ineffective and expensive wall," Nancy Pelosi's chief of staff said on Thursday.
Both congressional chambers have passed budget bills that were then stymied elsewhere. The Senate approved a stopgap bill without wall funding on Dec. 19; it was expected to be approved in the House as well, per The New York Times, but Trump said he'd refuse to sign it. The House passed its own stopgap bill on Dec. 20 that did include wall funding, but that measure doesn't have 60 votes in the Senate to move forward (Republicans currently only hold a one-vote majority and so need Democratic votes to pass a budget bill).
Sen. Hirono is very clear about who she personally blames. "@realDonaldTrump shut down the government over his fake vanity wall," she tweeted on Wednesday. A plurality of the country agrees with her.