Lorde's 'Melodrama' Isn't Just A Breakup Album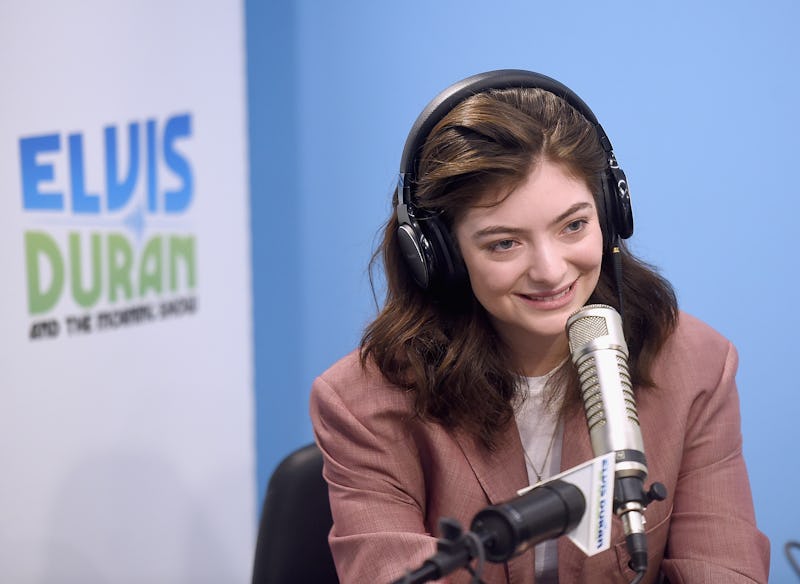 Jamie McCarthy/Getty Images Entertainment/Getty Images
All right, guys. Put aside everything you think you know about Lorde's upcoming album, Melodrama, because clearly there's much more to it than any of us may have realized. In an in depth profile with the New York Times, Lorde discussed the making of Melodrama, including divulging what the true concept and meaning of the album will be. Two things are incredibly clear from it all: Melodrama isn't just a breakup album, and we should instead be anticipating a complex set of songs with a lot more to say.
According to her profile in the New York Times, Lorde broke up with her long-term boyfriend in 2015, something that presented a fresh, if painful, perspective for her songwriting: "After your heart is broken, music enters you on a new level." And while heartbreak may have informed her songwriting, Lorde emphasized the fact that Melodrama isn't a "breakup album," but rather, "a record about being alone. The good parts and the bad parts."
Which is a powerfully inspiring idea. As anyone who has ever pulled themselves through a bad breakup can attest, it can be too easy to sometimes lose sight of yourself. Instead of focusing on your own needs, your feelings can instead be stuck on those of the person from whom you've separated. So, by reframing Melodrama as an album that explores the complexities of being single, rather than being an album solely focused on a breakup, Lorde is celebrating the self, rather than analyzing a lost love.
That's powerful stuff. It means that Melodrama could basically be radical self care in album form.
Lorde also shared further details in the New York Times profile regarding the shape of the album in regards to these ideas, and they sound spectacular. Describing how the process of writing a song called "Sober" helped to navigate the direction of her album, the singer explained how she realized that Melodrama will tell the story of a single house party. And how, from there, she would be able to organize, and express, her moods within a structured, and cohesive concept:
With a party, there's that moment where a great song comes on and you're ecstatic... and then there's that moment later on where you're alone in the bathroom, looking in the mirror, you don't think you look good, and you start feeling horrible.
Which, sadly, is a place that I think many of us have been and can easily relate to. What this revelation indicates, though, is Lorde's vast artistic vision, and the fact that, actually, the world may have greatly underestimated her.
When "Green Light" and "Liability" were both released amid quotes from Lorde regarding the fact that "breakups are so complex, and figuring out how to write about her "first major heartbreak," it appeared that Melodrama would, of course, be a breakup album. But defining Melodrama as a "breakup album" before anyone has even had time to hear it feels disingenuous and greatly patronizing to the young musician. Do people speculate, for instance, that any of Drake's or Justin Bieber's albums are going to be just "breakup albums"? Hardly, if ever.
Calling Melodrama a "breakup album" is to reduce it to something one note and flat, which are two adjectives which could never be used to describe Lorde's music. But it also perpetuates the sexist myth that women all sit in our sweats for years, pining over a man and cold calling his cell while eating a large bucket of ice cream that magically refills itself by magic of our own tears. By that way of thinking, of course Lorde's entire album would only be about her breakup and nothing else. But Lorde is better than that, and her talents deserve to be acknowledged as such.
As evidenced by her overall concept for Melodrama, Lorde is a spectacularly smart woman who knows how to channel her feelings into something complex, significant, and accessible. She might be young, but it's been clear since the release of her first album that the singer deserves to be taken seriously as an artist. With Melodrama due for release on June 16, I can only hope that the rest of the world catches up with her vision and gives her the respect that she truly deserves.