Why Lorde Wants 'Melodrama' To Speak For Itself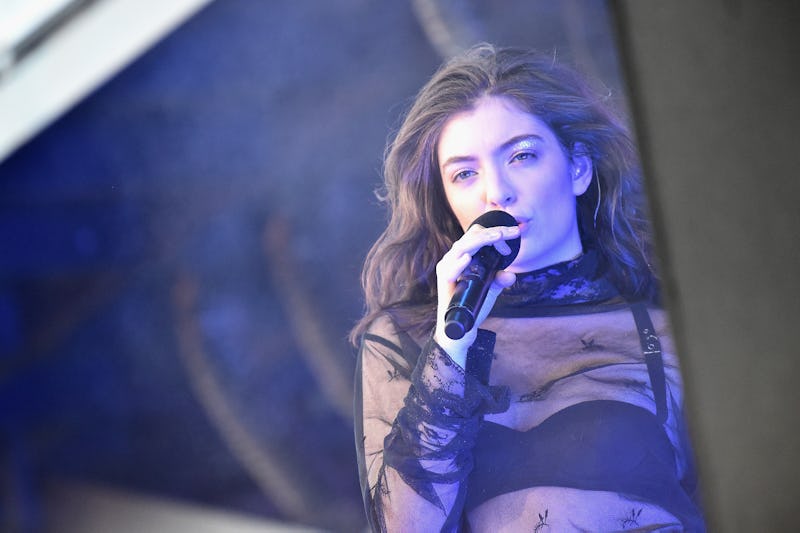 Steven Ferdman/Getty Images Entertainment/Getty Images
Lorde recently gave fans the perfect escapist anthem with "Perfect Places," but consider her sophomore album, Melodrama, her escape from the tabloids. In an interview with Vanity Fair, Lorde admitted the songs on Melodrama are about her personal life and what she's been through since her first album, 2013's Pure Heroine — including the 2015 breakup with her longtime boyfriend. "I'm putting all the interesting parts of my personal life into the work," she said. But she's not giving every last detail. "With all of my favorite artists, I'd much rather hear a story about the breakdown of a marriage than do the Googling about it. I love when artists are more mysterious."
Lorde is honest, but she's not one to overshare. After all, this 19-year-old would like to have some semblance of a private life. That's not an easy request when you're a pop star of her caliber and when spilling out the details of your everyday life on social media is just one part of the job. But that's not stopping her from trying to keep things close to her chest.
As many have already guessed — and Lorde has confirmed in multiple interviews, including this one with Vanity Fair — Melodrama's first single "Green Light" is a breakup song. It gets at what she was feeling and paints a picture of what her life was like as she dealt with the heartbreak, but it doesn't name names. On that score, it remains as vague as the rest of her album, which Lorde told the New York Times isn't a "breakup album," but rather, "a record about being alone. The good parts and the bad parts."
The lack of detail doesn't make "Green Light" or Melodrama any less honest. In fact, it may be more so because it allows fans to fill in the blanks. Others can use their own personal life to feel how Lorde felt. And that's exactly what she's hoping for. "All that's left" to know, she told Vanity Fair of "Green Light," "is what I'm cooking, what I'm wearing, what beach or store I may have gone to — so there's less of a treasure-hunt effect of wanting to put the pieces [of my private life] together."
The specificities don't really matter because Lorde is trying to convey a feeling not write an autobiography. She wants to be in control of her narrative. She doesn't want you stalking her Instagram, Twitter, or Facebook for answers to the who, what, where, why, and how of these songs. She wants you to sit down and listen to the album to learn all you need to about her.
"I'm really a shy, library person," Lorde told the magazine, "I'm an introvert, a writer — just trying to translate what's inside my chest." Her translation shouldn't be lost on fans interested in knowing more about Lorde. These personal songs are something a Google search could never give. That's the emotion behind these impactful moments of her life that she would like to keep out of the headlines. Lorde's music is for public consumption, but her private life never will be.