Louis C.K. Has Been Accused Of Sexual Misconduct By Five Women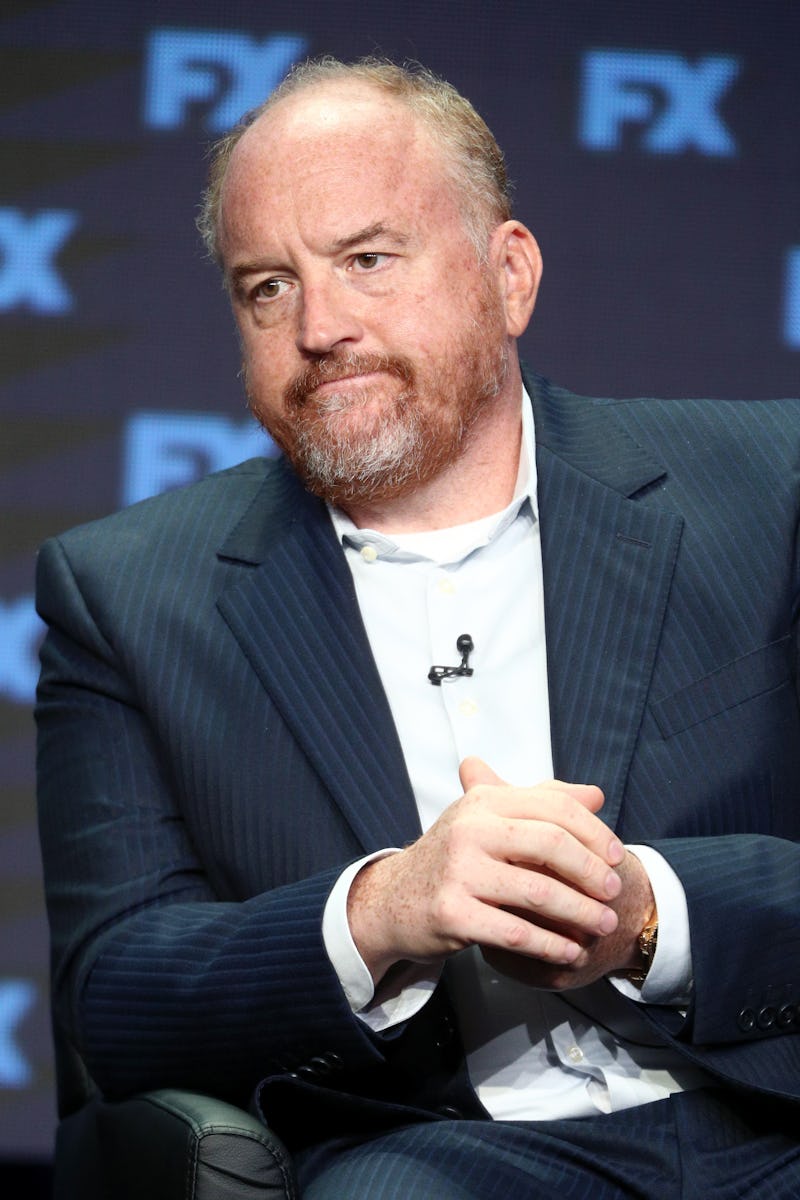 Frederick M. Brown/Getty Images Entertainment/Getty Images
On Thursday, The New York Times released an exposé detailing sexual misconduct allegations against Louis C.K. Five women have come forward describing alleged incidents involving the comedian, where he allegedly masturbated in front of them, asked if he could masturbate in their presence, or masturbated while he was on the phone with them. C.K.'s publicist, Lewis Kay, told the Times after the publication reached out for comment regarding the allegations, "Louis is not going to answer any questions." A rep for C.K. told Bustle, "In the coming days, Louis will issue a written statement."
UPDATE 1: As Variety reported on Friday morning, distribution company The Orchard announced that the release of C.K.'s film I Love You, Daddy has been canceled. The Orchard said in a statement, "The Orchard will not be moving forward with the release of I Love You, Daddy."
UPDATE 2: On Friday, No. 10, Louis C.K.'s publicist Lewis Kay gave a statement to Bustle in which read:
I want to address the stories told to the New York Times by five women named Abby, Rebecca, Dana, Julia who felt able to name themselves and one who did not.
These stories are true. At the time, I said to myself that what I did was okay because I never showed a woman my d*ck without asking first, which is also true. But what I learned later in life, too late, is that when you have power over another person, asking them to look at your d*ck isn't a question. It's a predicament for them. The power I had over these women is that they admired me. And I wielded that power irresponsibly. I have been remorseful of my actions. And I've tried to learn from them. And run from them. Now I'm aware of the extent of the impact of my actions. I learned yesterday the extent to which I left these women who admired me feeling badly about themselves and cautious around other men who would never have put them in that position. I also took advantage of the fact that I was widely admired in my and their community, which disabled them from sharing their story and brought hardship to them when they tried because people who look up to me didn't want to hear it. I didn't think that I was doing any of that because my position allowed me not to think about it. There is nothing about this that I forgive myself for. And I have to reconcile it with who I am. Which is nothing compared to the task I left them with. I wish I had reacted to their admiration of me by being a good example to them as a man and given them some guidance as a comedian, including because I admired their work.
The hardest regret to live with is what you've done to hurt someone else. And I can hardly wrap my head around the scope of hurt I brought on them. I'd be remiss to exclude the hurt that I've brought on people who I work with and have worked with who's professional and personal lives have been impacted by all of this, including projects currently in production: the cast and crew of Better Things, Baskets, The Cops, One Mississippi, and I Love You Daddy. I deeply regret that this has brought negative attention to my manager Dave Becky who only tried to mediate a situation that I caused. I've brought anguish and hardship to the people at FX who have given me so much The Orchard who took a chance on my movie. and every other entity that has bet on me through the years. I've brought pain to my family, my friends, my children and their mother.
I have spent my long and lucky career talking and saying anything I want. I will now step back and take a long time to listen. Thank you for reading.
UPDATE 3: On Friday, FX announced that it is ending its association with C.K. in a statement. It reads in part, "FX Networks and FX Productions are ending our association with Louis C.K. We are cancelling the overall deal between FX Productions and his production company, Pig Newton. He will no longer serve as executive producer or receive compensation on any of the four shows we were producing with him – Better Things, Baskets, One Mississippi and The Cops."
Soon after, C.K.'s rep, Lewis Kay, announced on Twitter, "As of today, I no longer represent Louis C.K."
EARLIER: Comedic duo Dana Min Goodman and Julia Wolov claim that in 2002 C.K. invited them back to his hotel room during the U.S. Comedy Arts Festival in Aspen, Colorado. While in his room, they allege he asked if he could take out his penis. "And then he really did it," Goodman claimed to the Times. "He proceeded to take all of his clothes off, and get completely naked, and started masturbating."
Then, in 2003, comedian Abby Schachner said she invited him to one of her shows over the phone. According to Schachner, during the phone call C.K. was allegedly masturbating. In 2005, comedian Rebecca Corry alleges while appearing on a TV pilot with C.K. he asked her if he could masturbate in front of her. Corry said she declined. Courteney Cox and David Arquette were executive producers of the pilot and they both confirmed the alleged incident to the NYT. "What happened to Rebecca on that set was awful," Cox said in an email. She also said, "My concern was to create an environment where Rebecca felt safe, protected and heard." According to the Times, Cox and Arquette talked about stalling production, but Corry wanted to continue.
Another anonymous woman also came forward alleging that while working on The Chris Rock Show in the late '90s, C.K., who was a writer and producer at the time, allegedly repeatedly asked her to watch him masturbate. She agreed. "It was something that I knew was wrong," the woman said. "I think the big piece of why I said yes was because of the culture. He abused his power." Per the Times, an individual who worked with this woman on The Chris Rock Show claimed the woman had told him what happened after it occurred.
This isn't the first time C.K. has found himself facing sexual misconduct allegations. In March 2012, Gawker published an article titled "Which Beloved Comedian Likes to Force Female Comics to Watch Him Jerk Off?" It was filed as a "blind item," but alleged about an anonymous comedian: "He traps unsuspecting women in his hotel room and makes them stick around until he's done. We've heard from several sources that this shameless funnyman whips it out at the most inopportune moments, often at times when his female companions have expressed no interest in watching him go at it."
The outlet also spoke with one woman, whose name wasn't released, who was allegedly invited back to this comedian's hotel room at the Aspen Comedy Festival, alongside her female comedic partner (the two women were identified in New York Times' piece as Goodman and Wolov). They allegedly watched the comedian masturbate in front of them, which made them so uncomfortable they decided to leave. However, the comedian allegedly blocked the door and finished masturbating.
The one woman who spoke with Gawker reportedly filed a complaint with the Aspen Comedy Festival's organizers about the alleged incident. Although, the alleged perpetrator's manager reportedly told the woman that her comedy career would take a big hit if she didn't drop her complaint — she apparently did.
Gawker reached out to the alleged accuser, who then wrote them: "first of all, your facts are wrong. and secondly, i don't want to be a part of this story. i'm sure you understand." She reportedly added after Gawker asked which of the facts it presented were wrong and if the incident actually happened, "please don't contact me about this matter anymore. Breast of luck to you."
Gawker reported that it also spoke with the male comedian's publicist, who agreed to ask their client about the alleged sexual misconduct. The publicist reportedly responded, "Sorry for delay but I never heard back from [him]."
Then, in May 2015, Gawker published another piece, this time discussing C.K. and other sexual harassment allegations that have been made against him. It also named him as the anonymous comedian from the March 2012 write-up about allegations due to hearing from multiple commenters that they'd heard that allegation before about C.K. However, comedian Doug Stanhope, who is C.K.'s friend, said in March 2012 on Facebook, "Gawker put this story out about me without using my name, as if I'd care."
In a June 2016 interview with Vulture, C.K. commented on Gawker's allegations and said, "I don't care about that. That's nothing to me. That's not real." He then added, "You can't touch stuff like that. There's one more thing I want to say about this, and it's important: If you need your public profile to be all positive, you're sick in the head. I do the work I do, and what happens next I can't look after. So my thing is that I try to speak to the work whenever I can. Just to the work and not to my life."
In April 2015, comedian Jen Kirkman (Chelsea Lately) spoke about a standup comic, who she said she refused to go on tour with. She also made allegations of his misconduct against women on her podcast, I Seem Fun. In May 2015, Death and Taxes reported about this particular episode (it has since been removed). In the episode, Kirkman reportedly didn't identify the comedian, but her description of him sounded similar to the allegations in both of Gawker's pieces. On the podcast, she said,
"And then I had another guy who is a very famous comic. He is probably at Cosby level at this point. He is lauded as a genius. He is basically a French filmmaker at this point. You know, new material every year. He's a known perv. And there's a lockdown on talking about him. His guy friends are standing by him, and you cannot say a bad thing about him. And I've been told by people, 'Well then say it then. Say it if it's true.' If I say it, my career is over. My manager and my agent have told me that. They didn't threaten it. They just said to me, 'You know what Jen, it's not worth it because you'll be torn apart. Look at the Cosby women.'"
Soon after, she chatted with Chris Hardwick on The Nerdist podcast in August 2015, where she opened up further about her comments and said, "It's kind of obvious who I was talking about." Kirkman also clarified that this individual "never violated" her.
In August 2016, The Daily Beast asked Kirkman about her podcast episode and she refused to make any further comment.
On July 19, 2015, Roseanne Barr commented on the C.K. allegations and tweeted, "I have 0 idea if Louie #CK is a sexual offender or not-but there R MULTIPLE accusations in Hollywood's working woman circles. He shld answer." Then, in June 2016, Barr called out C.K. in an interview with The Daily Beast. "I've been speaking up," she said about naming high-profile male comedians who have allegedly sexually assaulted or harassed women. "It's Louis C.K., locking the door and masturbating in front of women comics and writers. I can't tell you — I've heard so many stories. Not just him, but a lot of them. And it's just par for the course. It's just sh*t women have to put up with."
The Roseanne star later emailed The Daily Beast and said, "These allegations [against Louis C.K.] have been leveled and talked about for years. I do not have first hand knowledge, though have heard women make these allegations."
In August 2017, Tig Notaro, a writer and actor known for her Amazon series One Mississippi, also spoke with The Daily Beast about C.K. In Season 2 of the dramedy, a character is forced to watch a man in a power position masturbate in front of her at work. In addition to this being what C.K. has been accused of, he is also listed as an executive producer on Notaro's series. However, she told the outlet, "He's never been involved," she said, before adding, "It's frustrating, because he has nothing to do with the show. But I don't waste my time on him or what anyone thinks. His name is on it. But we are writing the show, the writers' room. We're sitting in editing. We're acting. We're on set. We're doing press. And everyone that's directly involved in the show works very hard. They are decent, talented human beings. And I feel lucky to be surrounded by them."
Notaro alleged to The Daily Beast that she had "an incident" with C.K. before One Mississippi was created. She didn't provide any details, but added about him, "We don't talk since then." After Notaro asked The Daily Beast if C.K. has ever "acknowledged" the allegations that have been made against him (The Daily Beast informed her of his June 2016 Vulture interview), she said, "I think it's important to take care of that, to handle that, because it's serious to be assaulted. It's serious to be harassed. It's serious, it's serious, it's serious."
While chatting with The New York Times in September, C.K. responded to Notaro's comments by saying, "I don't know why she said the things she's said, I really don't. I don't think talking about that stuff in the press and having conversations over press lanes is a good idea."
Notaro also spoke with the Times for its exposé and claimed via email about C.K., "Sadly, I've come to learn that Louis C.K.'s victims are not only real, but many are actual friends of mine within the comedy community." Notaro also claimed to the publication that both Goodman and Wolov told her about C.K.'s alleged actions with them in 2002.
C.K. has come under further scrutiny for his upcoming film, I Love You, Daddy. As described by The Hollywood Reporter in September, "The comedy centers on a privileged TV producer (C.K.) grappling with the fact that his 17-year-old daughter (Chloe Grace Moretz) has fallen for a brilliant but lecherous 68-year-old filmmaker (John Malkovich)." According to THR, the movie also "casually" uses the N-word, the word "retard", and even jokes about child rape.
In an interview with THR, C.K. commented on his film's controversy. He said, "It's just a f*cking movie," and added, "We're depicting oxygen-rich people who live in these beautiful apartments and offices saying whatever they want." He added, "Folks say sh*t to each other. You can't think about the audience when you're making the thing. If you do, you're not giving them something that came out of your gut."
There have also been mixed-feelings over how much I Love You, Daddy resembles Woody Allen's 1979 film Manhattan, which focuses on a relationship between Mariel Hemingway's 17-year-old character and a much-older man played by Allen. "Woody is an ingredient, along with a whole other generation of dudes who used to go up and down the age line a lot more easily," C.K. told THR. "I grew up with that. Manhattan is a movie I saw as a kid, and I was like, 'OK, that's what people do.'"
It's important to also note that Dylan Farrow, Allen's adopted daughter from his previous marriage to Mia Farrow, accused him of sexual assaulting her when she was just seven. Dylan wrote an open letter published by The New York Times in February 2014 detailing the allegations she made against Allen. That same February, Allen denied her claims to The New York Times.
C.K. spoke further about the many sexual misconduct allegations that have been made about himself to The New York Times in September and said, "I'm not going to answer to that stuff, because they're rumors. If you actually participate in a rumor, you make it bigger and you make it real." After being asked, "So it's not real?", he answered, "No. They're rumors, that's all that is."
In light of the most recent allegations described by the Times, Thursday's I Love You, Daddy New York premiere was canceled, as reported by Deadline. C.K.'s appearance on The Late Show With Stephen Colbert was also canceled. According to The Hollywood Reporter, the release of the film, which was scheduled for Nov. 17, is also under review.
Update: FX Networks, the network most closely associated with Louis C.K.'s work, released the following statement following the allegations in the Times:
"We are obviously very troubled by the allegations about Louis C.K. published in The New York Times today. The network has received no allegations of misconduct by Louis C.K. related to any of our 5 shows produced together over the past 8 years. FX Networks and FXP take all necessary actions to protect our employees and thoroughly investigate any allegations of misconduct within our workplace. That said, the matter is currently under review."