4 Books To Read When You're Finished Reading Everything By Cheryl Strayed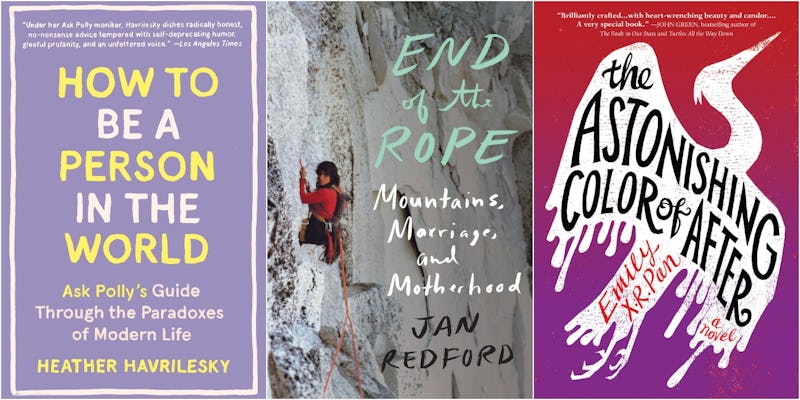 Have you ever fallen completely head-over-heels for an author's work, only to find that after reading everything they have to offer, nothing else seems to compare to their brilliant writing? Unfortunately, it happens to bookworms all the time, but fortunately, there are always similar titles out there. If you're a die-hard Cheryl Strayed fan, it might seem like nothing can hold a candle to her heartfelt, humorous, and utterly inspirational writing, but I promise you, there are plenty of books like hers you will like just as much.
It seems like every reader is destined to find the good and great Cheryl Strayed in their own way. For faithful readers of The Rumpus, they probably happened upon her wisdom via Dear Sugar, possibly before it was revealed the author was the voice behind the inspiring advice column. For movie-lovers, it likely happened after watching the Reese Witherspoon-starring adaptation of Wild, Strayed's moving memoir about grief and her journey trekking the Pacific Crest Trail. If you're a fiction fan, you may have happened upon the author's debut, Torch.
Personally speaking, I first fell for Strayed's writing in her book of advice, Tiny Beautiful Things, a collection of the best of her "Dear Sugar" columns. In a passage that I have since written and posted on my bedroom wall, she writes, "Most things will be okay eventually, but not everything will be. Sometimes you'll put up a good fight and lose. Sometimes you'll hold on really hard and realize there is no choice but to let go. Acceptance is a small, quiet room." All it took was these few sentences, and I was hooked.
Tiny Beautiful Things by Cheryl Strayed, $6, Amazon
Whether you prefer her memoir Wild, her book of advice, Tiny Beautiful Things, her debut novel, Torch, or her wonderful collection of inspirational quotes, Brave Enough, you'll love these four similar books.