The First Batch 'Love Island' Memes Have Landed & TBH, They Do Not Disappoint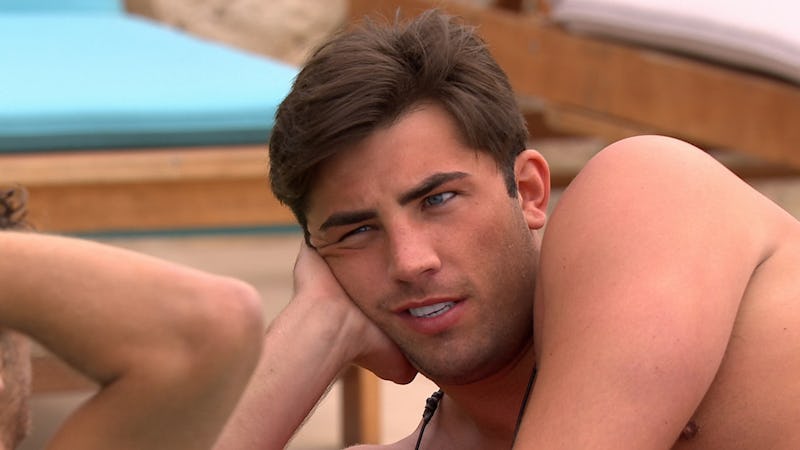 ITV / Love Island
Love Island is about as social-media friendly as telly gets. While it's fairly common to live-tweet your fave show, the hit series rivals the likes of reality TV behemoths like RuPaul's Drag Race for tweetability and has spawned enough memes, gifs, and fan accounts that you can easily lose whole chunks of your life scrolling through them. Plus, there's the added bonus that you can follow its cast members on all platforms (or rather whichever loyal friend or family member has been tasked with running it while they're in the villa). The best Love Island 2018 memes have been every bit as good as we hoped, and we can't wait to dig in.
The 2017 series gave us baby Cash Hughes, Olivia Attwood's inexplicably hilarious dive into the infinity pool, Jonny Mitchell's creepy AF side-eye, and Georgia Harrison's Tour de France-worthy cycling shorts. But the 2018 series might just be the most meme-d ye. How do I know? Because it's barely even begun and already social media is buzzing with sideswipes at the contestants.
From jokes about Alex the doctor deserting the NHS to Danny Dyer showing up in the villa — I can't say I haven't been saying a prayer to the reality TV gods, aka the Love Island producers, that this happens, because it would be gold — viewers have wasted no time poking a bit of fun at this year's line-up.
And the jokes only continued as the first episode of 2018 got underway. Whether it was Niall's love of Harry Potter or Jack's pearly whites, nothing was immune from the meme treatment. I certainly wouldn't have it any other way, so here are my picks of the best.
Eyal and Hayley's "deep" chat had everyone absolutely baffled.
Predictably, one of the biggest themes of the evening was Dani Dyer's famous father. Given the breadth of characters Danny Dyer has played, and the high jinx he's got up to in Eastenders, there was plenty of material to keep meme-makers happy. As such, the Danny Dyer jokes practically wrote themselves.
Potterheads need no excuse to revel in their love of the boy who lived, so throwing down some Harry Potter enthusiasm in the Majorcan villa was always going to make for social media magic.
You arrive into a villa on national television. After going through an intense and no doubt embarrassing selection process, you sit down with your fellow contestants to natter. You need something lighthearted to discuss. Luckily stationery salesman Jack was on hand with his dazzling white gnashers to provide the perfect conversation fodder. Unsurprisingly, his pearly whites captivated fans on Twitter and Instagram too.
Those Love Island producers know how to throw a spanner in the works. Chucking in bombshell Adam before the couples could even take half a step into the sunset certainly left an impression both in the villa and at home.
Poor Alex. First he suffered the irritation of having nobody step forward for him (which some Twitter users suggested wouldn't have happened had his doctor status been known), and now come the NHS memes. Not having a phone in the villa probably has it's upsides, I guess.
Others were all about pointing out the Love Island lookalikes because yes, it looks like the producers do know who is 100 percent their type on paper.
Honestly, if this is the level of hilarity we're getting in episode one, I can't wait to see what quality meme content we have still to come. Something tells me the next eight weeks are going to be an absolute treat.