Laura Shut Down Wes' Apology In The Best Possible Way & The Memes Are Glorious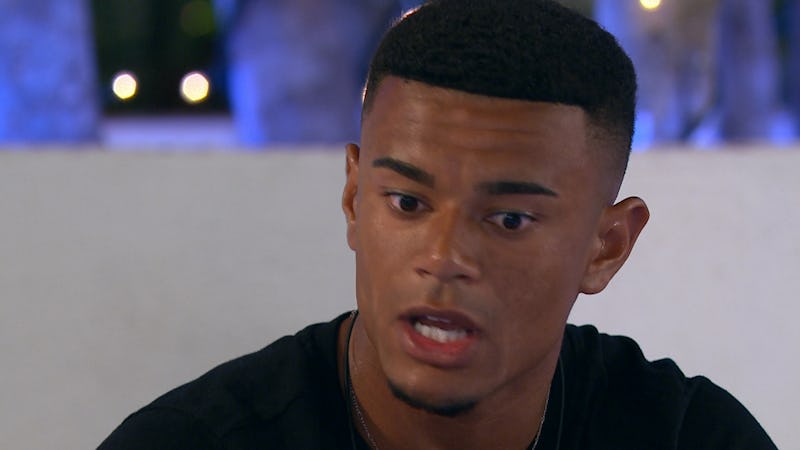 ITV
Wednesday night's episode of Love Island continued with covering the fallout from the night before, as the repercussions of Megan Barton-Hanson and Wes Brown's burgeoning relationship sent shockwaves around the villa. Obviously, no one felt the ripple effects of this shocking new romance quite more than Wes's former villa squeeze, Laura Anderson, who wasn't quite ready to accept apologies from Wes or indeed, forgive him. Thus, when Wes apologised to Laura on Love Island she dismissed him with a truly epic level of sass.
To recap: Tuesday night's episode of Love Island saw Wes pretty much force Laura into breaking up with him. And, just when she was coming to terms with the breakdown of their relationship at the start of Wednesday's episode, Laura was in for yet another surprise. Deciding not to sleep in the bed she and Wes previously shared, Laura camped out on one of the villa's indoor sofas. However, it turns out Wes wasn't planning on staying in their communal bed either.
What Wes actually did was camp out on an outside bed with Megan, kissing her several times before falling asleep and then waking up together, and it's safe to say Laura wasn't particularly thrilled when she found out about that.
Indeed, when Wes asked to talk to Laura later that day, she was pretty set on dismissing him immediately — and quite rightly, too.
After attempting to apologise for a while and Laura having none of it, Wes conceded and said, "That's fine, I just wanted to say [I'm sorry] to you." Laura then interrupted Wes's apology and pretty much shut it down immediately. "[Wanted to say you're sorry] to make yourself look better," she replied. "OK, cool. You can go now." Laura then turned to Dani Dyer and added: "I'm not going to forgive him."
Naturally, Love Island fans were pretty impressed — and also darn proud — of Laura's icy rebuttal of Wes's apology (even if she did kind of revoke that rebuttal later on in the episode) and put together some memes to commemorate the amazing put down.
Here are just a few of them, and — be warned — they're pretty brutal.
So, what's next for Wes, Laura, and Megan?
Well, despite hugging at the end of Wednesday night's episode, don't expect Laura to be entirely cool with Wes from here on out, or Megan, either. Especially after those pretty lame apologies. Laura told the Beach Hut: "I'm not going to accept [Megan's] apology, the same as I didn't accept Wes' apology. Because both of them would do the same thing again, so they don't think that they're in the wrong. I just don't see the point apologising, it's not real."
And, while her relationship with Wes may be dead in the water, there is every chance Laura could still find love, as six new men are due to arrive in the Love Island villa any moment now.
As revealed at the end of Wednesday's episode, this week will see the return of Casa Amor, where last year's male Islanders were sent and joined by a batch of new female Islanders to test their loyalties, while the girls were joined in the original villa by a plethora of new male contestants.
It's a very exciting update as, technically, there are only four Love Island couples still standing after the elimination of Zara McDermott and Eyal Booker. And, despite recently embarking on a romance with each other, could the arrival of more Islanders prove too much temptation for Wes and Megan's early-stages relationship to handle?
Only time will tell.
Love Island airs on ITV2, Sunday to Friday at 9 p.m.