'Love Island's Rosie Dated This Reality TV Star & Their Break-Up Sounds WTF Worthy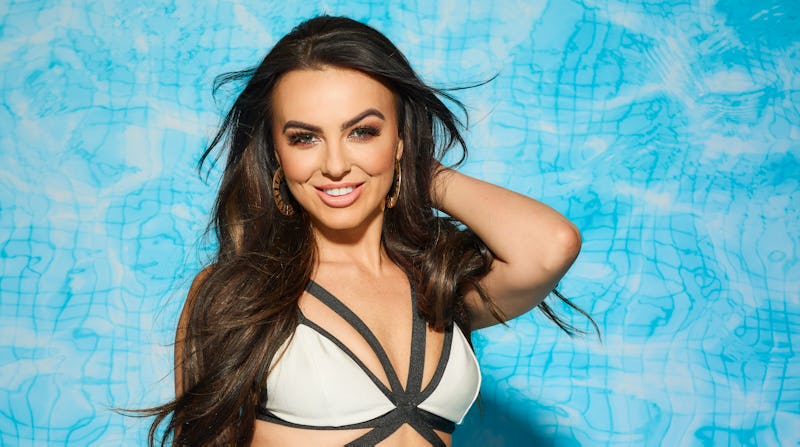 Love Island/ITV
ITV producers seem to have pulled out all the stops for the Love Island 2018 line up. We've got a real-life doctor, British hero Danny Dyer's daughter, who he conveniently named after himself, and now a 26-year-old solicitor who also happens to be Ibiza Weekender and Celebrity Big Brother star Jordan Davies' ex-girlfriend. Love Island's Rosie Williams, a 26-year-old Welsh brunette, is one of two new arrivals entering the villa this week. Something tells me things are about to get very exciting.
Rosie, who left her high-flying job as a solicitor to go on the show, revealed in an interview with Bustle prior to entering the villa that she dated fellow ITV2 reality star Jordan Davies, who was recently booted off Ibiza Weekender after six years on the show, when she was 21. She ended things with him after Jordan cheated on her repeatedly. "I have been cheated on. [Jordan and I] were together whilst he was filming Ibiza Weekender and that's when he cheated on me quite a lot," she revealed. "It was hard but I never ever blame the girl. Actually, I've become friends with a couple of them afterwards from speaking to them about what he did to me."
She added: "A lot of people ended up telling me, or I ended up speaking to them just to confirm [the cheating] and I was never horrible to them because he was the one with the girlfriend. Some guys won't even admit to having a girlfriend when they do it so it's definitely not the girls' fault."
Safe to say she's a girls girl then — I like her already!
Though Rosie says she is still on friendly terms with Jordan despite their history, he's in for a shock when she appears in the villa this week as she has kept it all under wraps. "He doesn't know," she said. "I think it's going to be the shock of his life. It would be funny to be a fly on the wall."
Wouldn't it just. Surely ITV can somehow arrange a live stream of his reaction? Or perhaps he and Danny Dyer can be on a special episode of Gogglebox together? Now that has TV gold written all over it. Then again knowing Love Island, he could very well make his own surprise appearance in the villa. Would that ruin Rosie's experience? "I don't love him anymore so I've got no grudge with him," she said. "I'm fine with the guy, we bump into each other quite a lot so I'd be fine with it and I'd be happy for him if he met someone. But I think he has a girlfriend actually." Hmm, why do I get the feeling that won't stop him?
Jordan isn't the only one who is in for a surprise when Rosie enters the villa. Believe it or not, she hasn't told any of her colleagues or bosses at her solicitors' firm about the show. "I haven't actually told my firm that I'm going on," she said. "I just told them that I was moving back to Wales for a little bit." However, she isn't worried about their reaction at all. "I don't think they'll be surprised with me, I'm quite unpredictable," she continued. "They'll be fully supportive. They're a great bunch of people. A lot of them are quite young as well and a lot of them love the show actually so I'm sure they'll support me all the way."
When it comes to her girls, Rosie says she's fiercely loyal - especially with her three best friends, who she told me cried when they said their goodbyes before she left for the show. "I'm very loyal as a friend. I think my girls would probably describe me as comical, loyal, and I can be a bit feisty too." Anyone else think she sounds like the perfect mix between last year's Camilla Thurlow and Montana Brown? I'm loving her already. Let's hope the original girls in the villa do too, as Rosie's biggest fear about entering the villa is how the other girls will treat her as a new arrival. "I'm more nervous about the fact that,obviously going in as a late comer, the girls might not give me a chance and could be quite mean," she explained. "Hopefully that isn't going to happen."
Something tells me she'll be just fine.
Catch Love Island on ITV2 every night at 9 p.m.