That Netflix Show You Made Fun Of Is Actually The Loveliest Rom-Com On TV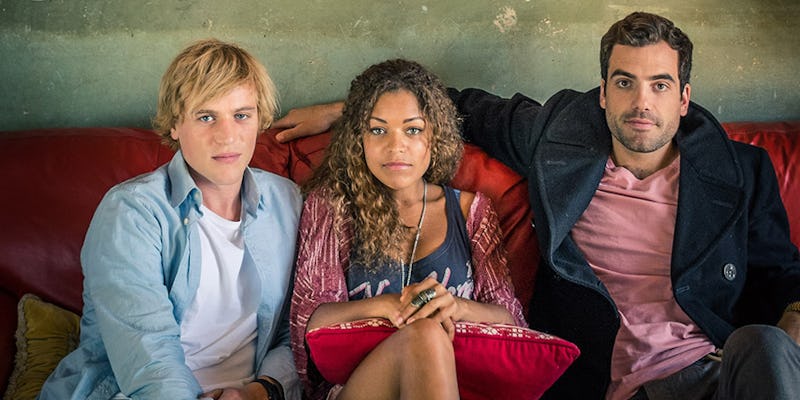 Antonia Thomas always forgets that the show she stars in is about chlamydia. But now that it's been a full season since Netflix christened the unfortunately named Scrotal Recall with the more apt title, Lovesick — Season 3 is out now — it's hard to blame her for attempting to block out the show's original less family-friendly moniker and all the uncomfortable conversations that came with it.
"It was like this comedy routine," Thomas tells Bustle of the situation she often found herself in when the show was still called Scrotal Recall. "People [would] ask what you're doing and you'd find every way to talk about the show without saying the name." Thomas' co-star Johnny Flynn had similar experiences, telling The Guardian last year that "it took some time for us all to realize quite how deep the squeamishness around the word 'scrotal' goes."
It certainly didn't help that many reputable news outlets initially misjudged the show based on its name and dismissed it; it was only once Channel 4 canceled Scrotal Recall in the U.K. that Netflix rebranded it as Lovesick and took full ownership of Season 2 that the show seemed to garner a bit more credit. But while the raunchy, pun-laden title didn't match the show's more earnest tone and may have initially turned off the exact type of viewer who would appreciate its hopeful outlook on love, it did function as a pretty good description of the show's premise: Guy gets diagnosed with chlamydia, and must inform all of his previous sexual partners that they may have been exposed to the disease. That guy is Dylan (the haplessly charming Flynn), and Thomas plays Evie, Dylan's best friend and quite possibly his greatest love — though the show's delicate game of will-they-wont-they will leave you guessing, at least for a bit. There's also Dylan and Evie's other best mate Luke (Daniel Ings), a more outspoken playboy who's usually the foil to Dylan and Evie's often debilitating social anxiety when it comes to them acknowledging their feelings for one another.
As told in a series of jumps between the present-day and flashbacks, the trio navigates love, lust, visits to the STI clinic, the dynamics of a flat-share, camping vacations, weddings, divorce parties, and more all while telling the origin story of Dylan's many relationships and flings before each episode culminates in him breaking the news to a previous partner about his diagnosis. But while the show is structured around Dylan's partners — the episodes are even named after them — Lovesick quickly transcends its Dylan-centric setup to focus on the true reason we're interested in this story, which is his relationship with Evie, which Thomas calls "the beating heart of the show." And since Dylan finished contacting all his sexual partners in Season 2, Lovesick Season 3 has become even more interested in shading in the complexities of its well-drawn main characters.
While Lovesick does subscribe to the traditional romantic comedy belief that everybody has a soulmate and its will-they-won't-they storyline is hardly uncharted territory, series creator Tom Edge's sharp writing helps ground his characters as real people with recognizable flaws and past failures and relatable wants and needs. The result is a show that is able to imbue the types of rom-com moments we've seen tons of times before, like a character's decision to call off a wedding, or the moment another realizes he has to tell his best friend he's in love with her, with deep pathos that makes them feel like more than cookie-cutter tropes.
It helps that Thomas and Flynn have a quiet, crackling chemistry that makes you really believe in their compatibility (and like any good will-they-won't-they couple, Dylan and Evie's relationship has inspired some classic fan video compilations), and Lovesick takes pleasure in showing that in the subtlest of ways. From the way they sit closely next to each other while reading the newspaper, to Thomas' expressive eyes, which in close-up can sometimes seem just one moment away from flooding with tears, to the small knowing glances Dylan and Evie often exchange from across the room, one of the loveliest parts of Lovesick is its unabashed embrace of the small expressions and gestures that become so important to people as they fall in love.
And sometimes, where there is love, or even just lust, there is chlamydia. While Lovesick does treat sex and sexually transmitted diseases with a matter-of-fact frankness — this is not the kind of show that wants to punish its protagonists for promiscuity but rather views STIs as a random and unfortunate side effect of poor planning — it doesn't wallow in Dylan's STI diagnosis (and hey, it helps that the disease can be successfully treated with antibiotics). In reality, Thomas says, Lovesick isn't really about chlamydia at all. "It's about relationships between three friends and how that blossoms and changes over the years," she says.
Now that by the end of Season 2 — light spoiler alert — Dylan and Evie seem to have both acknowledged their love for each other, just not to each other's faces, Season 3 chronicles what happens when a will-they-won't-they definitively does or doesn't turn into an actual relationship. "It kind of becomes a slightly different beast," Thomas says of Season 3, noting that while Lovesick is definitely a romantic show, this season is careful to portray the realities of what happens when a long-simmering attraction and the possibility of finally being able to date that person you've always felt you should be with must be addressed head-on.
It's appropriate growth for a show that's committed to its realistic yet optimistic view of the world, and we have Thomas to thank for taking a chance on a little script called Scrotal Recall in the first place. "When I first got the script and it was called Scrotal Recall I didn't want to read it," she says. But once she did, "it was sort of a no-brainer; they said they were going to change the name," Thomas adds with a laugh. The timing of that name change may not have been ideal, but at least it actually came fruition. Here's hoping we can say the same for Dylan and Evie's relationship.