Luann From 'RHONY' Just Celebrated 6 Months Of Sobriety With A Very Unexpected Reunion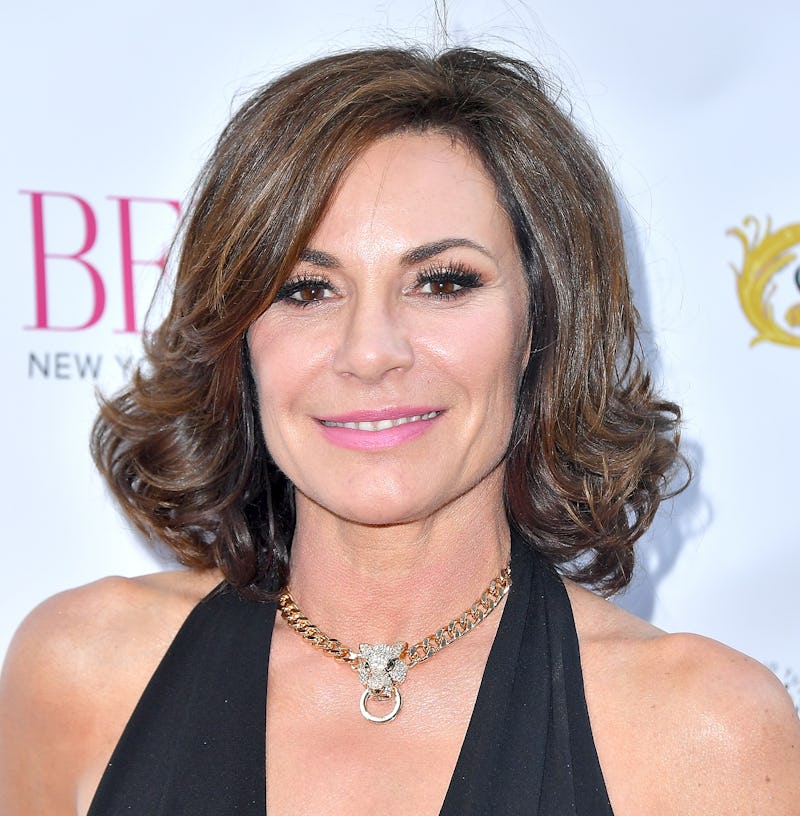 Michael Loccisano/Getty Images Entertainment/Getty Images
Things are seriously looking up for the Real Housewives of New York's resident Countess. RHONY's Luann de Lesseps recently celebrated six months of sobriety, as People noted. Based on her Instagram post in honor of the milestone, she celebrated the occasion with a very special reunion.
The Housewife was living it up in Sag Harbor with a certain someone from her past: her ex-husband, Count Alexandre de Lesseps. She captioned the photo, which saw the exes posing alongside each other, with, "Greatest reunion ever! Wonderful to spend the weekend with my kids and The Count." Not only was there a de Lesseps family reunion, but the reality star also celebrated something incredibly important.
She went on to say in her caption, "Also counting my blessings! Celebrating 6 months of sobriety!" So things are definitely headed in a more positive direction for the Countess. And it looks like she's having the best time with her family while she does celebrate all of her blessings.
While it appears that she's on great terms with the Count, don't expect any kind of romantic reunion for the pair. According to the Daily Mail, Luann told them, "We're not together, but he adores me." It's so great that they can simply hangout together and that her ex can be there for her for such a major milestone.
There was previously a little bit of drama involved in their split. After 16 years of marriage, the two split in 2009. Her ex told her that they were basically over via email, "It said that he had met someone," she told People at the time, "and they were serious." But the past is seemingly in the past, as the former married couple was all smiles recently.
The Housewife has been on a rollercoaster ride ever since she was arrested in December 2017. The alleged incident went down in Palm Beach, Florida, which is where she married her second husband, Tom D'Agostino in December 2016 (they announced they were divorcing in August 2017, per Page Six). She was arrested for alleged battery, disorderly intoxication, and resisting arrest. Months after the situation, Luann will plead guilty to lesser misdemeanor charges and will accept a plea deal, according to a May 25 report from CBS12.com. The judge in the case set a court date for July 25, where the Housewife is expected to plead guilty in absentia.
After the incident occurred, Luann released the following statement to People:
"This was my first time in Palm Beach since my wedding, and being here brought up long-buried emotions. I want to offer my sincere apologies to anyone I might have offended with my behavior. I am committed to transformative and hopeful 2018."
She also released a similar statement via Twitter after the incident happened. To follow up on that note, she released another message to her followers, where she revealed that she would seek professional help at an alcohol treatment center. Notably, she wrote, "I intend to turn this unfortunate incident into a positive life changing event."
It seems like Luann has definitely learned from the experience and has turned over a new leaf. The Countess has been busy with all of her many "Countess and Friends" cabaret shows. She's also been extremely dedicated to her sobriety, as her time on RHONY has chronicled, as well as this latest Instagram update noted.
Seeing as though her life is back on track, she's decided to look at the whole arrest situation as a positive learning experience. She told People, "It was meant to happen so that I could take a step back and look at myself in a different way. I'm grateful to the universe for making me change my life." And it appears as though, just based on her latest sobriety update, that has been exactly the case.