'RHONY' Star Luann de Lesseps Was Just Arrested For Alleged Battery, Disorderly Intoxication, & Resisting Arrest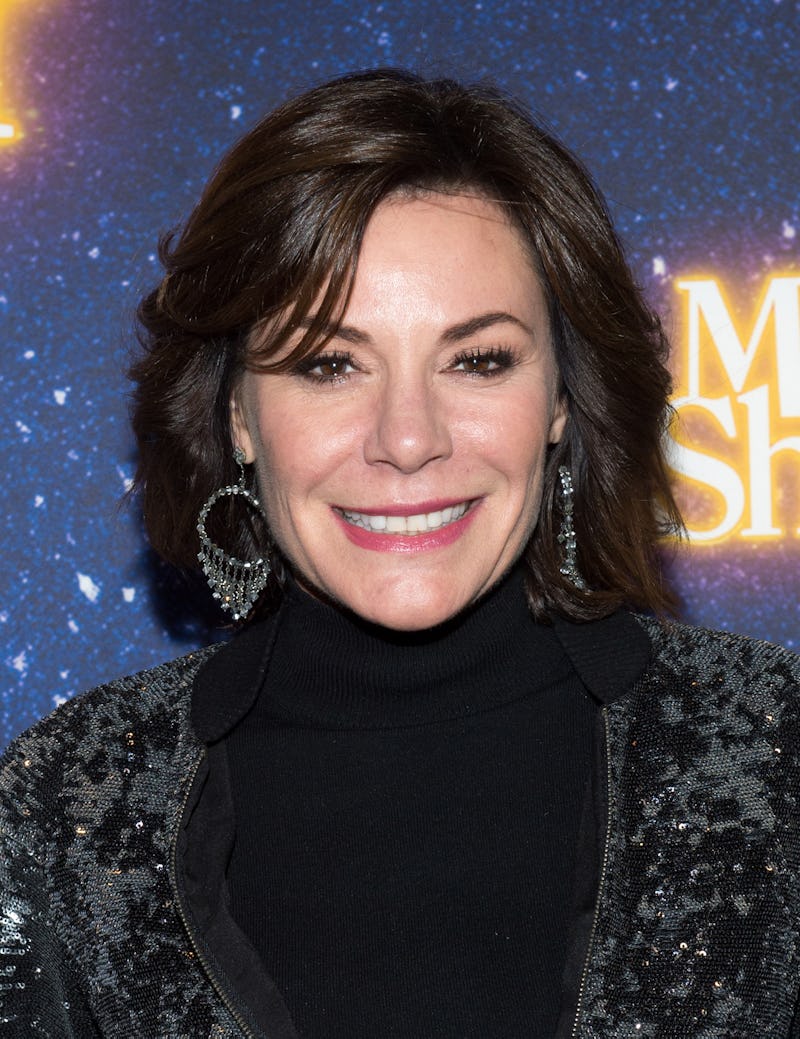 Noam Galai/Getty Images Entertainment/Getty Images
It's been a difficult year for Real Housewives of New York star Luann de Lesseps, both on and off screen. Early Sunday, Dec. 24, RHONY's Luann de Lesseps was arrested by Palm Beach Police for alleged battery on a law enforcement officer, resisting with violence, and the two charges of corruption by threat. According to the Booking Blotter from the Palm Beach County Sheriff's office, de Lesseps was arrested on five charges, four of which are felonies. Bustle reached out to the Palm Beach Police Department, Bravo, and de Lessep's reps for comment, but did not immediately hear back.
Update: de Lesseps issued the following statement to People: "This was my first time in Palm Beach since my wedding, and being here brought up long-buried emotions. I want to offer my sincere apologies to anyone I might have offended with my behavior. I am committed to transformative and hopeful 2018."
Earlier: The incident allegedly took place in Palm Beach, Florida, where Lesseps was released without bond, on her own recognizance, later the same morning. Her court date is slated for Jan. 25, 2018. According to the Palm Beach Post, an assistant state's attorney reported that de Lesseps allegedly kicked at least one police officer and allegedly threatened an officer. According to a thread on Twitter from Palm Beach Post intern Meryl Kornfield, de Lesseps was arrested and booked in jail at 1:25 a.m. on Sunday. Kornfield also added a quote from the Assistant State Attorney and included a picture of de Lesseps in court.
Kornfield reported the following about de Lesseps' arrest on Twitter.
"Judge Ted Booras says de Lesseps doesn't qualify for a public defender. She has no priors. ASA said she slammed a door, kicked an officer. ASA said she said "I'm going to kill you all." ... The judge also reportedly warned her against a refusal to respond to charges or appear in court. He took note of her fame and said: "I don't think it would be that hard to find you."
Judge Booras will allow the reality star to return to home to New York City, because de Lesseps' record has no prior offenses, according to the Palm Beach Post. She will be expected to appear in court in Palm Beach, and the judge advised her to seek a criminal defense attorney in the city "instead of ignoring the charges," reported the Palm Beach Post. According to the newspaper, Judge Booras also advised her "not to incriminate herself and respond to him when he said she might have a drinking problem."
De Lesseps is best known as one of the regular cast members on RHONY and she first appeared on the show when it premiered in 2008. At the time she was married to entrepreneur and French Count Alexandre de Lesseps, and held the title Countess Luann de Lesseps. When the couple divorced in 2009, she still held the courtesy title of "The Countess," and the nickname became part of her television persona. In 2016, she married to Tom D'Agostino on New Year's Eve in Palm Beach and they filed for divorce in August 2017, just after nearly eight months of marriage; the divorce was settled in October 2017. Following the divorce, she moved into a new apartment on the Upper West Side in NYC and is still considered part of the main cast of the Bravo series.
In an interview with Bravo's Andy Cohen, de Lesseps was candid about why the marriage didn't work, citing that both she and D'Agostino had reservations even before the wedding. "We both filed," she said during the interview in September. "We were both unhappy. We were both having problems, and we were both suffering. So we decided that was the best thing to do."
De Lessep's most recent Tweets include a thank you to fans who supported her Red Cross blood drive and a promotion for RHONY holiday mugs.
De Lessep's will likely return home to New York City, and has not yet spoken publicly about the incident.