This 'RHONY' Reunion Detail Will Shatter Fans' Hearts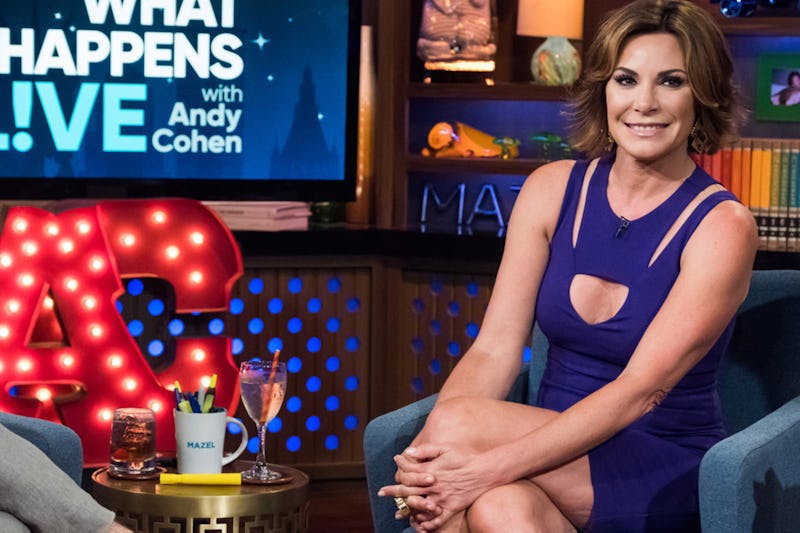 Charles Sykes/Bravo
When The Real Housewives of New York City reunion spectacular commences next Wednesday, Sonja Morgan, Ramona Singer, Bethenny Frankel, Dorinda Medley, Tinsley Mortimer, Luann de Lesseps, and Andy Cohen will all be present and accounted for, seated in a flying V formation, ready to tear into Season 9 with all of their might. And as E! News and The Daily Dish pointed out, a piece of a New York Housewife's wedding will be there, too. If the gown de Lesseps picked out for the RHONY reunion looks familiar, rest assured that your eyes and memory aren't playing a prank on you; this is not the first time the Countess has been seen in this article of clothing. And hey, it's a stunner of a garment, so who can blame her for wanting to put it back on?
May she wear that garment as many times as she darn well pleases — er, wait. Maybe hold that thought, because that white reunion dress is the very dress de Lesseps wore to her wedding rehearsal. Just when you thought you've seen everything at Real Housewives reunion, de Lesseps shows up to the Season 9 reunion in one of her wedding dresses, and a few weeks later, she announced her marriage was over. Oof, things sure took a turn for the somber, didn't they?
Last Thursday, de Lesseps tweeted that she and Tom D'Agostino filed for divorce after seven months of marriage. As a number of RHONY fans noted, this announcement happened after the Season 9 reunion filmed, so the split most likely will not be addressed on the post-season special. However, like jewels on a piece of illusion netting, a token from her wedding weekend will float over the reunion: A few weeks before she tweeted the divorce news, de Lesseps filmed the RHONY Season 9 reunion in the gown she was photographed in at her pre-nuptials party. Oh, and another layer to the timing of this wardrobe choice: the RHONY reunion taped right around the same time Page Six reported that de Lesseps and D'Agostino got into an altercation at a restaurant.
And on that uplifting note, here's de Lesseps at the RHONY reunion.
Here's what appears to be the same dress at the rehearsal dinner.
You can watch a snippet of Lu defending her soon-to-be-ex-husband to her co-stars in her wedding rehearsal dress below. (Ugh, this is such a bummer.)
On the bright side, Lu has created new memories with the gown. Now she can throw open her wardrobe, see the dress, and say, "Ah, yes. My beloved Season 9 reunion frock. That's all you are to me. Just a souvenir from yet another post-season get-together."