Lucy Hale Dyed Her Hair Blonde & She's Totally Rocking The New Look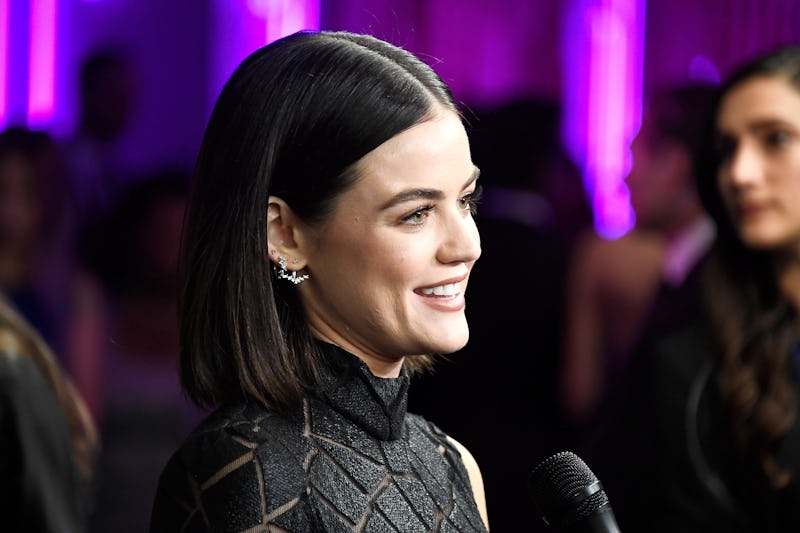 Frazer Harrison/Getty Images Entertainment/Getty Images
In a surprising post-summer move, Lucy Hale dyed her hair blonde, according to an Instagram photo posted on Wednesday. And the Pretty Little Liars actress, who is known for having a dark bob, is definitely making the new style work. She kept her thoughts concise in the caption for her Instagram reveal, writing simply, "Blonde ambition."
Hale captured the transition to her golden locks on her Instagram story, revealing that she received the haircut from celebrity hairstylist Kristin Ess. The stylist, too, captured the transformation, posting a picture of Hale on her own Instagram feed and writing, "Chameleon AF. The life of an actor can be really hard on the hair. Thank goodness she's got the face of an angel and the patience of a saint. When going from dark brown to blonde, trust your colorist to do it at the right pace to keep your hair from snapping off. 🖤 next stop: 💇 "
Hale's physical transformation comes just in time for an update in her professional life, as well: the actress was recently tapped for the lead role in an indie rom-com titled A Nice Girl Like You. According to Deadline, A Nice Girl Like You is shooting in October, so it's possible that Hale's new hairdo reflects her dedication to creating a specific look for her new character.
Though Hale's hair might be a shock to some, it's actually not her first time going blonde: Hale also went a few shades lighter in 2016, and Ess was once again the color stylist behind the hairdo.
Celebrities tend to change their hair the way other people change moods, so it might seem like these switches to blonde would be effortless for Hale — but that's totally not the case. Hale documented the entire hair coloring process for her most recent return to blonde, revealing along the way that it actually takes up to 10 hours to get those perfect ombre locks.
The laborious process hasn't deterred Hale: Marie Claire reports that the actress has undergone three serious hair transformations in 2018 so far, covering blonde, brunette, and even fiery red hairstyles all over the course of the last year.
On Wednesday, Hale took to social media to talk about something substantially more serious than her latest hair color transformation: the importance of maintaining and paying attention to your mental health. Wednesday was National Mental Health Awareness Day, so Hale took the time to tweet, "Speak up about what hurts and haunts you. I have a soft spot for today , as I have had my own struggles with mental health. Do not be ashamed of what you are going through."
She advised her followers to always make a point to check in on their own mental health as well as the mental health of their loved ones. Then she added in a subsequent tweet, "so happy to live in a time where we can all openly talk about these issues. Together, we can help fight what I consider to be one of the most neglected issues in our country."