Lucy Hale's New Tattoo Has A Sweet Connection To Her Family & The Photo Is So Heartwarming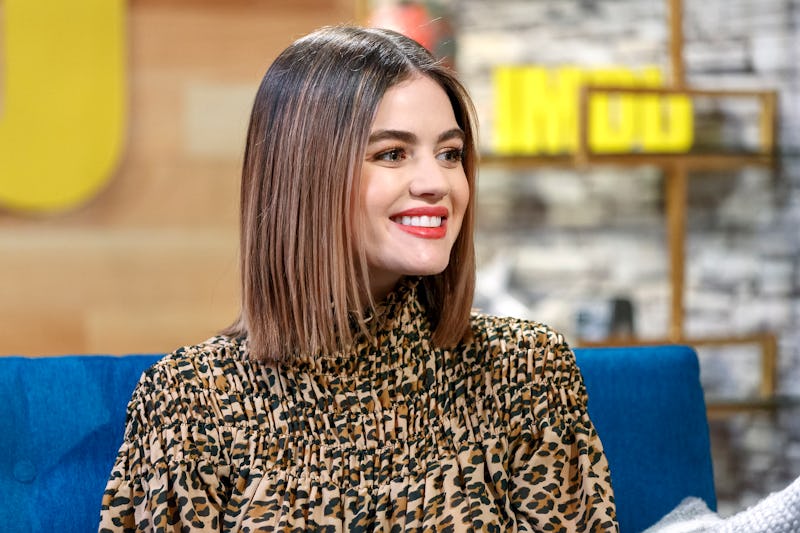 Rich Polk/Getty Images Entertainment/Getty Images
Sisters bond in all kinds of ways: They spend time together, they take trips together, maybe they cook family recipes together. And sometimes... they run out for weekend errands that include getting tattoos. For example: Lucy Hale's new tattoo matches her sister's, and they're both heartwarming AF.
Early on July 7, Hale posted a photo where she and her sister flash their new ink for the camera. They both have the words "I love you" written in a delicate script on the outsides of their forearms, and the reason behind it is precious. "Nothing says sisterly bonding more than permanently tattooing your body," Hale wrote on Instagram, "After years of wanting our grandmother's writing, we did it!" The actor continued:
Our Grammy was our favorite person & now she's even more a part of us. Also, my sister is a badass who raises two kids, teaches combat classes AND goes on tattoo runs with her baby sister 💃🏻
"Also," Hale added in the Instagram caption, "Ouch. This one hurt." She would know: It's not her first tattoo, or even her first one this summer. Over the years, Hale has acquired several tattoos, most of which were completed by L.A.-based artist and celebrity favorite "Dr. Woo". As of July 2018, she has at least 10: A tiny bow, a lightbulb, an evil eye, a Bible verse, a quote from author C.S. Lewis, the letter A, a small elephant (following her trip to Thailand in late May-early June of this year), a sun, a moon, and now her grandmother's handwriting.
Most of the tattoos are deeply personal to Hale, and are concealed by costumes and makeup when filming various projects. That's why it's easy to be surprised by the fact that she has so many — even if you've been a fan of Hale since before her Pretty Little Liars days. In 2017, she explained the origins of her ink to Refinery29:
"I got this 'A' with all the PLL girls; it stands for my character, Aria. We all got them together on the same place... The meaning of my name is light, so I actually have a light tattooed, too, that Dr. Woo did years ago."
It sure sounds like that's in addition to a lightbulb she had inked in 2017, which would mean Hale now has at least 11 tattoos, but she didn't clear it up in that piece. She did continue, however:
"I have a little, tiny sun that I got with my sister in honor of our grandmother. Then one under my boob that says: 'Courage to your heart,' which is a C.S. Lewis quote."
(Lewis wrote fantasy series The Chronicles of Narnia.)
And wait, there are more! "I have a moon I got recently, no meaning, I just wanted it," Hale explained to Refinery29, "Then I have a bible quote," which is on her ribcage. "And I have an eye that Dr. Woo just did!" Any reason? "It's the evil eye to ward off evil," the actor commented, "I like tattoos."
The delicate tattoo trend is definitely A Thing among celebrities, many of whom see the same in-demand artists in New York City and Los Angeles. In 2017, Hale told Refinery29 that she began seeing Dr. Woo before he became the premier guy in L.A., but that might have been a bit of a joke.
FYI, if you're looking to follow in Hale's footsteps, the estimated wait time for Dr. Woo appointments is at least a year. Yeah, it's a long time. But it can be good to wait that long for one anyway! That way, you can be sure you really, really want it — and save up for it, since Woo's intricate illustrations likely don't come cheap. It's not clear how long Lucy Hale and her sister had to wait for the tattoo of their grandmother's handwriting — and she has not confirmed the artist who did this one — but it obviously means so much to them both.