This Airline Will Let You Eat Like An Astronaut & The Menu Is A Childhood Dream Come True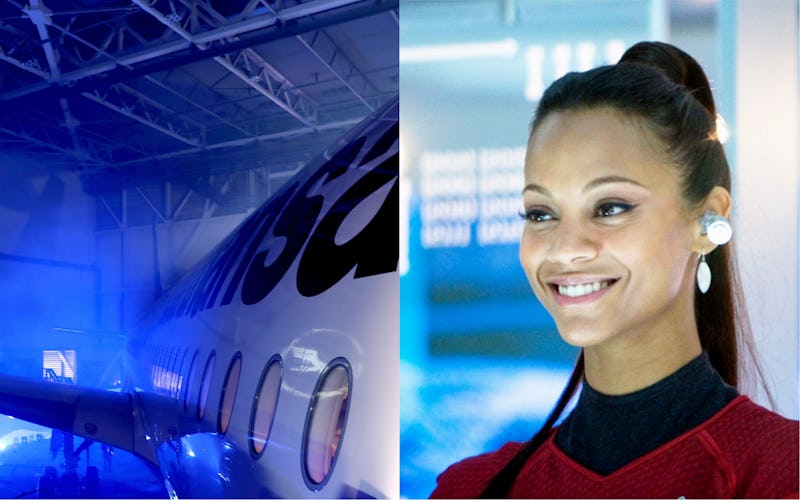 Alexander Hassenstein/Getty Images News/Getty Images; Paramount Pictures
Passengers on German airline Lufthansa's upcoming long-haul business class flights are in for an out-of-this-world treat. The airline developed an astronaut-inspired menu to celebrate the current mission of German astronaut Alexander Gerst, who traveled to the International Space Station in June 2018 and is serving a six-month mission as the first German commander of a space mission, according to Spaceflight Now. Lufthansa's menu is inspired by a very special meal Gerst will be eating on board the space station, giving passengers the chance to truly eat like an astronaut.
Astronaut ice cream may have turned out to be a lie, but Lufthansa's Gerst-inspired meal is no joke. According to AFP, the dishes involve a replication of Gerst's "bonus meal" aboard the International Space Station. A "bonus meal," AFP reported, is "created especially to be eaten on special occasions as a morale booster for the astronauts who are far, far, far away from home." Food & Wine Magazine added that "bonus meals" often include familiar and "nostalgia-inducing" flavors.
In Gerst's case, and for Lufthansa passengers, the "bonus meal" will include "dishes from his home region Swabia in southwestern Germany," such as cheese spaetzle with bacon and chicken ragout with mushrooms, AFP reported. The versions of these dishes Gerst will be eating on the International Space Station will be low in sodium and canned, with a shelf life of two years, according to AFP, but those dining on Lufthansa flights will enjoy non-canned versions created by the airline's catering group.
In its business class menu, Lufthansa gives passengers a little insight into the meal, noting that old-timey space mission food is a thing of the past. "Anyone who dreamed of becoming an astronaut as a child probably didn't give much thought to the food," the company wrote. "And the food on the first outer space missions wasn't really anything worth dreaming about: it's gone down in history as 'tubes and cubes.'" However, the food currently available to astronauts is "worlds apart" from what it used to be, Lufthansa wrote.
And that's true — Food & Wine highlighted that astronauts can eat pizza now, and according to astronaut Randy Bresnik, it's pretty dang good, even by Earth pizza standards. "The best food we had was a treat we got sent up as a care package, which was a pizza making kit with the crust and sauce," he said, Food & Wine reported. "Because the texture and the taste was so different than the regular [freeze-dried] food we had, it was the best pizza I ever had."
But the fact that a lot of space food is freeze-dried doesn't mean we're still stranded in the days of "tubes and cubes," as Lufthansa put it. Maya Cooper, who is part of the Johnson Space Center-based team in charge of about 40 percent of the food sent to space on NASA missions, told CNN her team "tries to strike a delicate balance between providing home comforts and healthy food."
In between making sure foods are edible and have enough nutrition to keep astronauts going, Cooper and her team have to ensure foods are tooled correctly so they'll last in space, she explained. "Food sent into orbit has to be preserved by heat processing which, paired with its long-term storage, causes food to lose some of its nutritional value due to vitamin degradation," CNN reported.
Despite all the requirements, modern NASA menus include dishes like Indian fish curry, crab cakes, lemon curd cake, and apricot cobbler, according to CNN.
And, of course, now we know astronauts can also dine on cheese spaetzle and chicken ragout. Bon voyage and bon appétit, Lufthansa passengers!