Why It Feels Really Cool To See Lululemon Launch A Chinese New Year-Inspired Collection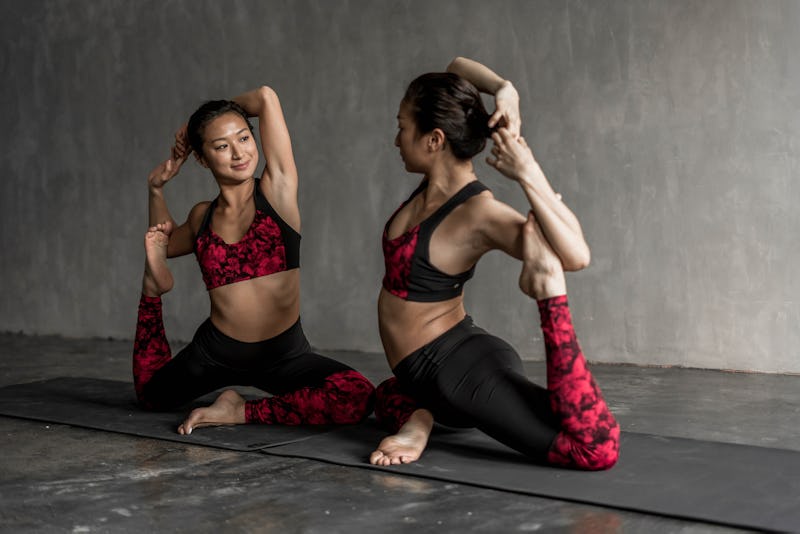 February 16 marks the arrival of the 2018 Chinese Lunar New Year, celebrating the beginning of the Year of the Dog. Communities across the country and cities around the world will partake in colorful and festive celebrations involving parades, fireworks, flowers, and red envelopes. Yoga brand lululemon has decided to honor the jubilee by creating a Chinese New Year-inspired collection, and as someone who celebrates the holiday, I couldn't be more excited about it.
There is no question that cultural appropriation is a major issue in the fashion and beauty world, and while many brands have continued to miss the mark, lululemon has instead celebrated a cultural holiday with their newest collection. The four-piece set — which includes a sports bra, two pairs of leggings, and a pair of shorts — features rich, red floral artwork, which symbolizes good fortune, health, and happiness. Chinese New Year celebrants often fill their homes with magnolias, peonies, and plum and lily blossoms, to welcome rebirth and new growth for the new year. You will find these flowers and its branches on the Lunar New Year-inspired print, all of which were hand-drawn, digitized, and then applied to Lululemon's technical fabrics.
This is the first time lululemon, a Canada-based company, has launched a global Chinese New Year campaign. In a press release, the company stated the purpose of the campaign is to express Lululemon's continued excitement and growth in Asia and to elevate the world through the power of practice. According to the business news outlet Quartz, lululemon's fanbase in China has increased exponentially over the last few years, not only because of Western influence, but also due to the country's growing interest in yoga. According to Yoga International, at least 10 million Chinese people currently practice yoga (compared to 16 million in America), a result of the burgeoning health and wellness trend in the country. And as more yoga studios and yoga festivals continue to pop up across China, more lululemons shops are being set up, too. Lululemon now has a total of 15 stores and four showrooms across Asia, located in China, Japan, Korea, Hong Kong, Singapore, Taiwan, and Malaysia.
In addition to the collection, lululemon's Chinese New Year campaign (which is called "Practice Takes Practice") has linked 10 Chinese cultural elements and lunar festival traditions with 10 lifestyle practices — discovery, love, patience, consistency, endurance, mental clarity, fortitude, sharing, renewal, and discipline. Each pairing was designed in hopes of inspiring lululemon's customers to develop their own ways to live in practice and create a year full of happiness, health, and fun. They were made into red envelopes which are available in lululemon's Asia stores.
The following collection is available for a limited time at lululemon stores worldwide and online.
Sweat Times Bra
Sweat Times Bra, $58, Lulu Lemon
This all-sport bra features stylish wide cross back straps to provide support and comfort during your sweatiest pursuits.
Wunder Under Hi-Rise 7/8 Tight
Wunder Under Hi-Rise 7/8 Tight Full-On Luxtreme 25", $98, Lulu Lemon
These sweat-wicking, naturally breathable high-rise tights will feel like a second skin on your legs.
Train Times Fast Pace Pant Special Edition 25"
Train Times Fast Pace Pant Special Edition 25", $98, Lulu Lemon
These leggings have a reinforced waistband with a soft folded edge, so you don't have to worry about them sliding out of place, whether you're at boot camp or brunch.
Hotty Hot Short II
Hotty Hot Short II 2.5", $58, Lulu Lemon
These shorts are so pretty, you might find yourself making excuses to work out just so you can wear them.
It is not often that a global brand as influential as lululemon recognizes a holiday that is mostly commemorated by non-Western cultures, one that I have grown up celebrating with my family no less. Let's hope that they can be an example to other brands for how to successfully honor a culture without appropriating it.