You Have To See Luna Legend Throwing The Mariners First Pitch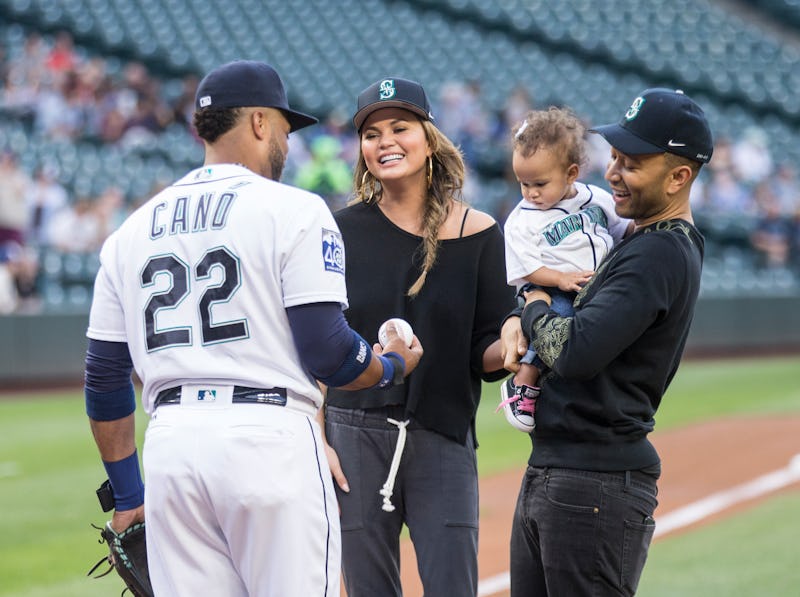 Stephen Brashear/Getty Images Sport/Getty Images
If you needed one more reason to fall totally in love with Chrissy Teigen and John Legend's family, here it is. Their baby may only be a year old, but she's already done something that most sports fans can only dream about. On Tuesday night, Luna Legend threw out the first pitch at a Mariners game, and even though her arm is tiny, she might have a future in baseball (even though her future jersey will really say Stephens, since John Legend is just her dad's stage name, but that's what people call her anyway). Oh, and sorry, Mom and Dad, but your daughter is officially way cooler than you.
Last week, while Legend and Teigen were in Seattle during his tour, the Mariners extended an invite via Twitter to hook the fam up with seats... and even threw out an offer to let Luna throw the first pitch to sweeten the deal. And as it turns out, that offer was serious, because Tuesday night photos of Luna on the field surfaced and they might be the cutest ones to ever exist in the history of photography.
Between everything the proud parents shared on social media and the professional photos that were taken at the game, it's pretty obvious that Luna — who was obviously wearing her own Mariners jersey, duh — was right at home.
Look at that tiny professional athlete in her skinny jeans and Converse! I can't get enough of this baby on a regular day, so this is even better. It's an awesome memory for Teigen and Legend to have of their little one... even if she has way surpassed them on the cool meter. When Luna gets old enough to realize how awesome this is, she has bragging rights forever.
The night was only made more special by the fact that the family happened to be in Teigen's hometown. She shared the sweetest photo of her and Legend with Luna before the game after that pitch, and of course, Luna's in the background, trying to swipe some Double Bubble.
It's official: Luna should throw out every first pitch at every game ever from now on. First, this Mariners game, next, the World Series? I could totally see it happening.