Lunchables Just Dropped Dessert Combos That Are Basically Fancy Dunkaroos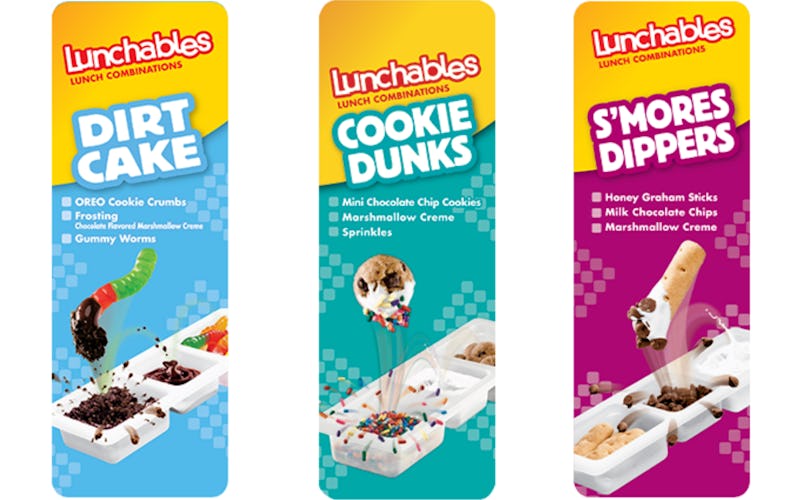 Lunchables, Remixed by Bustle
Lunch was an important time for kids everywhere. The cafeteria was an elementary student's watering whole, providing time for hanging with friends, a break from studies, and above all, eating. Individually-wrapped, kid-friendly fare provided sustenance and sweet reprieves during the vital elementary, middle and high school years for kids worldwide. Similarly, school lunch boxes housed a cornucopia of classic, portable culinary comforts. But lunch food wasn't merely a means of sustenance — lunch food was social currency. Some food was desirable; some food was not. It goes without saying whoever rolls up with the new Lunchables' dessert Snack Combinations, which are reminiscent of your fave Dunkaroos, will quickly become cafeteria royalty.
Instagram snack fiends ThreeSnackateers were some of the first to spot these treats in the wild. In a post depicting two of the available flavors, the user claims to have found the product at a Meijer's grocer location. The snack is built much like the classic Dunkaroos, with separate compartments for the dippers and the dip. These, however, offer three different, distinct areas for snack, rather than two. Not to mention, Lunchables Snack Combinations are BIG. The Snackateers' photo clearly depicts a box large enough to easily obscure the entire palm of the user. Could these be even better than the legendary Dunkaroos? They just dethrone the roo-yalty.
Right now, Lunchables Snack Combination come in three different flavors, according to its website: Cookie Dunks, Dirt Pudding, and S'Mores Dippers. The Cookie Dunks come loaded with mini chocolate chip cookies, sweet marshmallow creme, and rainbow sprinkles for a finishing touch. The Dirt Pudding option is gummy worms, paired with chocolate-flavored marshmallow creme, and chocolate cookie crumbs. Mix all three together and it'll look like you're chowing down on something that belongs in a garden. The S'mores Dippers Combination comes with honey graham cracker sticks, marshmallow creme, and chocolate ships. Who knew you could make a classic campfire treat with no heat?
For what it is worth, Lunchables Snack Combos also come in two savory varieties. The Ham and Cheddar offers cubes of tender ham and slices of cheddar cheese. The Turkey and Mozzarella variety offers the same but swaps the pork for poultry, and the salty yellow cheese for something creamier and white. Both also come with a handful of mini Ritz crackers, making for a perfect cracker sandwich construction kit.
If you are wondering what became of the iconic kangaroo-themed cookie and dip packs you lusted after during your youth, they are sadly no longer available in the United States. General Mills ceased production of the snacks in 2012. For a while, you used to be able to snag some from third-party sellers on Amazon, but that appears to no longer be the case. Would you really want to eat expired, six-year-old Dunkaroos anyway? In addition to Lunchables Snack Combos, diehard dunkers can get their dip fix from comparable Dunk n' Crunch cups from Walmart, which swaps the classic animal cracker for shortbread, but keeps the rainbow sprinkles in its icing.
Though, only one of these products includes gummy worms, so when you think about it, the best choice is pretty clear.