Lupita Nyong'o Is The First Black Woman To Accuse Harvey Weinstein Of Harassment & That's Huge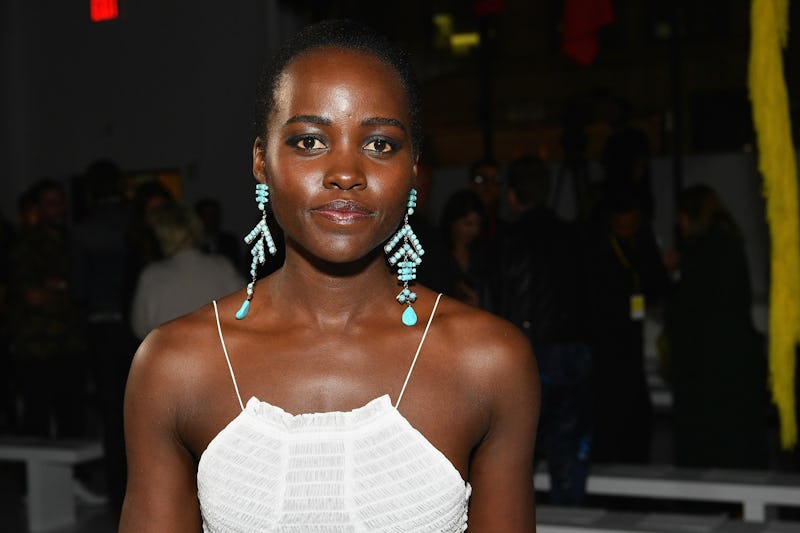 Dia Dipasupil/Getty Images Entertainment/Getty Images
Across Hollywood, the stream of allegations against Harvey Weinstein continues to pour in. On Thursday, Lupita Nyong'o accused Weinstein of harassment in an op-ed for the New York Times. In the piece titled "What Harvey Weinstein Did to Me," the Academy Award-winning actor recalls multiple encounters with Weinstein that made her feel "uncomfortable." A spokesperson for Weinstein released the following statement to Bustle:
Mr. Weinstein has a different recollection of the events, but believes Lupita is a brilliant actress and a major force for the industry. Last year, she sent a personal invitation to Mr. Weinstein to see her in her Broadway show "Eclipsed."
Nyong'o's Times story adds an important voice to the ongoing conversation. She's one of the first women of color to accuse Weinstein of harassment publicly, as well as the first black woman in Hollywood to do so. (It's worth noting that Filipina-Italian model Ambra Battilana Gutierrez is mentioned in the New Yorker's recent story that includes harassment and assault allegations against Weinstein, though she declined to be interviewed about the incident. Weinstein's rep told the publication, "Mr. Weinstein believes that all of these relationships were consensual.")
In her essay, Nyong'o explained that she originally blamed herself for what happened. However, she is choosing to speak out and join the chorus of other women who are no longer staying silent. She wrote,
I have not been able to avoid the memories resurfacing. I have felt sick in the pit of my stomach. I have felt such a flare of rage that the experience I recount below was not a unique incident with me, but rather part of a sinister pattern of behavior.
Nyong'o first met Weinstein in 2011 at a Berlin awards ceremony, where she was reportedly told he's "the most powerful producer in Hollywood." She intended to keep their relationship professional, even though he insisted she call him by his first name. "I found him to be very direct and authoritative, but also charming," she recalled. However, she claims he then took her to lunch at a restaurant and insisted she order a vodka and diet soda, despite her opposition. Afterward, he brought her to his home — where his young children reportedly were — to watch a movie in a screening room, but he soon invited her upstairs alone.
As for what happened next, Nyong'o wrote:
Harvey led me into a bedroom — his bedroom — and announced that he wanted to give me a massage. I thought he was joking at first. He was not. For the first time since I met him, I felt unsafe. I panicked a little and thought quickly to offer to give him one instead: It would allow me to be in control physically, to know exactly where his hands were at all times.
She claimed that she then offered to give him a massage instead, since during her drama curriculum at Yale, they used "massage techniques on one another to understand the connection between body, mind and emotion," and she thought it might be more professional. However, when Weinstein allegedly tried to take off his pants, Nyong'o headed for the door. (Weinstein previously apologized to those he hurt in a statement to the Times on Oct. 5, though his then-attorney Charles Harder told The Hollywood Reporter they planned to sue the Times for a story "saturated with false and defamatory statements.")
After that, Nyong'o didn't plan to see Weinstein alone, but he reportedly later offered her a TV role. According to her Times piece, she then went to see Finding Neverland with him and brought along two male friends. Because that instance appeared so professional, she wrote, "He was definitely a bully, but he could be really charming, which was disarming and confusing. I left feeling that perhaps he had learned my boundaries and was going to respect them."
Because she believed boundaries had been set, she later accepted another meal invitation. Weinstein's assistant reportedly left the restaurant as soon as the producer arrived. From there, he allegedly pressured Nyong'o, who claims he told her, "Let's cut to the chase. I have a private room upstairs where we can have the rest of our meal." He also reportedly bragged about what he did with other actors. She reportedly declined his offer by saying, "With all due respect, I would not be able to sleep at night if I did what you are asking, so I must pass." She recalls seeing Weinstein a few more times afterward — at the premiere of 12 Years A Slave and a business meeting for a movie.
As for why she's speaking out now, Nyong'o said she hadn't realized how many other women had gone through similar experiences with Weinstein. She wrote:
Now that we are speaking, let us never shut up about this kind of thing. I speak up to make certain that this is not the kind of misconduct that deserves a second chance. I speak up to contribute to the end of the conspiracy of silence.
After Nyong'o's account was published, the responses on Twitter have ranged from outrage to disgust, as well as support for the actor. As some point out, this may open the door for other WOC to come forward with allegations against the producer.
Meanwhile, others applauded Nyongo's courage and highlighted key quotes.
Thor: Ragnarok actor Tessa Thompson joined in the conversation, applauding Nyong'o. Thompson also responded to a tweet about black women being left out of the Weinstein conversation and wrote, "WoC were not safe." She admitted she once turned down a meeting with him.
Additionally, singer and actor Janelle Monáe thanked Nyong'o for using her voice, calling her, "My friend . My sister . My hero." Director Ava DuVernay shared a message of support, which also recognized those who haven't spoken out.
Following all of the accusations against him, Weinstein has been fired from the Weinstein Company and kicked out of the Academy of Motion Picture Arts and Sciences. It's unclear if there will be any further repercussions.
If you or someone you know has been sexually assaulted, call the National Sexual Assault Telephone Hotline at 800-656-HOPE (4673) or visit online.rainn.org.