This Surprising New LUSH Cosmetics Product Is Basically A Bath Bomb For Your Mouth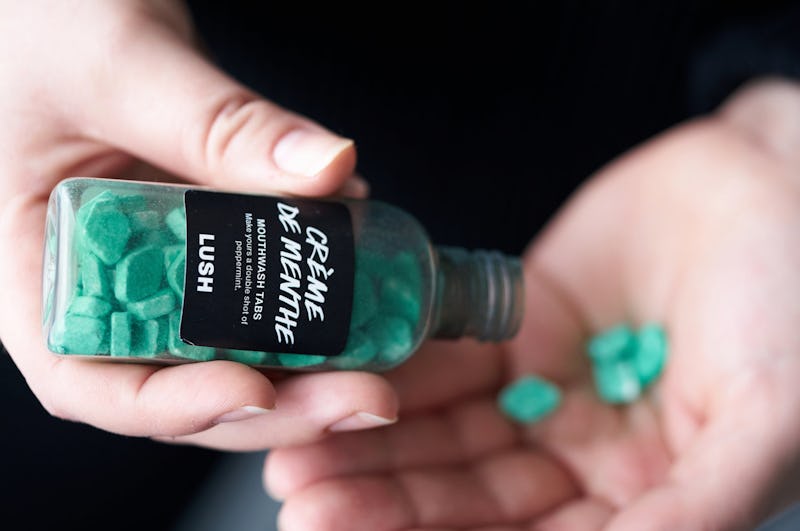 Courtesy of LUSH Cosmetics
Fresh breath and oral hygiene have never been this fun. Brushing, flossing, mouthwashing, and maintaining fresh bresh are essential activities... but are they fun? IDK if most of us would classify this routine as such. LUSH's new solid Mouthwash Tabs are like Bath Bombs for your mouth and will change how you feel about mouthwash.
If you are a Lushie, you are about to love your daily mouthcare regimen, since you are no doubt already a Bath Bomb devotee and adore what that product does for your skin and body cleansing rituals! Imagine the radness of a mouth Bath Bomb.
The LUSH Mouthwash Tabs comes in three breath-freshening flavors and you can use them at any time. These babies are not solely reserved for morning and evening dental care.
Did you just nosh on a plate of pasta loaded with garlic? Crush some onions? No problem. Just pop a LUSH tab in your mouth and take a sip of water to initiate the fizz. Nibble, swish, and then spit it out. Or you can dissolve on tab in a small glass of water and proceed to swish 'n' spit, all the while enjoying maximum freshness.
The tabs are way more convenient than carrying around a mini bottle of mouthwash and taking a slug here and there.
Plus, the solid product is good for the environment since it requires less packaging.
LUSH Mouthwash Tabs are $9.95 per bottle and they are currently available on the LUSH site and will cruise into the brand's boutiques on Jul. 31.
Here are the flavor choices. There is Creme de Menthe — a stimulating double shot of peppermint powder and peppermint oil, per LUSH. Your mouth will be left tingly and invigorated.
Ugai boasts cooling green tea, sea salt, and cleansing tea tree. Mmm.
Pan Galactic Gargle Blaster Mouthwash Tab is bold, mixing tart lemon oil, aniseed oil, and menthol crystals. This one will awaken all senses and keep that breath fresh AF.
So go ahead and enjoy a Bath Bomb for your mouth. Oh, and ICYMI: LUSH Jelly Jelly Bombs are on the way, too.