LUSH Created A Ginormous Bath Bomb & It's Six Times The Size Of An Ordinary One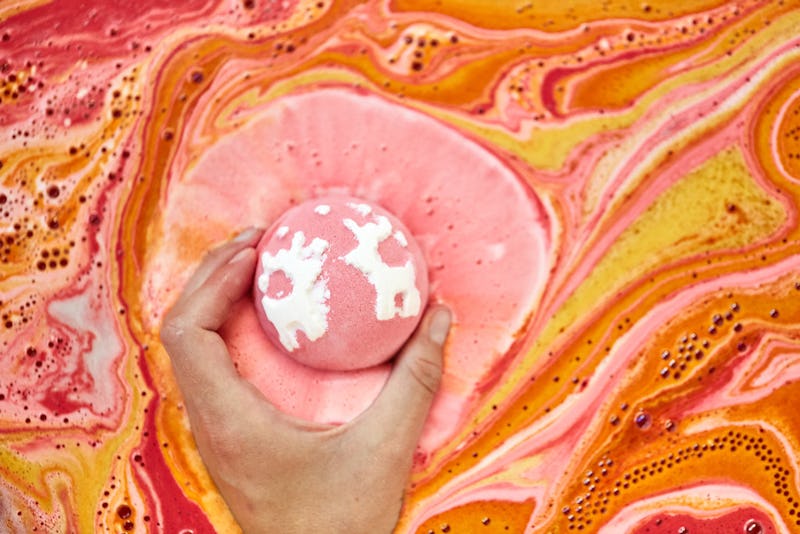 Courtesy of LUSH
Here's yet another beauty product to add to your holiday list. Just in time to spread seasonal cheer, LUSH created a giant bath bomb dubbed the Giant Golden Wonder for the holidays. 'Tis the season to give big. The adorable, oversized present-shaped product is a whopping six times the size of a traditional LUSH bath bomb, and you have to see it to believe it.
LUSH has been on a roll this year with their new launches. They've made everything from Fidget Spinner Bath Bombs to products that turn water into jelly. But now they're taking something you already love and making it even better — their bath bomb.
According to the press release, LUSH's Giant Golden Wonder Bath Bomb is the exact same as their traditional fizzies — just a whole lot bigger. Six times the size, to be exact. While the original Giant Golden Wonder Bath Bomb is 0.5 pounds, the updated one is 2.6 pounds. That's a whole lot of holiday bath cheer, my friends.
The Giant Golden Wonder Bath Bomb will be available on the LUSH Cosmetics website on Dec. 1 and in stores on Dec. 15. The oversized tub present will cost you a cool $19.95 and will only be available for the holiday season. After that, you'll have to settle for the original-sized products.
For those of you not familiar with holiday bath bomb, basically you drop it into your bath and it transforms your bath into a lovely smell and gives added body benefits. For the Wonder Bath Bomb, that means mood-brightening scents of lime and orange oil will refresh your senses, according to the website.
If you've ever used a bath bomb, you know that it's just about impossible to save it once it starts fizzing. Unlike LUSH's bubble bars, they are meant to be used up all in one go. Well, the same goes for the Giant Golden Wonder Bath Bomb. Yes, you read that right.
You're supposed to use the entire oversized product in one bath. So lets just say that you should probably save this gift for someone that's landed at the very top of the Nice List. For everyone else, you might just want to stick to the traditional 0.5 pound Wonder Bath Bomb that's available for $7.75 right now on the LUSH website and in-stores.
This isn't the only holiday surprise that the brand has given their customers The LUSH Christmas Collection has been available on their website since the end of November. The selection includes everything from Secret Santa options and stocking stuffers to gift boxes that are bigger and better than ever.
Some of their limited-edition items include The Man in the Moon Bath Bomb that looks like an emoji, The Magic of Christmas Bubble Bar that comes on a stick of Cinnamon, and a Tree D Bath Melt that is shaped, well, like a 3D Christmas tree.
There's something at every single price point, from $7.75 to $149. You can literally shop for anyone on your list. Of course, none of them are as massive as the Giant Golden Wonder Bath Bomb. If you're looking to make a statement with your gifting, that's the one for you.
Because this item is only available for a select time around the holidays, there's a good chance that it will sell out. To be safe, make sure to get your holiday shopping done early. After all, a gift this good only comes around once a year.