Your Hair Is Going To Be Obsessed With Lush's New Hot Oil Treatments On A Stick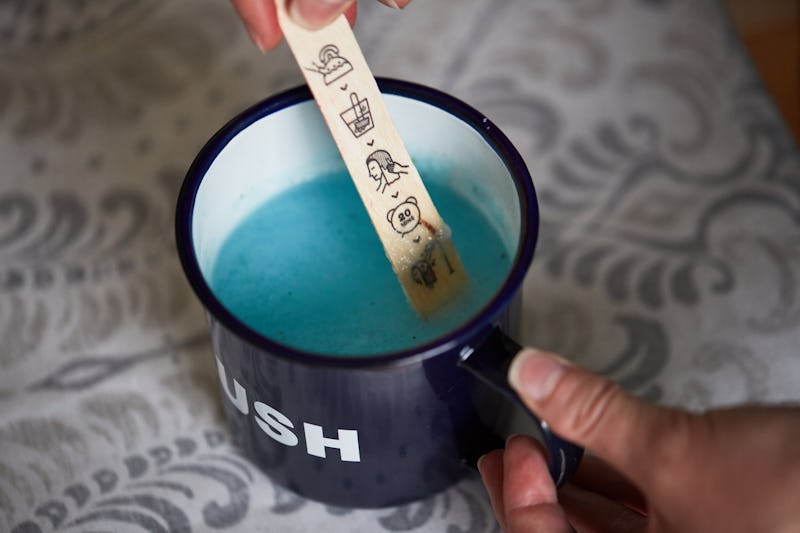 Lush Cosmetics
Lush Cosmetics fans can't get enough of the brand's two most well-known pillars of innovation and ethics. The company commonly releases creative but sustainable and ethical products and now, Lush's hot oil treatments are breaking language barriers as well. The brand is launching five brand new hot oil hair treatments, and while they provide incredible benefits to the hair and scalp, their results aren't even the most exciting part about them.
If you're a major Lushie, you probably already know that the brand has been all in on a campaign to reduce the amount of packaging that their products require. Their new, naked products call for no exterior packaging, and the hot oil treatments are now joining in on the fun.
As usual, the hot oil treatments will come on a wooden stick, but they've officially been upgraded in the coolest way. Directions on how to heat and use the hot oil treatments are now directly on the stick. The instructions are extra innovative as Lush has chosen to describe how to use the treatments using only images. Talk about breaking down language barriers through beauty!
The new design has been incorporated into the five brand new hair treatments, and the best news is that they're available right now at Lush online and in stores.
What do Lush's new hot oil treatments do?
1. Yuge
$10.95, LUSH
Snag the Yuge treatment to boost the volume and texture in your hair. Sea salt is the core ingredient in the hot oil treatment to help add volume, but it won't ignore making your hair shiny. Jojoba oil inside the treatment makes sure your locks look gorgeous.
2. Marilyn
$10.95, LUSH
Brighten up your blonde with this Marilyn Monroe-themed treatment. If you've ever experienced brassy hair, you know what a pain it can be, but Marilyn is here to prevent your color breakdown. Using chamomile, it helps restore your color to its gorgeous hue.
3. New
$10.95, LUSH
With all this attention on your tresses, you can't ignore your scalp. New reinvigorates your scalp using bay, cinnamon leaf, and clove buds giving you a delicious tingle as you add strength to your hair and make it shine bright like a diamond.
4. Hair Doctor
$10.95, LUSH
Hair Doctor is here to calm and pamper your scalp. With peppermint oil and and chamomile blue oil, the ingredients in Hair Doctor are designed to soothe your head. That's not all it does, however. Jojoba oils and coconut oil both help to soften hair while henna and lanolin will make your hair its shiniest.
5. Damaged
$10.95, LUSH
Moisturize and nourish your locks with Damaged. Not everyone has perfectly healthy locks, and that's where Damaged comes in. With extra virgin olive oil, almond oil, and avocado oil, this treatment will revitalize your hair like nothing else. Plus, it's scented with vanilla and will leave your hair smelling amazing.
If you've never used a hot oil treatment before prepare to be blown away. Not only are they fun to watch meltdown, but they're incredibly effect. Just ask Kylie Jenner. The youngest member of the Kardashain and Jenner clans went on a major Lush haul not too long ago, and she snagged some of the brand's treatments. Once used, she reported back and sung the praises of the treatment on her dark locks.
If you want to shop the new hot oil treatments for Lush, head online or to your local Lush store. With environmentally-friendly packaging (or lack thereof actually), easy-to-decipher direction, and some seriously stellar benefits, why not give yourself a pamper session over the weekend, courtesy of the brand?