This Lush ASMR Video Gives You A Virtual Bedtime Facial & It Will Totally Put You Right To Sleep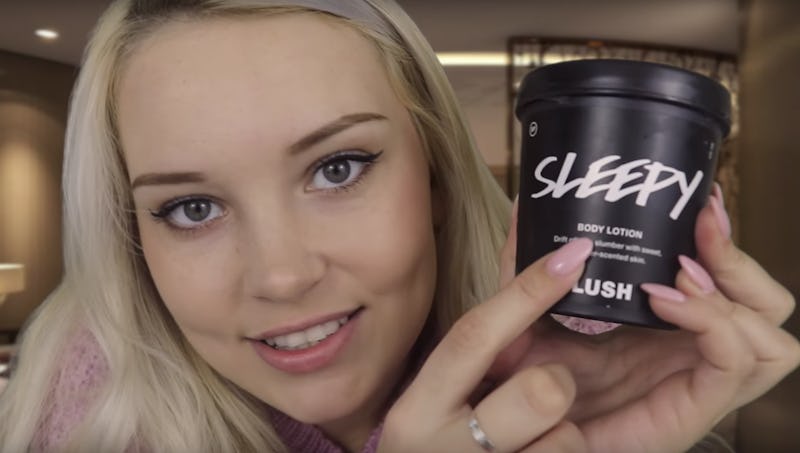 Lush
Lush Cosmetics may just be the reigning champ when it comes to bath and beauty products designed to relax you. From bath bombs to face masks to body lotions, they've got it all, and they're combining beauty and relaxation in different ways, too. Lush's second ASMR video gives you a virtual facial and massage, and while it may be the second in a series that the brand has done, it's just as weird as the first.
You may remember a couple of weeks ago when Lush commissioned an ASMR artist to showcase their relaxing lavender products on YouTube, but you may have not understood it. So what is ASMR? It stands for Autonomous Sensory Meriden Response. Basically, it's the feeling you may get when someone plays with your hair or speaks to you in a soothing voice. ASMR videos on YouTube simulate those feelings through sounds, motions, and in this case, roleplays. It makes total sense that a Lush Cosmetics ASMR video would exist given the relaxing nature of their products, and now there are two such videos that will help you relax.
In the latest YouTube upload, featuring the same ASMR artist, ASMRDarling, the creator gives viewers a virtual facial and massage using all Lush products — like the iconic Sleepy Body Lotion. While the comments on the YouTube video are generally very positive and the video has already garnered tons of views — over 200,000 to be more exact — the last ASMR video between the YouTuber (called an ASMRtist) and the brand had mixed reactions.
When Lush posted a clip of the first video to their Instagram, comments revealed that some may have been a bit confused by the decision.
People didn't seem to quite understand what ASMR was, and honestly, if you didn't know before seeing the post, it is kind of mind boggling.
Others were just generally weirded out by the video.
However, as it turns out, tons of people seem to love ASMR and Lush together. Fans were quick to celebrate seeing ASMR Darling and the brand team up to create something.
More than that, ASMR Darling's content is actually incredibly popular. She's got 1.2 million subscribers on YouTube (yes, you read that right), and that Lush video? It has over 880,000 views. Talk about a sleeper hit (pun intended).
Others are happy to see the brand working with those who create ASMR videos.
Some pointed out that Lush partnering with an ASMRtist helps to normalize the genre, and they've got a point. ASMR seems to be a foreign concept to some, but one quick YouTube search for these types of videos, and you'll turn up literally thousands of results.
Some ASMRtists, like ASMR Darling, have millions or hundreds of thousands of subscribers. Plus, based on the play counts for some of these videos, people who may not be subscribed to the channels also seem to be watching. ASMRtist Gibi ASMR has over 650,000 subscribers which is impressive on its own, but the view count on her most popular video is over 4.5 million.
While some may consider ASMR weird, it clearly seems to be intensely popular. It makes sense that a brand — especially one that seems to emphasize relaxation and self-care — would team up with an ASMR creator in order to advertise their products.
If you're curious about ASMR or just love anything Lush does, check out their Lush x ASMR Darling YouTube videos. If you experience the "tingles" commonly associated with an ASMR experience, you just may get hooked.
If you don't, then at least you've got some stellar Lush product recommendations out of it.