A Trump Official Just Apologized For Calling A Journalist "Miss Piggy" On Twitter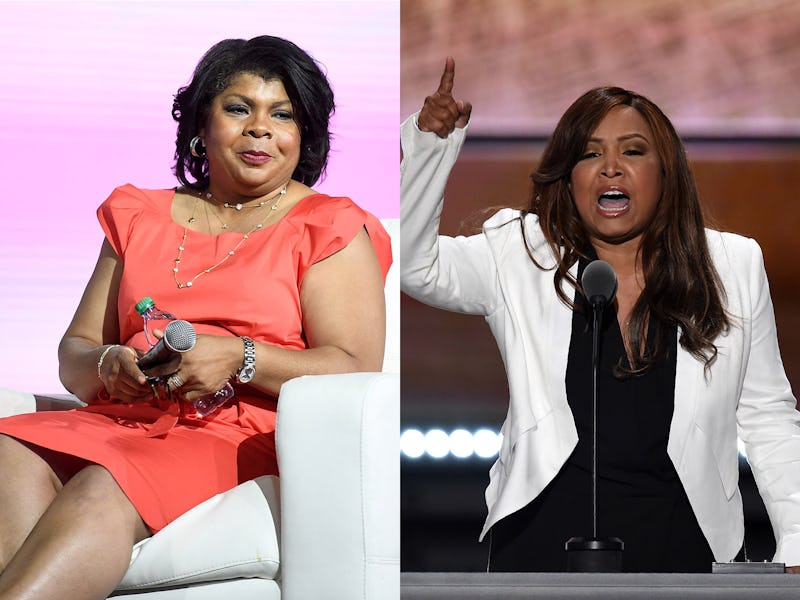 Paras Griffin/Getty Images Entertainment/Getty Images; TIMOTHY A. CLARY/AFP/Getty Images
A top official in the Department of Housing and Urban Development faced a huge backlash on Wednesday after mocking a journalist on Twitter. Lynne Patton, the regional administrator of HUD's New York and New Jersey offices, called journalist April Ryan "Miss Piggy" and described her as a "bankrupt blogger." Patton sent a tweet to Ryan, apologizing for her comments, in the early hours of Thursday morning. She has since deleted her original tweet. Bustle has reached out to both Patton and Ryan for any further comment.
Patton issued an apology on both her personal and HUD Twitter accounts. "Tonight, I made an inexcusable comment on my personal Twitter account that I deeply regret & deleted on my own volition," she wrote on her HUD account. "I sincerely apologize to @AprilDRyan. I also wish to apologize to my staff at @HUDNY_NJ, SecretaryCarson & the#Trump family who deserved better leadership." On her personal account, Patton added that "my parents raised me to respect others," and she apologized to them as well.
Patton originally sent the "Miss Piggy" tweet during a heated Twitter exchange with Ryan. Earlier this week, Ryan, the White House correspondent for American Urban Radio Networks, appeared on CNN to argue that the press is "under attack," and went on to say that she's received death threats as a member of the press. Journalist Porter Anderson tweeted about Ryan's comments, to which Patton replied that she's also received death threats — "as a conservative black female who has publicly worked for and supported Donald Trump." She wondered why people "instinctively defend" Ryan, but not her.
Ryan soon joined the conversation, telling Patton that her news outlet was not actually bankrupt. She added that Patton was "not relevant," and asked if she was really a HUD employee, given that she used to be an event planner for the Trump family. It was at some point during this exchange that Patton tweeted the now-deleted "Miss Piggy" comment.
As a regional administrator for HUD in New York and New Jersey — a position to which President Trump appointed her — Patton is responsible for overseeing all federal public housing in the region. According to The Washington Post, Patton's résumé indicated that she had no prior experience with housing before taking the position within HUD. However, she'd worked for the Trump family since 2009, when she served as the vice president of Eric Trump's foundation. Since then, Patton has served as the Trump family's chief of staff, worked closely with his children, focused on minority engagement, and participated in Trump's presidential campaign as a senior adviser.
Some time after Ryan and Patton's Twitter exchange, Ryan tweeted that she did not in fact know Patton, and had only heard of her following Patton's response to her CNN appearance.
This exchange with Patton is not the first time that Ryan has had to directly contend with the Trump administration. Last February, Ryan asked Trump during a news conference whether he planned to include the Congressional Black Caucus in discussions about his inner city agenda. Trump responded by asking whether she would set up a meeting with the CBC, appearing to imply that the caucus members were her friends because she is also black.
Then, in March, former White House Press Secretary Sean Spicer appeared to grow irritated with Ryan. He repeatedly asked her to "stop shaking your head" during a press briefing, after she asked him about how the Trump administration planned to project a more positive image following reports about collusion with Russia.
In October, Ryan asked White House Press Secretary Sarah Huckabee Sanders whether the Trump administration believed slavery was wrong, and received no response. And just a couple of weeks ago, she directly asked Trump if he was a racist, and was once again ignored.
Ryan has demonstrated over the course of the past year that she has no qualms about confronting Trump and his top officials; her exchange with Patton is further proof that she will continue to do so.