Twitter Reactions To MAC's Free Lipstick Event Are Priceless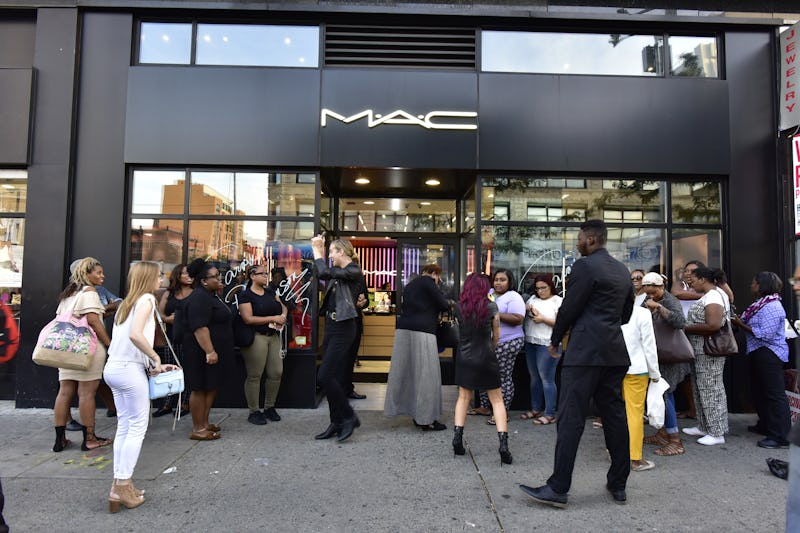 Eugene Gologursky/Getty Images Entertainment/Getty Images
If you haven't already heard, National Lipstick Day is finally here. In honor of the unofficial holiday, MAC Cosmetics is giving away free lipsticks. Before you stop reading this and head to your local mall, you should know that the lines are ridiculous. I'm talking people camped out for hours outside. Twitter reactions to MAC's free lipstick event are priceless and will remind you just how devoted makeup fans are to the product.
There's no better way to celebrate National Lipstick Day then with free products — no argument there. What is up for debate is the lengths that you will be willing to go to get it. When MAC decided to give away free lipsticks with no purchase necessary, naturally fans went crazy. So crazy that they started lining up for hours before the event. Some people even reportedly camped out all to get a free lipstick. Yes, you read that right.
I guess that the moral of the story is if you offer a makeup lover a free lipstick, they will come. According to Twitter, they will come in flocks, with all of their friends, and not leave until they get the perfect shade. After all, National Lipstick Day only comes around once a year.
As you can imagine, the lines at MAC stores today were long to say the least. Here are some of the best tweets that sum up all of the crazy mixed emotions about the event.
This is not a joke.
That's how long the lines were, people.
Now that's a devoted fan.
All caps.
It's a big deal to makeup fans.
No words.
Someone's not happy.
LOLOLOL.
Rough day.
The ENTIRE mall!
Some people are just plain confused.
The first step is admitting that you have a problem.
Woah.
Happy National Lipstick Day to all, and may the makeup odds be ever in your favor.