Why You Missed This Important Detail In 'Mad Men'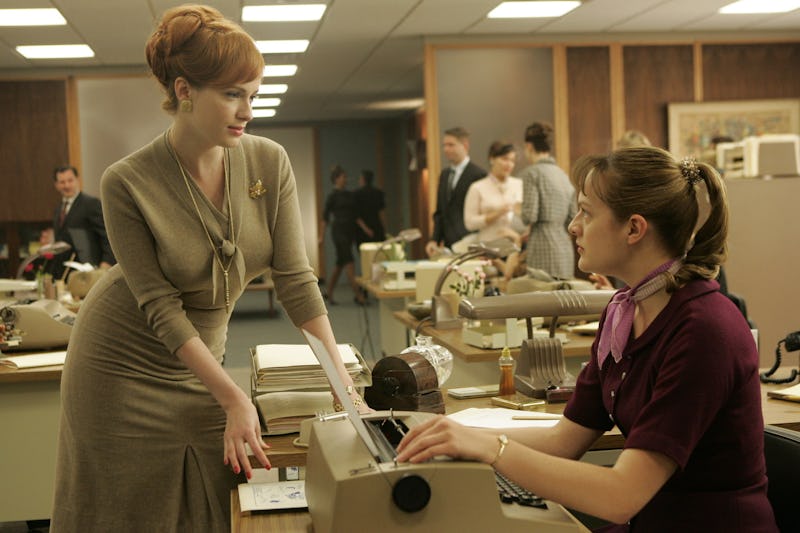 AMC
Aside from the intricate fantasy Game Of Thrones, the single most studied and dissected TV series of the last couple of decades may be Mad Men. Packed with obscure cultural references and dense with existential meaning, the period drama contributed to the Peak TV assumption that there are no coincidences and everything matters. Costume designer Janie Bryant is to thank for much of the show's celebrated style, and more recently she contributed her flair for vintage fashion to the Amazon original series, The Last Tycoon. The costumes worn by the characters in both series are as consequential and deliberate as what they say, and in Mad Men's case, the subject of almost as much conversation. Bryant tells Bustle that what you didn't notice about Mad Men's costumes still contributed to the overall impact of the show's design. And that goes for every job she does.
"The thing is, with costume design and how I really love to work, is that every single piece has a reason," Bryant says over the phone, between fittings. "And even if the audience doesn't pick up on it, I'll know it's there."
There's so much more to a position like this than fitting actors in era-appropriate clothing. Bryant's work is story-driven, and perhaps, not every aspect of it is obvious. But she likes to maintain a little bit of mystery. "I think a lot of times, [the detail] is just subliminal, and in that way, the message comes across," she explains. "Maybe the audience doesn't have to know, exactly."
The Last Tycoon, based on F. Scott Fitzgerald's unfinished novel, is Bryant's first television series since Mad Men made her one of the most in-demand designers in the business and saw her influence trickle down, Miranda Priestley-style into '60s-inspired capsule collections with Brooks Brothers, Banana Republic, and Maidenform. Bryant currently has over 44,000 follows on her Twitter account, which is a treasure trove of vintage inspiration, and her 2010 book The Fashion File is still in the top 80 of Amazon's Fashion art books.
When you get an eyeful of the Amazon series, set in 1930s Hollywood, it's easy to see why The Last Tycoon attracted Bryant. Its starlets, moguls, and divas are dressed as lushly as Mad Men's grown-up debutantes and whiskey-swilling businessmen.
Part of the thrill for Bryant is watching actors like Jon Hamm and The Last Tycoon's Matt Bomer and Lily Collins mentally step back in time when they're outfitted for a scene. "One of the biggest reasons why I do period design... for me it's about creating a whole entire world," she says. "Sometimes I say, 'Oh, my superpower is time travel.' Because I love the whole transformation from actor into character."
Ahead of our conversation, The Last Tycoon showrunners Christopher Keyser and Billy Ray proclaimed that Bryant was their top choice during a press event for the series and praised her contribution to the overall feel of The Last Tycoon. The actors, for their part, credited Bryant's work for making their own easier.
"Once I got on that set, once I looked the way that I did," Collins said, "It just started to flow."
While it's hard to imagine any actor who loves clothes not jumping at the chance to wear the gorgeous garments Bryant designed and sourced for this show, the look is also a means to an end. "Costume design isn't really about fashion," Bryant says. "It's about telling the stories of these characters."
And The Last Tycoon captured her imagination, she says, because of the role Hollywood played in the '30s and how "untouchable" movie stars were at that time. "They told them what to wear, they told them what to say, they were trained how to hold their teacups and their forks and knives," Bryant says of actors and the studios that employed them. "They were trained in all areas and all aspects of their lives, and they were expected to present themselves in a certain way in public ... the public really looked at them as larger than life."
The series mixes fantasy and reality, so Bryant was able to get her hands on fictionalized versions of sultry screen goddess Marlene Dietrich and eccentric director Fritz Lang as well as Fitzgerald's original characters. Bryant points to Collins' character — the studio head's collegiate daughter Celia Brady — as an example of how wardrobe contributes to character development. As the first season goes on, Celia transforms from a co-ed to a professional in a very glamorous field. (The Last Tycoon is surprisingly feminist for a nearly 100-year-old text.)
"She has such passion about not wanting to go back to school, but to really immerse herself in learning about the film industry, and working in the film industry, and wanting to be a part of it," Bryant explains. "And she has the character arc in the first season, where she starts out as a schoolgirl but really grows into this different character. And so her costume design is really reflective of that. And we really see her mature over the series." Think back to how Peggy Olson's wardrobe changed to reflect her climbing the latter at Sterling Cooper, and you can see the similarities.
On the other side of the female experience spectrum, there's Celia's mother, Rose, played by Rosemarie Dewitt. Bryant calls her the "example of a woman's struggle at that time." Rose has all the money she could want, but she feels stifled by her marriage and the gender roles of the period. In early Mad Men seasons, Betty Draper's impeccable house dresses telegraph claustrophobia in her own suburban life. Bryant used loungewear to communicate Rose's staid quality to the audience.
"I wanted her to wear so many different robes because she is the wife of a studio mogul," the designer reasons. "And I felt like it showed kind of the frivolousness of her... that she was spending a lot of money on clothes and on her lingerie, and that she basically wore a different robe every night and was spending a lot of time on her appearance. Not because she genuinely wanted to do that, but it was more expected of her to do that."
Now, if you watched The Last Tycoon and didn't catch all of that, Bryant doesn't mind. Some of this very visible work is actually invisible, in the broader scheme of things. Ideally, you admired some beautiful clothes, and then the story swept you away. It's this designer's job to drop you back in time, even if you're not exactly sure how you got there.