25 Amazing 'Mad Men' Fashion Moments From Betty, Megan, Peggy, Joan, Sally, And Trudy In Honor Of The Final Season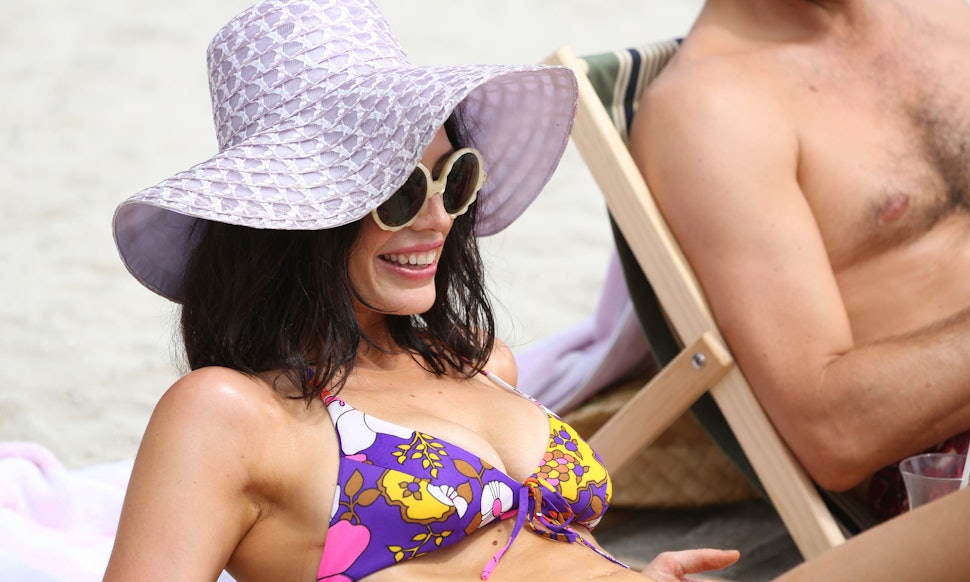 As the final episodes of Mad Men approach (the last seven episodes begin April 5 on AMC), it's only appropriate that we do our due diligence and take a look back on television's best dressed ensemble. For seven seasons, costume designer Janie Bryant has transported us with effortlessly crafted, ultra authentic looks that honestly make me wish I was born a baby-boomer.
Although I could easily devote this Mad Men fashion retrospective to just Don Draper in suits, it's really the females who have knocked it out of the park time and again. Throughout the love, tears, scandals, business shockers, and landmark moments in American history, these ladies have turned it out across the decades. Here are 25 of Betty, Megan, Peggy, Joan, Trudy, and Sally's most memorable looks — and I dare you not to beeline to your favorite vintage boutique as soon as we're done.
Images: AMC
Megan's Purple Bikini
Megan may make some questionable life choices, but never fails to look completely flawless. I'm picking up sun hats to coordinate with each of my bikinis this summer.
Betty's Beehive
Betty's Rome look is everything you want from 1960s glamour — and look at that beehive.
Peggy's Pink Bow
Peggy's style evolution took a while, and it's looks like these that made us go "giiiirl, I see you."
Betty's Silk Romper
Betty can pull off anything, even this primary-colored silk romper. Francine is like, "that is CRAY" and Bettty's like, "everyone will want to wear this to Coachella in 50 years."
Trudy's Paisley Print
Florals… for spring… groundbreaking. It is when you're Trudy and you are full-on coordinated, from your purse to your Queen-of-England-worthy hat.
Betty's Pink & Black Dress
Is there a special edition Barbie of this yet?
Joan's Black Cape
This is one of the first times we saw Joan let her hair down, and it proved that she really does look good at all times, in all things.
Megan's LBD
Zou bisou bisou. Megan, this was prob one of your most embarrassing moments, but at least you looked fierce.
Peggy's Gingham
Gingham is so in this spring, and Peggy is super on-trend in this pastel getup.
Betty's Aqua Gown
This elegant mermaid-meets-Princess Jasmine dress is just another day in the fabulous wardrobe of Betty Draper.
Megan's Beaded Dress
The beading! The jewelry! The hair! The makeup! Megan is a 1960s Anastasia and I'm fully into it.
Sally's Purple Outfit
This look was essentially Sally saying, "Get over it, mom, I'm a WOMAN now and I do what I want. I'm also not impressed with the moon landing."
Joan's Red Roses
In case you don't remember, Joan plays the accordion in this dress. The first time in history accordion playing has looked phenomenal.
Betty's White Lace
Say what you will about Betty, but girl knows how to dress for an occasion. From head to toe, this angelic baby bump look is no exception.
Joan's Headscarf
I never knew how badly I wanted a nautical outfit until right now.
Megan's Blue Mini
LA looks good on Megan, and this all-baby blue ensemble is retro mini perfection. Even the eyeshadow is coordinated.
Joan's Emerald Dress
Nobody will ever pull off an emerald green stewardess-y dress like Joan Holloway.
Sally's Plaid
Still crossing my fingers for a "Sally at Boarding School" spin-off. These mullet-of-the-'60s dresses are business at the neckline party, at the hem… and I want one.
Betty's Peach Suit
This is what Betty wears to chaperone a field trip to a farm. She milks a cow in this. Time to reevaluate everything you're doing with your life.
Joan's Puritan Jacket
Joan Holloway: Only person, real or fictional, to ever pull off pilgrim chic.
Betty's White Gloves
Betty is soo over dressing for another function, but if she has to, it's going to be spot-on in all-coordinated elegant everything.
Sally's Sequin Dress
Hands down Sally's greatest fashion moment. Look out, world — I got go-go boots, glitter, and curly tendrils.
Betty's Brunch Ensemble
Oh, me? Just here for lunch at the small town diner looking better than Brunch Barbie. NBD, guys.
Megan's Gold Top
How many Bumpits is Megan actually wearing, though? And where can I get that lip color?
Betty's White Dress
I would wear this dress this weekend. With or without the tennis racket shoulder embellishment.