Madonna Reportedly Files To Adopt More Children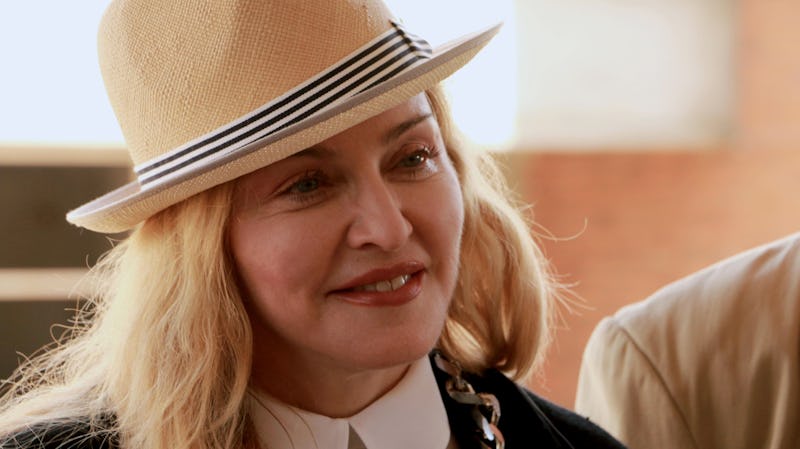 ELDSON CHAGARA/AFP/Getty Images
The "Material Girl" is opening her heart once again. Madonna filed to adopt two more children from Malawi on Wednesday, according to the AP. The youngsters would join her biological children Lourdes, 20, and Rocco, 16, along with her adopted son, David Banda, 11, and daughter, Mercy James, 11. David was adopted in 2008 and Mercy joined Madge's brood in 2009. Bustle has reached out to a rep for Madonna for comment on the report, but has not yet received a response. Update: In a statement to People, Madonna said that she is not adopting two more children: "I am in Malawi to check on the children's hospital in Blantyre and my other work with Raising Malawi and then heading home. The rumors of an adoption process are untrue."
Update Feb. 8, 2017: Madonna has now confirmed that she adopted twin girls from Malawi.
Ealier: Government spokesman Mlenga Mvula told the AP that the 58-year-old music icon appeared before a High Court judge on Wednesday in the capital of Lilongwe, but it is up to the court to decide if the adoption order will be granted. Looks like Madonna will have to wait longer than "4 Minutes" before she gets an answer because the final decision will be made in one week.
The singer founded the Raising Malawi charity in 2006. The philanthropic organization "supports orphans and vulnerable children in Malawi through health, education and community support," according to its official website. In an interview with Harper's Bazaar in 2013, Madonna spoke about why she decided to become an adoptive parent. "I decided that I had an embarrassment of riches and that there were too many children in the world without parents or families to love them," she said.
She continued,
"When I adopted Mercy James, I put my armor on. I tried to be more prepared. I braced myself. This time I was accused by a female Malawian judge that because I was divorced, I was an unfit mother. I fought the supreme court and I won. It took almost another year and many lawyers. I still got the sh*t kicked out of me, but it didn't hurt as much. And looking back, I do not regret one moment of the fight."
Page Six reports the philanthropist originally hoped to build a $15 million girls' academy, but opted to use money for Raising Malawi to fund schools. She reportedly took David and Mercy to visit the up-and-coming project last summer. Madonna's motherly instincts are on point, so here's hoping the Malawian government allows her to add to her loving family.