Fans Had A LOT Of Mixed Emotions About Madonna's Aretha Franklin Tribute At The VMAs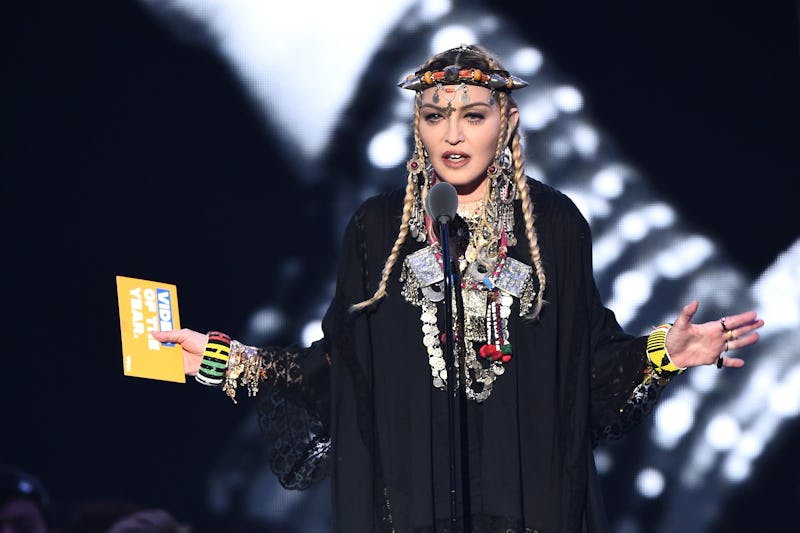 Michael Loccisano/Getty Images Entertainment/Getty Images
On Aug. 16, the world lost the legendary singer that is Aretha Franklin, aka the Queen of Soul. At age 76, Franklin had left an everlasting mark on the whole world, but her influence over the music industry is so important that every music awards show in the upcoming year must pay tribute to the "Respect" singer. Most people on Twitter agree, though, that Madonna's Aretha Franklin tribute at the VMAs was a total surprise.
Towards the end of Monday night's live music awards show, a black-and-white clip of Franklin singing "I Say a Little Prayer" played for the audience, and most people probably expected that some artists might sing some of Franklin's greatest hits. Then, Madonna appeared on stage, her hair in braids with a colorful headpiece and layered silver necklaces. She started speaking, saying, "Aretha Louise Franklin changed the course of my life. I left Detroit when I was 18 [with] 35 dollars in my pocket. My dream as to make it as a professional dancer." Then, Madonna told a story about being rejected as a dancer until she finally auditioned for "a French disco sensation" looking for backup singers.
Madonna explained that she sang Franklin's "(You Make Me Feel Like) A Natural Woman," while acknowledging how surprising that may have seemed. "Some skinny ass white girl is gonna come up here and belt out a song and belt out a song by one of the best soul singers that ever lived," Madonna recalled. The story lasted a while, and it didn't include any personal details about Franklin, but rather it focused on how "(You Make Me Feel Like) A Natural Woman," helped begin Madonna's career. It was unexpected, to say the least, and everyone on Twitter was a little bit speechless about the tribute.
The VMAs' executive producer, Bruce Gillmer, had discussed how the awards show was considering to honor the life of the legendary singer. "The world lost one of the most incredible voices of all time. In this building [Radio City Music Hall], we produced two shows with her on the VH1 side, [and] two Divas shows. We worked pretty closely with her. It's beyond sad," Gilmmer told Bustle at a VMAs press event on Friday, Aug. 17.
Gilmmer continued, telling Bustle the following about the tribute: "We're putting a lot of energy, we're putting our minds together, we're trying to figure out what to do. We're gonna do something. There's no doubt. It's just what form that takes, you know, we're trying to balance — we want to be respectful, we want to be honest, and we don't want to be gratuitous. We want to get the right people involved. So it's going to take a little bit of shuffling, but something will happen, without question."
Fans had a lot to say about the end result of all that shuffling, and whether or not Madonna was the right person to involve in a tribute, too.
Franklin was no stranger to the MTV Video Music Awards, which first took place in 1984. Franklin earned VMA nominations for her "Freeway of Love" video in 1986, and then in 1987 she was nominated for the video of "Jumpin' Jack Flash." Also over the course of her long-spanning career, Franklin won 18 Grammys, making her one of the top Grammy award winners of all time. It's no surprise that Franklin holds that title, but hopefully the Grammys' tribute to Franklin will not be so Madonna-centric, because VMA viewers certainly had enough of that.
At least fans who were disappointed by the VMAs' honoring of Franklin can find comfort in knowing that awards season is just getting started. There will be plenty more opportunities to show R-E-S-P-E-C-T for the late soul singer in the near future.