Things Are Going To "Get Worse" For Gary & Maggie On 'Million Little Things'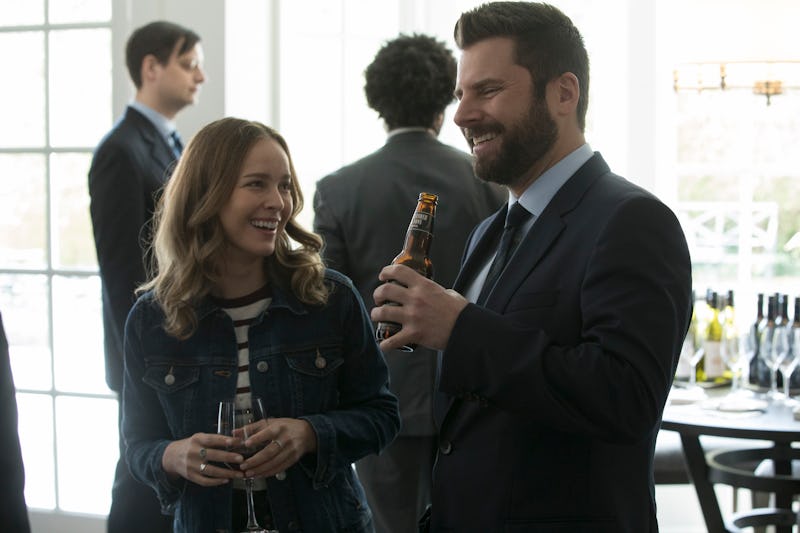 Jack Rowand/ABC
Allison Miller is objectively playing a very sad character on A Million Little Things. Maggie's newfound love and friendships are complicated by the fact that she has cancer and doesn't plan to seek treatment. She's ready to die. But, all of that seriousness aside, Maggie is actually one of the most fun-having characters on the show. It doesn't hurt that she's paired with comedic master James Roday and his character Gary. And while Miller tells Bustle that Maggie and Gary's relationship on A Million Little Things is about to get so much worse (worse than their currently doomed circumstances???), that doesn't mean Miller isn't having fun playing Maggie on the show.
"I think that [Maggie and Gary] carry a lot of hope in our show," Miller says. "It's the new love that shows up and there's so much possibility there. I think that they're just two really fun characters to watch and to play." She adds, "It's fun to watch these two people who are laughing in the face of death."
The writers may be responsible for the jokes, but there's something to be said for both actors' comedic timing. Fans of Roday from his Psych days know that he's a master of joke delivery, and Miller is keeping pace right alongside him. "He's so easy to work with," Miller says of Roday. "We definitely get along really well and have a similar sense of humor ... so he's a treat to work with."
Miller says her favorite scene to shoot with Roday was the one where Maggie and Gary play basketball to determine whether or not she goes back to chemo. If she wins, Gary has to leave her alone about her choice to refuse treatment. If Gary wins, she has to go through chemo again. Miller says the hours-long shoot was just them really playing basketball, because both actors do so off-screen, as well.
"She's having too much fun to let go of what her life is becoming."
But it's not just Gary who's taken an instant liking to Maggie. After the pair met in a breast cancer support group and hooked up in the bathroom, Gary brought Maggie to his friend Jon's funeral. At the wake, Maggie became, like, instant BFFs with Jon's wife and their other friends. Making friends as an adult is pretty much impossible, so if you were also baffled by Maggie's instant assimilation into the group, Miller has an answer as to why it happened.
"I think that all of these people are at a very strange crossroads in their life where their support system is very important," Miller says. "Maggie doesn't have [a support system] at this point, until she meets Gary, and she gets so invested in their lives because it's something that she can focus on outside of her own problems." She adds, "I think the women especially can use the distraction and another shoulder to lean on." Female friendship for the win.
But their friendships only go so deep because Maggie has only told Gary her big secret: her cancer is back and she's not trying to fight it this time. Maggie has made the decision not to undergo chemo treatment a second time because she knows how hard it was on her body and it's also not a guarantee that she'll survive. But Miller understands why this decision is hard for Gary and for viewers who want to see Maggie live a happy, long life. Miller herself has a hard time grappling with it.
"Just having to get into the psyche of someone who has decided to die is really challenging," Miller admits. "[I had to] try to get to a place where I understood what it would take for me to make that decision, and I don't know if it would be what Maggie is going through."
But as hard as it is to imagine not trying anymore, Miller says by talking to cancer survivors and watching a friend go through treatment now, she can see how difficult it is to choose to undergo more chemo. "It's awful and to put yourself and your family through that again — the fear and the pain and the physical symptoms and the terror that you are facing, and the hopelessness."
And although Maggie has remained insistent that she wants to live her remaining days out as best she can without going back into treatment, even she can be seen wavering a bit. At the end of the most recent episode, she sees that her body is beginning to bruise and show signs that her cancer is catching up with her. And with everything that Maggie has recently found in her life, it's hard for her to let that all go.
"This is the first time that she's having to face the visual evidence of what is happening with her," Miller says. "She can't deny that the process is only going to get worse from there." As Maggie is playing over in her mind all of her budding friendships and her relationship with Gary, it seems like she may not be so anti-treatment after all. But Miller doesn't think she's changed her mind just yet.
"She has found love and friendships and all the things that she's enjoying so much in what she has decided are her final days," the actor says. She continues:
I think she's recognizing that she's shutting herself off from the possibility of that continuing on for much longer. I wouldn't say that she makes a decision in that moment either way, but I think this is the beginning of her really understanding the gravity of what her choices are. She's wavering. She's having too much fun to let go of what her life is becoming.
Part of what is making her choice so difficult is that budding romance with Gary. She doesn't want to change her mind and go through the treatment process again, but Gary also can't sit by and accept her choice. It's caused a fracture in their relationship, and Miller warns that this storyline is going to get even harder to watch for fans of the couple.
"It's going to get worse before it gets better," Miller hints. It's all she can say without spoiling things, but the promise of it getting better is helpful for fans. With that kind of hope to hang onto, watching the "worse" part won't be quite as bad.
If you or someone you know is experiencing suicidal thoughts, call the National Suicide Prevention Hotline at 1-800-273-8255 or text HOME to the Crisis Text Line at 741741. You can also reach out to the Trans Lifeline at 877-565-8860 or the Trevor Lifeline at 1-866-488-7386, or to your local suicide crisis center.