Fans Of Heath Ledger Need To Watch Maggie Gyllenhaal Praise His Work In 'The Dark Knight'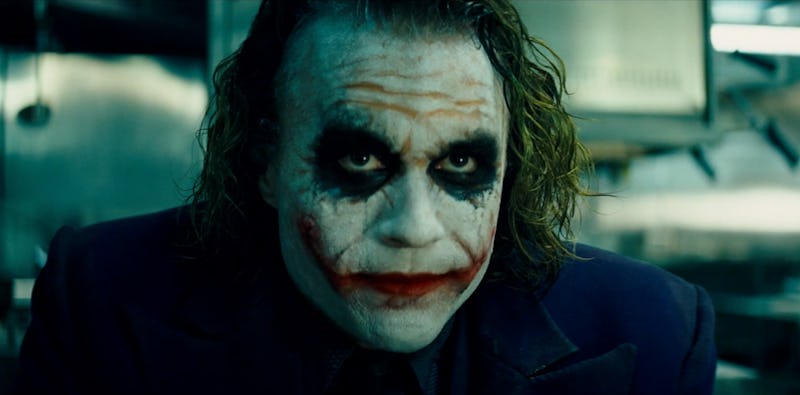 Warner Bros. Pictures
Maggie Gyllenhaal appeared on the Oct. 10 episode of Bravo's Watch What Happens Live, and she talked about everything from her new movie The Kindergarten Teacher to Steve Bannon. But the moment that really stood out was when Maggie Gyllenhaal praised Heath Ledger's work in The Dark Knight. Speaking with host Andy Cohen, the actor opened up about what it was like to shoot the 2008 Batman film with Ledger, who passed several months before the film's release. His performance as the Joker is lauded as not just one of his best, but the best — he's the only actor to have won an Oscar for Best Supporting Actor posthumously — and Gyllenhaal offered insight into why.
"It's so hard to be good in a huge movie like that," she said, explaining that, "[That genre of film] is not about the acting, really." Gyllenhaal then elaborated:
"It's so much easier to be good in a little tiny movie where it's all about you. To be amazing like Heath was in a movie that's got explosions and huge stunt scenes and big sets is a whole other thing. I don't know if anyone's ever, ever done that as well as he did in The Dark Knight."
The actor added that she was stunned by his presence even when the cameras weren't rolling. "It felt like that on set too," she told the fan that called in to ask, "[Being around Ledger] was like, 'Whoa, you're on a whole other level.'"
Gyllenhaal reminisced about one particular moment with Ledger that she thinks about often, when the two were filming a particularly terrifying scene (at least for her character, Rachel). "I remember coming to work and seeing him — that scene where the Joker throws me off a roof — and seeing him come in and start to do what he was doing, which was the first time I saw it," she said. "I still think about this sometimes."
As Entertainment Tonight pointed out, both Maggie Gyllenhaal and her brother Jake co-starred in major films with Ledger. At the 2006 Academy Awards, Ledger was nominated for Best Actor and Jake Gyllenhaal for Best Supporting Actor for their roles in Brokeback Mountain. Per ET, the siblings maintained friendships with Ledger after filming concluded, but it's still rare for either to speak publicly about the late actor.
Though Ledger passed more than 10 years ago, it's likely that this fall will bring more headlines about the actor for another reason: Busy Philipps. The actor and writer has been close with actor Michelle Williams since they co-starred on Dawson's Creek, and, according to The Cut, Philipps discusses the loss of Ledger in her upcoming book This Will Only Hurt A Little. (Willams and Ledger dated for several years and the two have a daughter, Matilda.)
Even though folks have heard it time and time again, it's refreshing to hear about Heath Ledger's work on The Dark Knight from someone he actually shared scenes with. Remembering what an incredible talent Ledger was is also a wonderful way to celebrate his life. That, and watching 10 Things I Hate About You again.