Why This 'SNL' Newcomer's Performance Has Twitter Up In Arms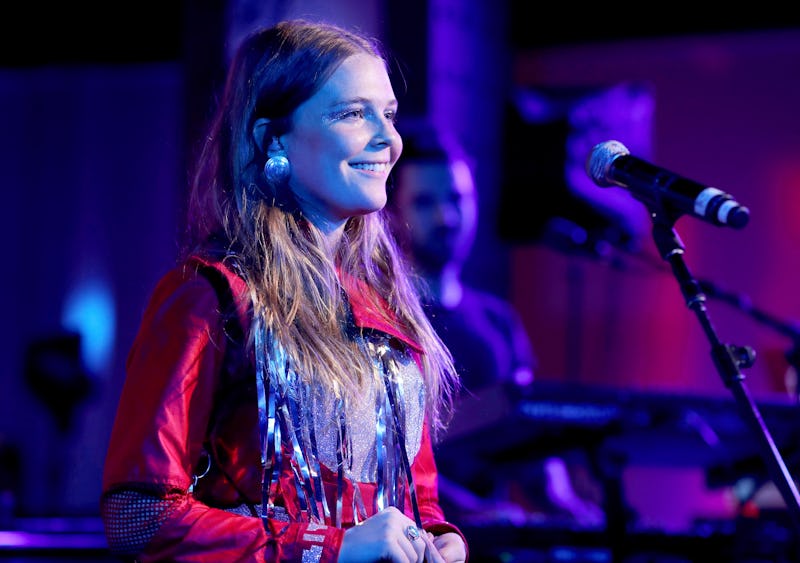 Christopher Polk/Getty Images Entertainment/Getty Images
The musical guest spot on SNL is a 44-year long institution, providing space to legacy acts as well as the year's biggest new stars. However, every now and again SNL makes room for a rising act to announce themselves to the world. Such is the case for rising star Maggie Rogers, who used her performance on the Nov. 3 episode of Saturday Night Live to broadcast her unique blend of folk and electronic-inspired pop. Anyone who was asking who SNL musical guest Maggie Rogers is before the episode are now aware of the musician — but viewers' response to the performance suggest that her first performance may not have been the best introduction.
Of all the musical acts that have headlined SNL episodes during the show's 44th season so far, Rogers is likely to be the person that causes most viewers to wonder, "um, who is this?" The season so far has featured household names including Paul Simon, Kanye West, and bona fide superstar Travis Scott, while Rogers has yet to find similar fame. Her most popular song is 2016's "Alaska," which had 10 million views as of her SNL performance — a substantial amount, but a count that pales in comparison to Scott's 2018 hit "SICKO MODE," which has 110 million views.
And while this SNL performance could be a major launching pad for the young artist, some fans on Twitter believe that the live performance did Rogers a disservice. During the evening's first performance, in which Rogers sang her latest single "Light On," several viewers took to Twitter to point out that — through either her own fault or the fault of the show — Rogers was coming off musically flat and not in-tune with the song.
The negative criticism of Rogers' performance may not have been the best first impression, but plenty of fans made sure to come to Rogers defense. Twitter user @felixklvsmki commented that Rogers is "a brilliantly talented musician who MAYBE had an off-night," and encouraged fans to watch her live performances on The Tonight Show With Jimmy Fallon, NPR's Tiny Desk Concerts, and BBC Radio 1 to get a better understanding of her vocal ability. Such is the risk of being a Saturday Night Live musical guest: the show may have a massive audience, but performing on live television also allows for people to nitpick any performance flaws that may arise. Just ask Ashlee Simpson.
However, even if Rogers didn't leave the best impression on some of the SNL audience, this will likely be a small speed bump on a larger road. She caught the attention of superstar producer Pharrell Williams after he taught a masterclass at NYU that she attended, and having the man who wrote "Happy" in your corner is probably pretty helpful when trying to break into the music industry. SNL may have marked the first time many viewers were introduced to Rogers, but chances are that won't be the last time America hears from the burgeoning star.