Magnum Is Opening A Make-Your-Own Ice Cream Pop Up Shop & The Combos Are Wild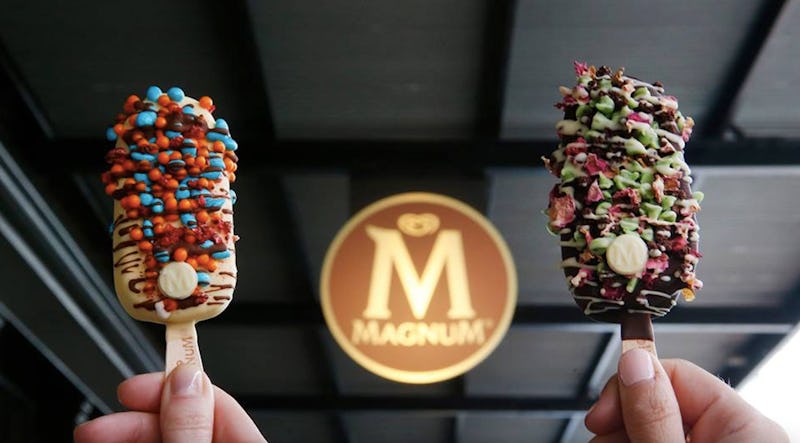 Magnum/Facebook
Customizable ice cream lovers, rejoice! A create-your-own Magnum ice cream bar store is coming to New York and with it will come over 200,000 possible ice cream bar combinations. Yes, that was the correct number of zeros. For those of us who are indecisive when it comes to the handful of toppings at a frozen yogurt shop, this is both a nightmare and a dream.
Staring June 1, everyone's favorite ice cream bar company (That's maybe kind of sexy? It's supposed to be sexy, right? Just me?) is launching the Magnum NYC Store. Running through late September, the pop-up shop will offer patrons different ice cream flavors and speciality toppings to create the Magnum bar of their dreams.
According to Magnum's website, "Pleasure seekers get to pick a silky vanilla or rich chocolate Magnum ice cream bar." (Okay, so yes, it's supposed to be sexy. Cool, cool.) Then, "pleasure seekers" or "ice cream fanatics" or however you self-identify will get to choose between a white chocolate, dark chocolate, or milk chocolate coating. If that wasn't enough choice for you, you'll then get to choose your toppings, which range from classic to luxurious to more adventurous options. According to Delish, the toppings selection includes treats from pistachios to chili flakes to dark chocolate crispy caviar (fish eggs not included).
Excuse me while I wipe this drool off my keyboard.
For those of us who are overwhelmed by the literal hundreds of thousands of flavor possibilities, fear not. Magnum will also be released seven "Lookbook Bars" throughout the summer. These will roll out in pairs at their pop-up shop, providing patrons with a pre-made yet unique Magnum bar option. Instead of the classic chocolate coloring, these will be dipped in colorful chocolate coatings like hot pink and sky blue.
As Delish reports, each bar will look like an edible work of art, complete with unique chocolate detailing and colorful names to match: Animal Instinct, Spring/Summer 2018, Street Art. (Excuse me while I add "naming beautiful ice cream creations" to my list of dream jobs.)
While you'll be going for the ice cream, you'll want to stay for the incredible decor. The store will be decked out in decadent gold countertops and art-deco inspired wallpaper. There are also popsicles hanging at the front of the store inspired by different aspects of New York City. Delish says to keep an eye out for one that looks like a taxi cab and another featuring a skyscraper-esque design.
(Fingers crossed there will also be a Pizza Rat popsicle as well as a collection of frozen treats that spell out FOR THE LOVE OF GOD FIX THE MTA.)
Of course, no pop-up shop would be complete with some Instagram-centric aspect. (I mean, if you didn't get the 'gram, did you even eat a fancy spicy chocolate ice cream bar?) The SoHo-based store will also feature Instagram booths with ideal lighting so you can capture your Magnum bar in all its beautiful, ice cream glory.
If you want to make a day out of ice cream-centric excursions, you can also hit up the Museum of Ice Cream's Pint Shop. Its brand new, permanent location is opening this summer in NYC's Meatpacking District. If you didn't get your fill of Instagram-worthy ice cream at the Magnum shop, you can always take a dip in the plastic sprinkle pool and get a scoop of Sprinkle Pool ice cream (one of MOIC's newly launched ice cream flavors featuring actual, edible sprinkles).
You'll be able to experience a taste of the Pint Shop at your local Target, as MOIC's new ice creams will be sold there. However, there's no indication of whether Magnum intends on launching any of their Lookbook bars or bars with specialty toppings across the country.
The rest of us will just have to settle for drowning our ice cream sorrows in the new-ish Magnum bars in pint-sized form.