The Museum Of Ice Cream Is Opening Its Own Pint Shop — And This One Is Permanent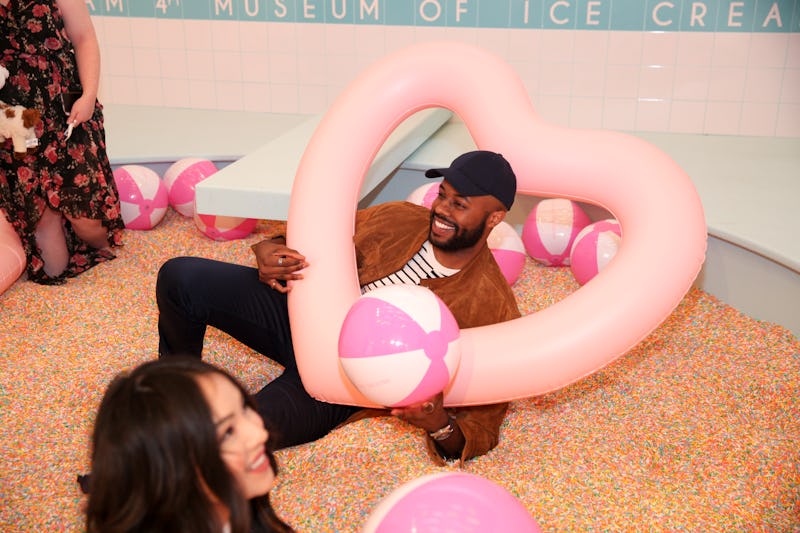 Kelly Sullivan/Getty Images Entertainment/Getty Images
If you're a fan off all things twee and Instagrammable, you're going to want to listen up: the Museum of Ice Cream is launching "The Pint Shop," a grocery store-inspired exhibit where you'll also be able to buy the Museum of Ice Cream's newly launched line of everyone's favorite sweet summer treat. (It's ice cream, in case that wasn't clear. They're launching their own line of ice cream.) I know, it's a lot to take in. So, let's start with the shop.
The Pint Shop will launch June 6 in New York City's Meatpacking District, according to a press release. The Pint Shop will include all the "hyper-sensory" experiences of the original Museum of Ice Cream but with a grocery store spin. "Visitors will explore life-size pint installations, browse aisles dedicated to Museum of Ice Cream's debut ice cream flavors, and have the opportunity to indulge in a reservation only, one-of-a-kind tasting experience," the press release states. Guests will also be able to learn about the ice cream making process "through all five senses." (Sorry, sight and sound, but taste is the sense we're probably all most concerned about in regards to ice cream.)
The website for The Pint Shop also boasts a "one of a kind experience," including the aforementioned tasting room and a series of interactive workshops dubbed "pint sessions." Basically, The Pint Shop is an art exhibit-style version of an ice cream shop. But rather than the interactive component being you begging the person behind the counter for a taste of every available ice cream flavor, The Pint Shop is a fully immersive ice cream eating experience.
Let's talk about what's important here: That sweet temptress. That delicious summertime dessert. The ice cream.
Museum of Ice Cream is debuting seven flavors inspired by its original exhibit and also just inspired by what sounds delicious as an ice cream flavor: Piñata, Sprinkle Pool, Vanillionaire, Chocolate Crush, Cherrylicious, Churro Churro, and Nana Bread.
(Have no fear, the Sprinkle Pool ice cream will have actual, edible sprinkles. Not the menace known as the exhibit's plastic sprinkles, which recently earned the Museum of Ice Cream a $5000 fine for being bad for the environment.)
The Pint Shop is a project Museum of Ice Cream is launching in partnership with Target. In addition to the new ice cream flavors being available at Museum of Ice Cream and The Pint Shop, they will also be available for purchase at Target's across the country.
If you don't live in the handful of cities that are home to the exhibits, you likely are within reaching distance of a Target and, in turn, these new ice cream flavors which sound exactly like how summer tastes.
According to Museum of Ice Cream, each flavor of ice cream is "built to transport and inspire" a la the motto of the exhibit itself. The pint-sized ice cream has also been designed in the spirit of the exhibit: the packaging features pastel colors and cute food patterns that scream INSTAGRAM ME ASAP. Even those of among us who aren't big into Instagramming our food probably won't be able to resist a quick photoshoot with our pint of Piñata. (There are tiny illustrations of piñatas on the packaging! It's so cute it hurts!!!) The new ice cream flavors will be available at Target starting July 8.
Admission for The Pint Shop is completely free but will have limited capacity. If you're in New York, you can stop by 459 W. 14th Street to experience The Pint Shop in person. The rest of the country will be living vicariously through the infinite stream of Instagram posts.